The world is heading in the direction of a more diverse panorama in the IT industry. One where there is a greater female presence in technology. In our Chile offices, a group of determined Globers found an amazing way to work towards this goal, by mentoring women in UX and soft skills.
At Globant, we believe in the transformative power of education in technology. As part of our collaboration with Laboratoria, this group of developers and UX designers mentored women during two months on the improvement of their technical skills. Nothing got in the way of them, not even a worldwide pandemic. 
We truly believe that by empowering women in technology, our business will be more inclusive and diverse, and reach its full potential.  Thanks to the amazing women and men who were a part of this initiative, we are one step closer to achieving that potential. We are one step closer to the paradigm change that we aim to reach.
Globant and Laboratoria: our history
Laboratoria is a non-profit organization that focuses on career and technology training for young women in Latin America. The ultimate goal: to change their future of technology, transforming it into a more diverse industry. Through their boot camps, women without access to quality education become front-end developers and UX designers, accessing transformative jobs in the IT sector.
As a way of contributing to this goal, Globant has worked with Laboratoria in the past in common projects. In our offices in Chile, Globers have given inspirational workshops and held webinars destined for women who were part of the Laboratoria boot camps. This also been done in our offices in Peru and Mexico. As proof of the Laboratoria boot camps' great employability rate, five of their graduates graduates went on to be hired in our Santiago de Chile office. 
All these initiatives are encompassed in our Women That Build campaign. Through it, we seek to promote a more diverse IT industry and a greater female presence in technology.
One step further: a mentoring program
For 2020, our Chile office decided to take our relationship with Laboratoria one step further. Thirty-three developers and UX designers from Globant volunteered to mentor thirty-one women from Laboratoria in entrepreneurial and technical skills.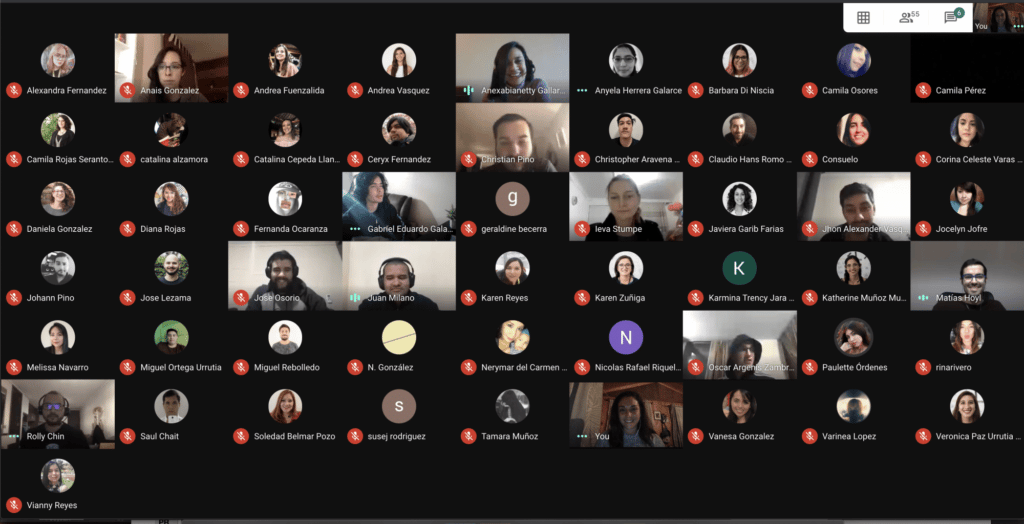 Given the COVID-19 situation, they held these meetings via streaming. Mentors and mentees met between four and seven times a month, for at least an hour. These were scheduled at least once a week, during which mentors tutored women on how to improve their technical knowledge. 
They also helped by giving tips on how to improve their entrepreneurial skills. Mentees received advice on how to strengthen their CV and portfolios. They also participated in mock interviews with Globant Recruiting staff. During these instances, they practiced their interview skills and received feedback on how to boost them.
Outcomes of the program
Mentors highlighted the amazing involvement and hard work of each and every mentee. All thirty-one women finished the program, and all mentors agreed that the women showed great progress during the process. In their feedback, mentors recurringly mentioned the talent, energy, drive, and compromise shown by the Laboratoria women.
One of the mentors, Jhon Vasquez, recalls in his feedback the importance of helping someone during their professional development. "It feels amazing to be able to support someone this way, with information and real-life experiences".
Another mentor, Rolly Chin, emphasized the importance of contributing value to another person. "During this process, I learned how important it is to add value to someone else's development. It feels amazing to contribute a small grain of sand, that can mean so much to someone else."
We'd like to thank all the Laboratoria women who participated in this initiative, and who work every day to make the IT industry more diverse. We are also very grateful to Tatiana Pailamilla and Christian Pino who organized and coordinated the program, and to the amazing thirty-three Globers who mentored and accompanied these outstanding women:

Alan Muñoz, Alexandra Fernandez, Alfredo López, Ana Julia Garcia Machado, Anexabianetty Gallardo, Anyela Herrera, Ceryx Fernandez, Christian Gonzalo Saavedra Fuentes, Christopher Aravena, Claudio Mattioli, Claudio Romo Otto, Francisco Gargiulo, Francisco Javier Pérez Rodríguez, Gabriel Galán, Gustavo Laporta, Javiera Garib, Jhon Vasquez, Johann Pino, Jordan Arteaga, José Lezama, Jose Osorio, Juan Milano, Karen Barreto, Karen Reyes, Melissa Navarro, Miguel Ortega, Miguel Rebolledo, Nicolás Riquelme Guzman, Oscar Zambrano, Rolly Chin, Saul Chait, Soledad Belmar, Yamileth Vargas