In Latin America and the Caribbean, women make up 41% of the labor force. However, female labor participation in the region is almost 30 points below men's. Also, only 3 out of 10 workers in the mathematics and computer science fields in the region are women. If we analyze these numbers, we are facing a huge opportunity to make up the balance between women and men in the industry.
At Globant we are convinced that diversity and inclusion are key to our culture and purpose, and that they are fundamental for innovation and improvement to take place. We seek to connect talent with opportunities, no matter where that talent comes from. That is why, in our involvement with the community, we seek to promote inclusion through education: because we believe that with our experience "weapon of mass opportunity," noticing the invisible talent that resides in our community and making it more visible and empowered.
Our #WomenThatBuild campaign summarizes this cause—through it we seek to promote the inclusion and professional growth of women (amongst others) in our industry.
What we're up to in Chile
Four years ago we met for the first time with Laboratoria. What is a Laboratoria? It's a non-profit organization focused on career and technology training for young women in Latin America. The aim: to change their future, while also making the industry more diverse. Through their Bootcamps, women without access to quality education become front-end developers and UX designers, accessing transformative jobs in technology. In all of Latin America there are already 1000 graduates of their program; in Chile alone, the graduates number 350, with 85% employability. In Globant today we have five graduates of Laboratoria working in our offices in Chile.
In 2015 we started working together, contributing to the growth of future programmers as they complete their bootcamps. With a group of volunteers (Globanteers) we taught the first workshops for what was—at that time—the second generation of Laboratoria in Chile. Since then, we have given many inspirational talks, as well as technical workshops on digital product development technologies, such as: AngularJS, Agility, UX, APIs, among others.
But this year we decided to go one step further. We mobilized a group of more than 50 Globanteers to start a joint action plan that includes different initiatives:
Monthly workshops on technology for the Laboratoria Alumnae community, because we understand how important it is to keep up to date with new trends.

The first UX Laboratoria Challenge in Chile: we proposed a challenge to a group of 9 UXers for the design of an internal product for our Future Of Organizations Studio. The results were incredible! Now, part of the feature proposals presented in the Challenge are part of the

backlog

of the team that designs these products on a global scale.

The UX Challenge led us to the launch of Code Your Future + Laboratoria in Chile

: a program by which we welcomed the first 5 Globers from Laboratoria!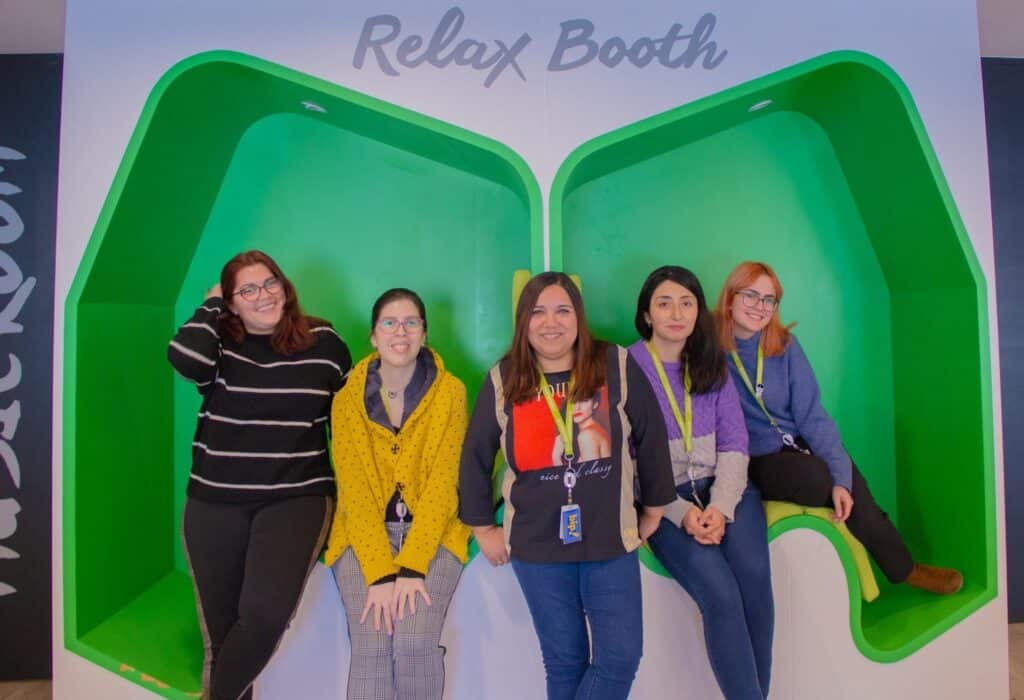 The future of volunteering at Globant
We understand that we have the chance to be a "weapon of mass opportunity" at this time. We don't want to be left out of this unique opportunity for progress in our industry. 
Iván Olivares, Globanteer Ambassador in Chile, tells us: "Through our community programs, I believe that other Globers like me, who want to impact thousands of people by transforming their lives, have the opportunity to do something big. We don't necessarily have to re-invent the wheel here, anyone can get involved where they are. We can contribute by taking part in activities with the community. There are times when simply taking a moment to share your experience can inspire others to go further, and thus keep building a more inclusive technology industry."