March 8th is, worldwide, the day on which we honor women everywhere. At Globant, we believe the best way to honor women is by showing how they innovate, how they grow professionally, and how they inspire. We consider that one day is not enough for this endeavor. So, we will celebrate Women's Month at Globant.
Women's Month is a global initiative, which will happen in Globant offices all over the world during the entire month of March. From India to Chile, the US to Argentina, women will be invited to share their stories. This way, they will join a global conversation, inspiring others and possibly themselves.
Women That Build: empowering women in Globant
On every level of education, a gender gap exists in STEM field participation, especially at a university level. Worldwide, 30% of female students in higher education choose a career in STEM. Of these, only 3% choose to study computer sciences and technology. Meanwhile, the IT industry at a global level is in need of more professionals. 
At Globant, we believe that diversity and inclusion are fundamental for innovation and improvement. One of the main goals of our sustainability plan is to transform organizations and people's lives by working to achieve gender equality and a more diverse work environment. To read more about how we do this daily, read this article.
Our Women That Build campaign promotes the inclusion and professional growth of women in our industry. With both external and internal initiatives, we seek to narrow the gap of male-female representation within the IT ecosystem. 
Women's Month is our way to continue highlighting the importance of bringing women to the conversation. That's why we invite them to tell their stories, to empower others, and to continue transforming our industry one step at a time.
The month that's by and for women
We are kicking off our Women's Month initiative with our Social Media challenge. Women are invited to upload short videos, responding to the question "Why are you one of the world's #WomenThatBuild?" We want to show how women around the world are working to make an impact in the world of IT. Anyone can share their story, and be a part of this global initiative.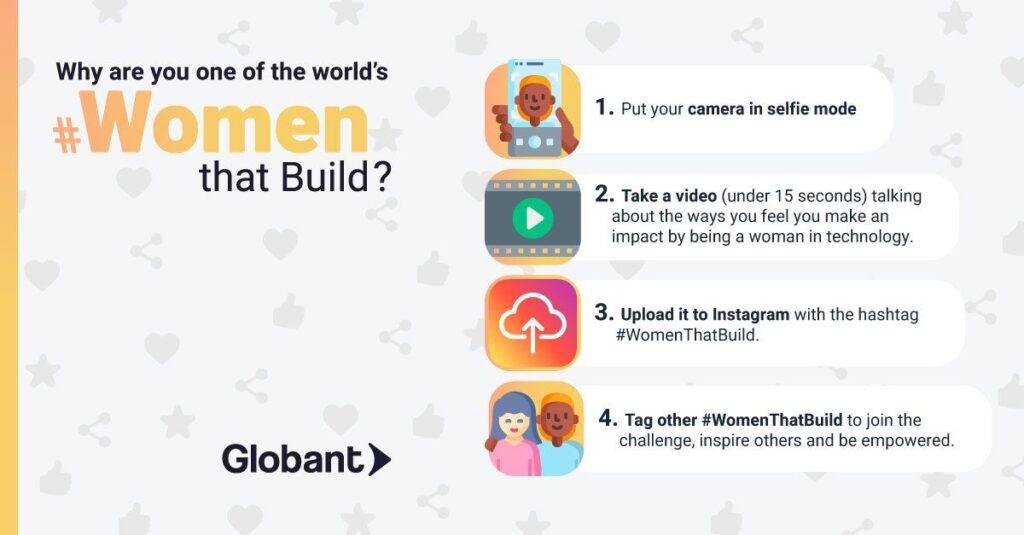 For the entire month, we put together an interesting agenda of events. Speakers inside and outside Globant will participate in panels and conferences. Particularly, topics will include female participation in IT, women in leadership, and the promotion of Diversity and Inclusion.
Every Thursday in March, speakers will give conferences, which will be streamed live. They will talk about their experiences and their view on the professional challenges of women in IT. In addition, internal events will take place at the office where Globers will open up conversations on these matters.
Join us and be a part of our Women's Month! Share your story on social media telling us why you are one of our #WomenThatBuild, and stay tuned with our agenda to follow our speakers through online streaming!