At Globant, we are proud of our talent: our teams are formed by specialists from all over the world with a long track record in the technology sector. We work with our clients to create some of the most revolutionary solutions in their fields.
However, what makes Globers stand out in the industry is not just their knowledge and professional experience, but their desire to learn and unlearn on a path of permanent growth and reinvention. For Globant, acquiring new skills (reskilling) and updating or perfecting the ones you already have (upskilling) is fundamental for adapting to today's disruptive world. This allows us to be prepared to handle the challenges and innovate alongside our clients.
How have we built this base of global talent that is constantly growing?
Globant University: A universe of digital learning experiences
In an uncertain and disruptive setting as is the case of 2020, at Globant we decided to strengthen our talent development strategy in order to further boost the abilities and skills of our teams. With that goal in mind, in April we launched Globant University, the platform that integrates all educational experiences, created to boost each Glober's learning opportunities. We want Globers to "own" their careers, motivating them to build their own path of professional development, while providing them with everything necessary to accomplish it.
Globant University offers 26 learning paths that have more than 2,300 resources and learning methodologies, such as workshops, videos, podcasts, e-learning webinars. More than 50 full-time specialists create and curate the content.
By the end of 2020, Globant University will expand its academic offerings: it will have 40 careers and will have training sessions with live instructors in scheduled sessions.
The platform focuses on technical training and also on soft skills. It contains multiple units, environments, and products to meet the educational needs that arise along the learning journey. Additionally, the courses are grouped in different schools: Technology, Leadership, Languages, and Agility. With this variety of content and formats, Globers may learn when they want, where they want, and in the manner that best suits their situation and style.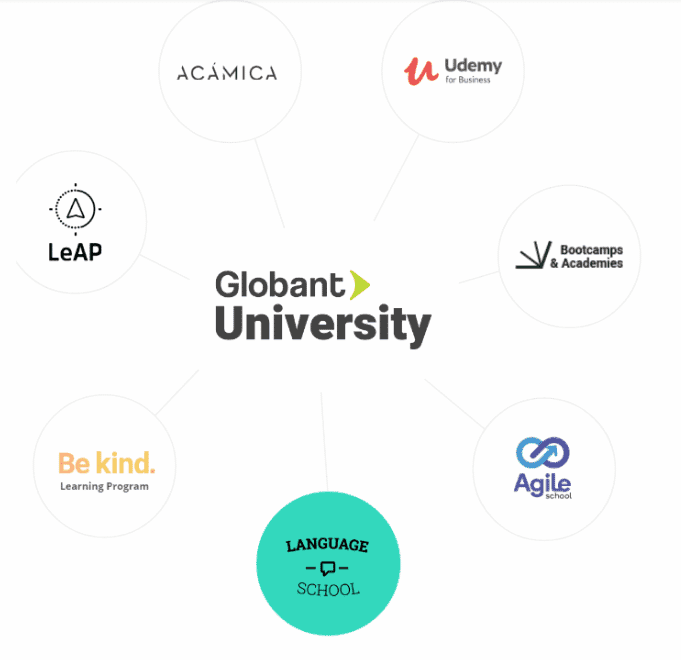 Globers joined Globant University's proposal with a high level of participation. From April to August of this year: 9,800 colleagues took advantage of the educational opportunities of the platform where they took more than 250,000 hours of training. 
The trainings were given a total satisfaction rating of 4.5/5, which, on the one hand, reflects the usefulness of the platform and, on the other, reflects the enthusiasm of Globers to improve themselves and to grow.  
Diversity, the basis for Globant's talent
For Globant, talent and diversity are two inseparable concepts. We are proud to have built an environment of global, inclusive, open, safe work that is respectful of all people regardless of their status, gender, or sexual orientation. And, in order to keep building this great culture supported by diversity, it is essential to foster, raise awareness, and educate about the issue from many different angles. For this reason, starting in August of this year, Globant University has a Diversity and Inclusion Learning Path, which consists of more than 100 available learning resources. The content focuses on issues such as accessibility and inclusion, emotional and physical well-being, and sexual and gender diversity. 
This commitment to diversity, which represents one of the fundamental pillars of Globant culture, is in line with Be Kind, the sustainability strategy that we use to carry out our commitment to action and to transform the world. Would you like to develop your career at Globant? Find out more here