While more people than ever are enjoying playing online games, the gaming industry has still been impacted significantly by the COVID-19 pandemic. The industry faces challenges with everything. From maintaining release schedules, to production difficulties, to developers shifting to a work from home model.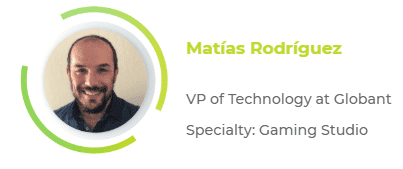 In order to understand what is happening in the gaming industry, we recently held a webinar with one of Globant's leading experts in the sector, Matías Rodríguez. We'd like to share some of his insights and thoughts from the discussion in this article.
Matías, what has been the impact so far of the pandemic on the gaming industry? 
The initial impact was actually very similar to what happened in other industries. Everyone moved to working from home to help with social distancing. The main impact of this was to continue with delayed game production (but not stopped) and also reconsider the release of some games.
We saw organizers cancel several major industry events, such as Game Developers Conference (GDC), E3 and Gamescom. It's usually at such events where executives make deals, and it's possible to see the latest developments from both well-known companies as well as independent game developers. I believe not having these events will have a knock-on effect on the industry. Therefore, this will contribute to a lower production schedule over the next year.
However, on the positive side, we've been witnessing a major increase in the number of people playing online games. In particular with parents and children who have more time on lockdown. Games such as Animal Crossings, Doom Eternal and FF7 are having a significant sales boost.
For example in the UK, Nintendo sold more copies of Animal Crossings in the first week, than it had for all the launch sales of previous versions. Meanwhile, Bloomberg reported that so many people were playing Fortnite in Italy during the quarantine. They said it was stretching network capability.
What do you see as the long-term impact? Do you think there will be long-term impact on consumer-behavior?
With regards to game consumers, they have already been getting used to digital distribution. This will continue, and we will see a further decline in physical sales. We're seeing an acceleration of the move of companies to focus on recurrent revenues. They are finding ways to monetize existing games. Gamers are becoming used to this.
As part of this model, we're going to see more integrations with broadcasting services like Twitch and Mixer in order to better communicate with gamers. These broadcasting services are also experiencing very significant growth in viewership due to the quarantines in place in many countries.
Do games have a role in helping companies navigate and overcome the current difficult situation?
One of the interesting things we see here at Globant is how a range of companies in diverse industries from healthcare, retail, manufacturing and others, have been interacting with our gaming experts in areas we call serious games, simulations, and digital twins. All of a sudden, this technology has become very important as the world gets used to being physically separated.
In a similar vein, we're seeing an increase in demand for virtual reality and augmented reality collaborative environments. A lot of companies are looking at these technologies to navigate social distancing. For example, retail and product companies are looking at ways to reconnect with audiences and customers that can no longer visit their brick and mortar locations.
What are some of the technology implications and how are gaming companies responding?
Aside from the issue of internet bandwidth which I mentioned earlier, gaming companies have been updating their technology environments. We've seen this in particular with regards to server management, and adopting cloud solutions and virtualization wherever possible.
However an area where I believe we should be focusing is console development and development/test kit dependencies. There remain a lot of details that need to be sorted out with Microsoft, Sony, and Nintendo in order to rethink how hardware dependencies affect production and how this environment can trigger new solutions.
You can watch more of Matías' thoughts on the gaming industry on-demand here.
If you'd like to find out more about our expertise in gaming, or how we can help your organization during these challenging times, please contact us.