Amid uncertain times, where people are adapting to remote interactions and activities,  companies are turning to digital tools such as Zoom and Google Meet in order to execute daily tasks and stay connected.
Nonetheless, the lack of casual interactions at the office can quickly have an impact on productivity and motivation if you do not take specific steps to bring people together. In turn, this can progressively decay, and eventually even break, your company culture.
Many companies have issued research to understand the effect that stay-at-home orders are having on workplace productivity. Here at Globant we surveyed more than 900 US employees and found that 49% stated that their work output has decreased. YouGov highlighted that 25% of people felt their productivity had decreased. In Europe, Forrester Research reported that nearly a third of people are unhappy with their productivity, with almost half wanting to go back to the office as soon as possible.
But perhaps what is most important about these findings beyond productivity, is that 43% stated they are communicating less with colleagues than before the pandemic and 51% said they feel lonely working from home. This has a long-term impact on everything from the mental well-being of employees to an organizations' ability to innovate.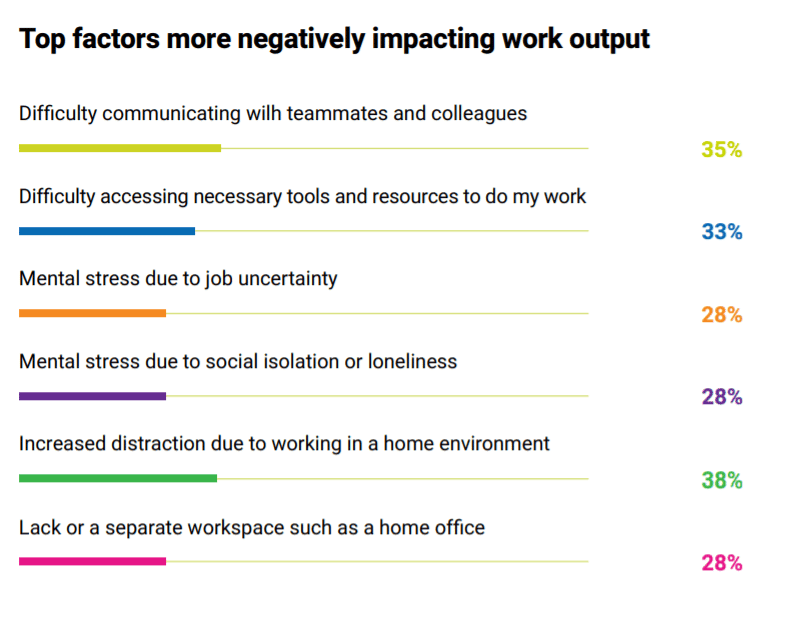 As a result, it is essential for organizations to create and implement strategies to maintain healthy relationships between coworkers, foster company values, and keep the spirit of the organization alive. Such a strategy is one of the three pillars that we have identified that constitute an "augmented organization" – one that applies technology to become more nimble and innovative. These three pillars are:
The use of tech to foster cultural & personal connections
The need for organizational structures that promote collaboration and productivity
The strategic use of AI to augment team capabilities
In this article, we want to focus on the first pillar – the use of tech to foster cultural & personal connections.
Using technology to augment your culture
Increasingly leaders are looking to technology to help identify and improve how employees perceive and experience the values of an organization. This is the core of what we refer to as an "augmented culture". Companies that have built an augmented culture are able to effectively use AI and other tools to foster the most important aspect of human behavior to enhance productivity while working from home; the ability to connect, understand and recognize others.
As a result, augmented company culture brings to the professional field the emotional connection – a crucial factor in achieving goals and innovation.
Digital platforms such as StarMeUp OS, use data and insights to help organizations create an atmosphere where people feel passionate and energized. For example, "BeThere" which is an internal social network, is an Instagram-like application where employees can share what it's like to be a part of the company. Other solutions make it easy for employees to share information, provide recognition and positive feedback to colleagues.
The benefits of these digital cultural platforms include cultural insights such as analyzing and predicting employee engagement, individual leadership potential, adherement to company values, among others. Such solutions not only allow companies to understand organizational dynamics in real time, but are also an excellent solution to obtain cultural insights which are crucial for the success of organizational initiatives.
A further key aspect of StarMeUp OS is its predictive capability, where executives and managers can use real metrics in order to make decisions, create future scenarios, and plan for the short and long-term.
Digital cultural platforms are a core component of augmented collaboration
We know the components that people consider vital for building a great company culture. Our research in 2019 showed 4 key drivers: recognition of skills, constant feedback, interaction with colleagues, and involvement in innovation initiatives.
In today's physically distanced world, digital platforms become crucial in maintaining and fostering these drivers. It demonstrates how the effective use of technology to enable cultural & personal connections has become essential in the "new normal". It means business leaders need to look forward to a new world of augmented collaboration which has technology as its core.