With Converge Mexico just around the bend, the excitement is building. Everyone waiting for the day-long conversation on the digital and cognitive revolution, the concepts and technologies necessary to keep relevant in this new era, and the future of organizations is making their plans. All these things are crucial to the success of brands as we look together to the future, and they're the core concepts we'll delve into at Converge Mexico. We thought we'd mention the seven reasons it's worth attending Converge in this amazing city. Aside from the carnitas and horchata, which are givens.
1. Face time with the best and brightest minds
Besides the people that sit next to us in workshops and the plenary sessions, what motivates us to take the time to go to conferences are the great minds onstage. Each attendee brings their own mix of challenges and ideas, hoping for the speakers to address them or even tangentially spark the idea that leads to a solution. Whether you're looking for testimonies from organizations on transforming digitally in their industry, or hoping to supplement your already-started transformation with new technologies, we will be answering your questions at Converge. Maybe you've heard all the hype about Salesforce, or are intrigued by the future of enterprise IT (where change is the constant). That's important to us, too; important enough to invite a speaker from AWS to make sure we've got it covered. Here's a glimpse of the roster:
Fernando Obregón

(Vice President, Solution Engineering LATAM at

Salesforce

)

Marcela Torres (Co-founder at HolaCode)
Roberto de La Mora

(Tech Sales, Marketing and Business Development Executive at

AWS

)

Juan Guerra (Chief Innovation Officer at Citibanamex)
Selene Castilla (Regional Design Director at Scotiabank)
Juan Ramon Lopez Portillo (Economist and Consultant, President of MIST)
Guibert Englebienne

(Co-founder and CTO at

Globant

)
And besides these speakers, we've got plenty more lined up. These thought leaders will help us stay relevant.
2. To get to know new technologies and the kind of culture that will empower your business.
Are you familiar with augmented organizations? Are you working for one, do you own one? Do you wish you did? We spend a lot of time thinking about what it means to be an organization that applies Artificial Intelligence (AI) to all aspects of its business, and have done so for a while. At Converge we can expect across the board to hear about amazing new technologies and their potential for taking our businesses where they need to go—whether in workshops, experiences, or plenary sessions. And it's not just a technology thing, because, as business leaders are increasingly aware, culture is key to unlocking frontiers of innovation as well as greater revenue (see our Sentinel Report for more info). In the words of our Co-founder and CTO, Guibert: AI is giving us an opportunity "to help us form organizations that don't have the issues we usually complain about at work." Really, the technology and the culture have to work together to propel our organizations forward in the face of digitalization and augmentation of the world's leading businesses. At Converge we will be diving into various aspects of this journey.
3. To "go off on a tangent" in the name of innovation.
The same thing is true at conferences today as it was in coffee shops during the Enlightenment: innovation occurs when people come together. It's the way of things. When people bring their disparate backgrounds and experiences together, setting their sights on the same goal, sparks fly. The benefit of events like Converge is that, while the sessions focus on the digital and cognitive reality we're living, they touch on so many other experiences and concepts along the way. Sure, we'll hear about the buzzwords— "transformation," "Machine Learning," "innovation," and others—but tied to them we will hear anecdotes that set new thoughts in motion. If we just look at a select few of the talks' titles—"The Future of Enterprise IT," "The Technology that Humanizes Organizations," and "The Great Transition: Challenges and opportunities of exponential technological change"— you can tell that, as we're listening, we will come away with unexpected insights because of the combination of the conversations as a whole. It's about grasping the elements related to your field, but just outside, on the outskirts…and incorporating those to give the solution the twist it needed. Let's have more of that, please.
4. Experiences with technology.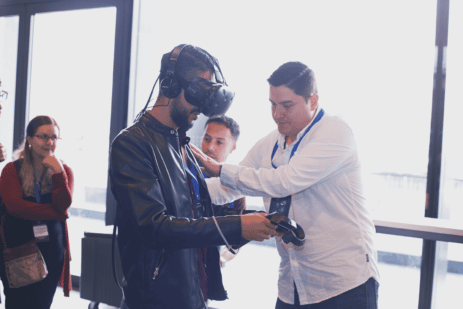 Another thing that makes Converge worthwhile: the contact we'll have with the technologies in question. This is our chance to interact with the technology itself, not just talk and dream about it. Artificial Intelligence? For sure—come check out AI in the forms of StarMeUp OS and Minds. Gaming? Definitely, there are stations lined up with the latest from our Gaming Studio. You'll even have the chance to check out Avatar, a game we designed and developed to help detect clinical depression. We have these experiences with amazing technology to look forward to.
5. The takeaways—especially from workshops.
Of course, going to conferences isn't just about all that takes place the day of. It's also important to have in mind the takeaways you'll gain from the experience. With various workshops—from representing diversity in tech to Service Design—Converge Mexico will keep us busy. Speakers from Globant will delve into their work and experiences to give us insights we can work with in our own spheres. Whether you choose to hear about how Globant approaches sensitive and crucial matters of inclusion, or to spend time learning practically how to center all components of a solution around the customer to improve interactions, plan to attend with your thinking caps on.
6. To make connections: expected and unexpected.
Let's be honest. What we look forward to at conferences, in large part, is the people who will get together for the mind-meld. In the case of Converge in October, there are hundreds of us getting together because we're jazzed about or intrigued by the implications of the digital and cognitive revolution. We're convening because we have ideas to share, solutions to create, and questions to seek answers to. Whether it's in the hallway among the different experiences, around the coffee break, in the line for workshops, or heading into the plenary session, Converge's moments of networking stand the chance to make a difference in all of our digital journeys.
7. Experience the talent and opportunities Mexico has to offer the world.
The academic community, the organizations using technology to make a social difference in complex situations, and tech talent to be found in Mexico is another reason to make this stop on your travels. First, the richness historically and academically in this city. From sites to storytellers, there's plenty to be had. We will be hearing from expert economist Juan Ramon Lopez Portillo, about this moment of unprecedented paces of disruption we're living. 
Secondly, Mexico is not a country to be forgotten on the list of up-and-coming technology contributors. Young and growing tech-savvy Mexican professionals are on the rise, and they're sought after in Silicon Valley. Among the institutions that are helping supply this demand, there are several that work with Globant: Instituto Tecnológico Autónomo de México, Universidad Nacional Autónoma de México, and Tecnológico (Tec) de Monterrey. According to the president of Tec de Monterrey's Guadalajara campus, nearly 90 percent of graduates have a job within three months of graduating. That's the kind of placement that schools like Cornell in the States—no small feat. 
Third: aside from the tech growth in Mexico these days, it's also worth noting the upswell of social enterprises. Among them, HolaCode: seeking to improve the integration process of returned or deported migrants and refugees, both in Mexico City and in Tijuana. In this they have Globant's full support; we are already working together on this mission. The way forward? Via education, training, and tuition support in software development, HolaCode opens doors and makes connections that were previously impossible for the now-graduates. The organization meets individuals in their circumstances, because they have what they need already in talent or grit. From any angle, Mexico's an intentional and pivotal stop for Converge this year. Tag along.
Take advantage of Converge Mexico
With all this in mind, make sure you save your seat for this conference. Come with your questions, looking for answers. Prepare your expectations and goals for this event before you arrive, in order to make the most of it. Preview our speakers, and read up on them so that you're prepared. And lastly, come ready to think big and have fun.