Globant is broadening its horizons by entering new markets and strengthening its presence in four continents. Its new offices are in line with that growth and help boost the company's positioning as a global leader in technology and digital transformation.
 While the world discusses the future of work and companies adapt to welcome employees back to the office, Globant, which had already started reimagining workplaces before the pandemic, leveraged this opportunity to think not only where their collaborators would work, but also how that new experience would be.
Eduardo Oppenheimer, VP of Corporate Real Estate at Globant, told us a little bit about the new model for Globant offices, the importance of sustainable design, and the office expansion plan over the following months.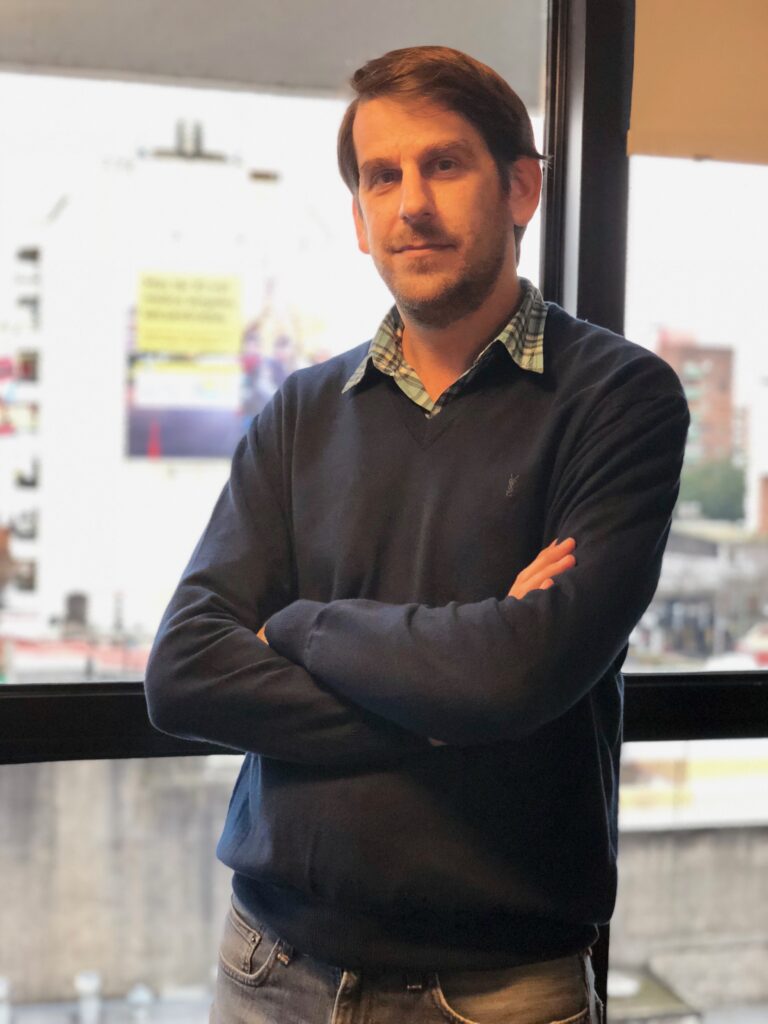 What's the future of the workplace? Which trends do you observe and how do they impact Globant?
 The future of the workplace is not the same for every industry. We focus on understanding our industry's trends, and we are quite agile to adapt. For instance, as soon as the world started talking about a pandemic, Globant quickly closed its offices to look after its Globers' health. We got in touch with specialists and carried out an internal consulting session, we worked with the People Experience and Brand Experience areas, and we arrived at a model adapted to our needs. It is a hybrid work model, with around 50% of Globers working at the office and the rest working from home. Throughout this process, we considered not only where people wanted to work, but also how they wanted to do so. Based on that, we created a new model for Globant offices.
So, what is this new model all about?
They are offices with a mainly social purpose. They are not designed to have Globers sit and work at a desk for eight hours straight, but rather to offer them flexibility and more options. We want them to be able to work in different environments or scenarios, to feel comfortable in the way they work, and to be able to go through a full workday without having to be in the same space all the time. This means that we need new types of offices and new ways in which we use the different available spaces. We want people to come to the office because there they can get something that they cannot find at home: an open space to strengthen bonds, a training room, the perfect area for meetings or idea sessions, a radio or TV studio, and even a place to concentrate and focus for those who need it. Experiencing the office also means developing Globant's culture. That is why we prioritize spaces where people can share, connect and exchange moments that would be difficult to experience if everyone was at home. We seek to consolidate a sense of belonging and continue to enable our "Have Fun" value.
This model is not 100% proven yet. We had the idea, we came up with a concrete plan, we put it on paper, and we got to work. Now we have to put it into practice globally once all Globers have the possibility to experience this new office concept.
The first office that was inaugurated with this concept in mind is the World Trade Center office in Montevideo, Uruguay.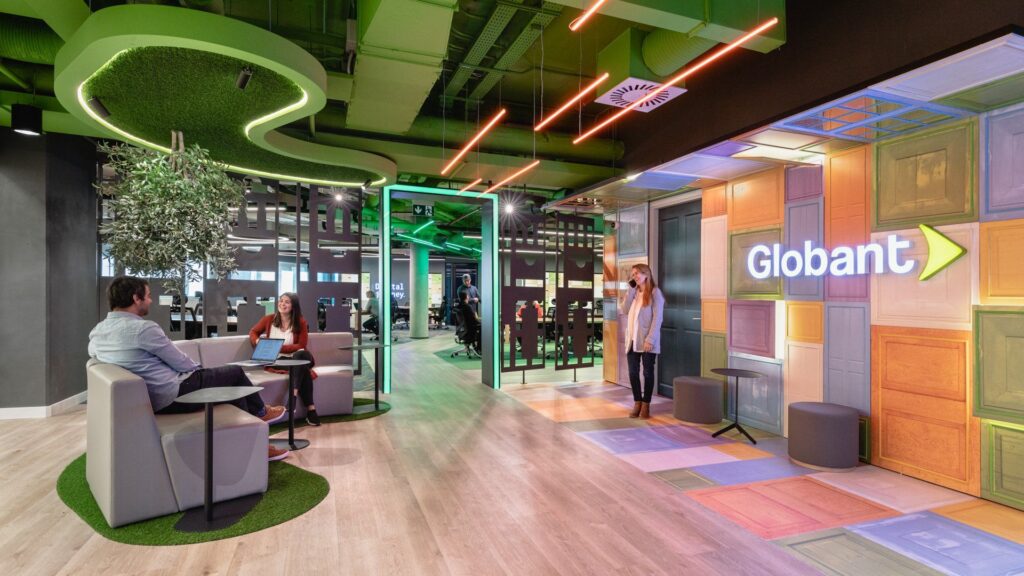 How relevant are sustainability and biophilia in Globant's offices?
Both are very important to us, especially biophilia, which is the use of green spaces or nature to feel more comfortable in a corporate or office space. We want people to feel comfortable, to feel excited about being in those spaces, to feel inspired… And biophilia involves people being able to find spaces close to water, sun, and vegetation, and we are getting closer and closer to that.
What are the most disruptive architectural projects you have developed in terms of sustainability?
We have two spectacular examples of this. In the first place, the new 10,000 m2 office in Buenos Aires, which will be one of the first offices to have WELL 2.0 certification, a specific Wellness certification which states how good people will feel in a certain space (offices). Nobody in Latin America has that certification, except for some companies in Brazil.
And the other incredible project we have is in Tandil, also in Argentina, which is going to have native forest everywhere. You will find trees inside the office. Tandil will also be a WELL 2.0 and Leed Platinum building, the 4th building with that category in Argentina, and the first outside the City of Buenos Aires.
 Are there any actions or measures that have been taken into account in the construction of offices to mitigate the carbon footprint?
Yes, Globant's Workplace Experience team is committed to using renewable energy in all Globant sites. We are focusing on finding buildings for new offices that allow us to purchase renewable energy. We buy the energy from windmill farms, or renewable energy suppliers and B companies. In Tandil we are going to provide energy to the system ourselves by means of a solar panel roof.
 Today companies are closing offices and reducing face-to-face meeting spaces. Why is Globant going against this trend?
 While we share the idea of working with a hybrid model with offices at a 50% capacity, Globant's growth is so exponential that we need more and more offices with more space.
Being one step ahead of the trend is not something new for Globant. We believe we are reinventing this industry, and today we find ourselves rethinking the use of space to achieve that reinvention.
How did the pandemic affect your plans?
 The pandemic accelerated more growth than we had anticipated as a company, and all our growth plans fell short. For example, we noticed that we had offices in 37 cities, but the following year we were supposed to be present in more than 45. We opened new offices in many different cities during the pandemic and, in those places where we were already present, the number of Globers also grew. We leveraged this opportunity to do a lot of renovation work in the offices we already had. This plan just happened to coincide with the pandemic, so we can say that it was an opportunity for us to renovate our offices with this new model that we have talked about. When we go back to the offices, we are going to find many renovated spaces and some completely new ones.
What should we expect in terms of expansion for the following months or in 2022?
Globant's idea from the beginning is to get closer to talent and bring opportunities to where the talent is. Therefore, together with the Capacity, Recruiting and Staffing areas, we are constantly analyzing the ecosystem of each location and thinking about where we want to go.
We will finish 2021 with 60 Globant sites or offices. During the pandemic (that is, from March 2020 onwards) we managed to open 10 new sites in Colombia, Mexico, Uruguay, and other countries.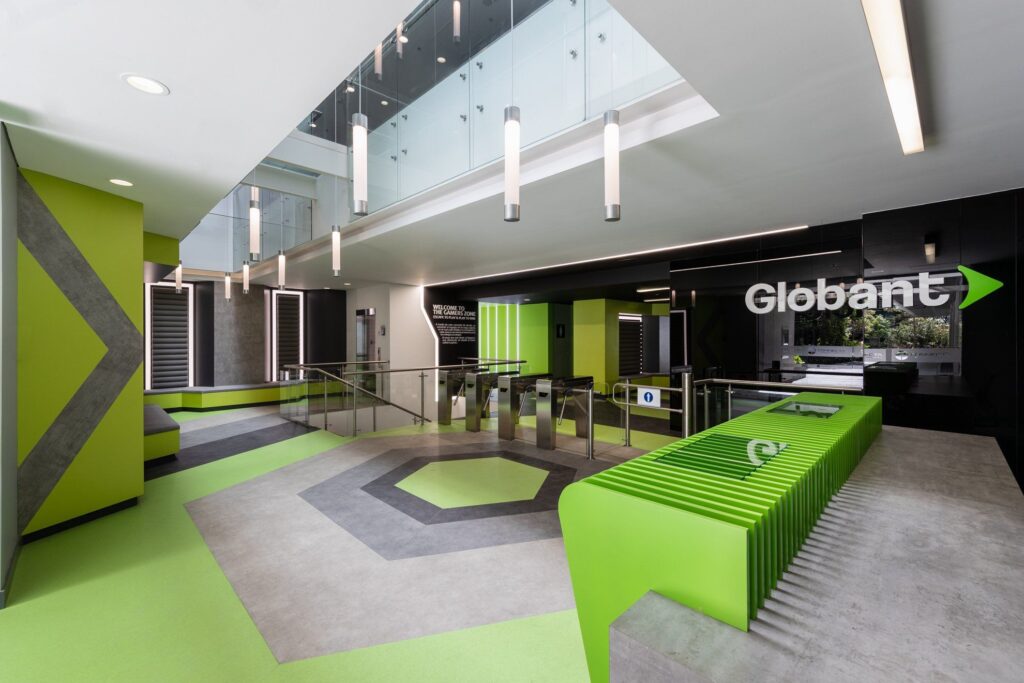 What is the role of technology in this new type of Globant offices?
Technology has been part of our offices for a long time, and the way we use it is evolving as well. The way we connect today is essential in all office formats. Offices must (and do) have videoconferencing rooms, interactive whiteboards, etc. We have always had a work methodology in which not everyone is in the same place, city or country. In other words, it is basically the continuity of something that we were already doing, and with the pandemic we have only reinforced it. Some of the new features, for example, include the face recognition that we are going to start implementing in all sites for entry purposes and to improve security, among other things. And we have also systematized the reservation of workspaces, parking and meeting rooms through an app that facilitates the management of rotating locations. On the other hand, through the Take Care app, we are checking that those who enter the offices comply with the health protocols to look after our Globers.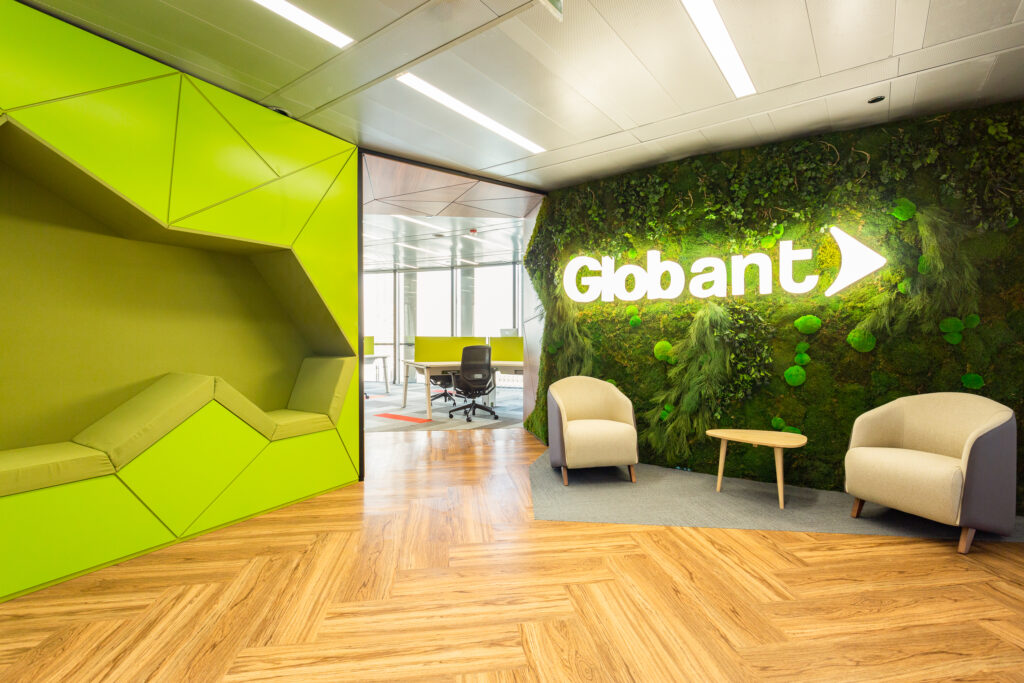 As the company's Real Estate leader, what has this process of growth and reinvention been like?
Globant is characterized by its innovation, not only in terms of technology, but in all aspects, and the workspace is one of them. Globant gave me a lot of freedom to be creative and let my imagination run wild. We created spaces that had never existed before, and Globant always supported those ideas and initiatives. In Globant's offices you can find a waterfall, a mechanical bull, trees on the roof, a bowling lane, a virtual reality simulator. These are disruptive ideas that Globant has always promoted. Our work is known for being creative or as innovative as possible, but without affecting the operation of the workspace. In our search for creativity, we come across many ideas, and it is a challenge to bring them to life. It's about finding balance between design and functionality: the offices must be attractive and pleasant for Globers, but they must be useful and functional as well. We are on our way to achieving that, and we are anxious to prove it when we return to the offices with the new model we implemented.