Some weeks ago, I was addressing our leaders at Globant to let them know about our decision to shift to a work from home model globally. This was at a time when even most governments in the countries where we have offices, had not yet declared lockdowns. Things were evolving day by day, hour by hour. Globant already had in place a Covid-19 committee, made up of a mix of experts, leaders and even a virology specialist. Together with the committee we were constantly re-thinking our policies and messages to our employees (or "Globers" as we refer to ourselves). Our priority was to protect the health of our employees, their families and our clients.
In the end, as we responded to the situation, everything happened naturally. I saw first-hand how important it is for organizations to be ready to adapt to changing scenarios, while being personal and empathetic. In this article I want to outline how we have adapted to the situation, and discuss what some of these changes meant, both personally and for Globant.
How life at Globant has changed
Life at work and doing business has completely changed. Every morning when we start our daily meetings, we have a quick check-in to see how we are all doing. Once a week we have the chance to make small changes to our routines by having "emotional checkpoints". Many Globers are now sharing their hidden (or not-so-hidden) talents, and teaching all sorts of things like the art of composting, how to make gnocchi, or composing music with AI software.
Like everyone, we are spending more time at home when we are not working. So we're also helping parents with their homeschooling and even entertaining their children. We hold short yoga and mindfulness sessions to refuel during the day. And what I love most about all this is that it's the result of collective knowledge, collective empathy, and collective willingness to get through this in the best possible way.
We have been helped in keeping business as usual, and in our heavy social interaction, by way of a suite of digital cultural tools that enable us to connect seamlessly with each other and reinforce how intertwined we all are. On an average week, every Glober is used to thanking or congratulating their peers publicly, which they can do easily on an online tool where they highlight one of our core values. They can also provide private one-to-one feedback to anyone no matter their rank or seniority.
We're finding new ways to relate to people – not just digitizing our activities
I would like to go back to this concept of change. I don't believe we are merely digitizing our daily activities. We are finding new ways to relate to people, friends, family and loved ones. My birthday coincidently took place recently. Had it not taken place under these circumstances, I probably wouldn't have interacted with as many of the people who I care about (they live all around the world, from Indonesia to Panama). I was even able to have an impromptu happy birthday party with my father and siblings… in previous years, the closest I got from them if my birthday was on a weekday was a WhatsApp message. So the feeling of love, caring and being close has adopted a new meaning to me.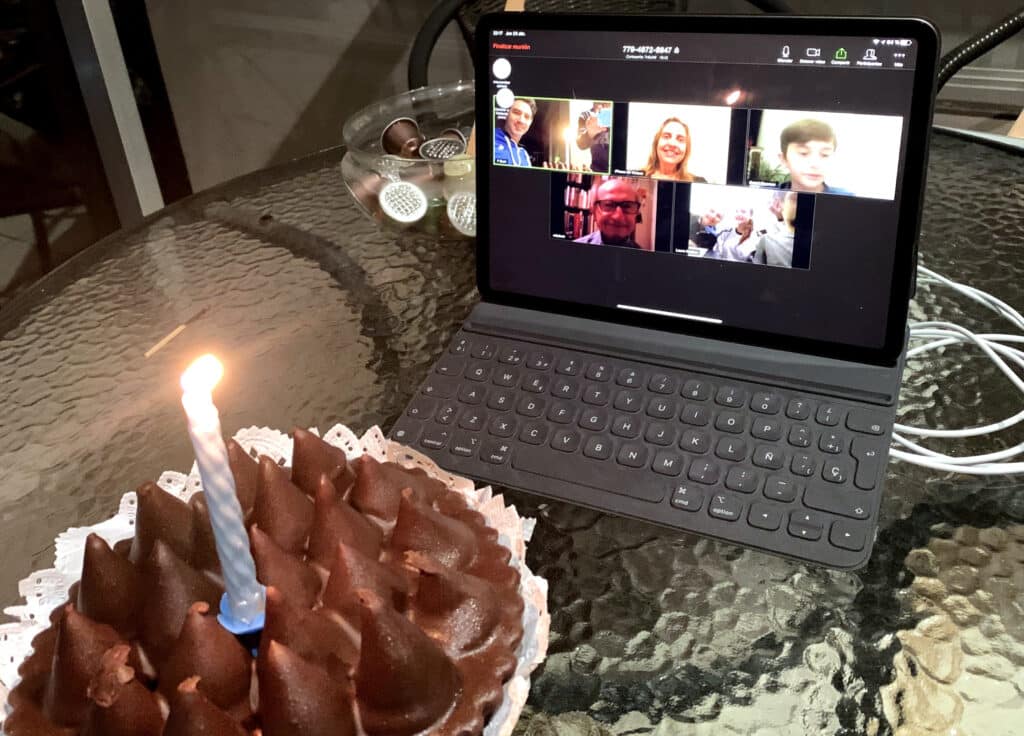 Many of us have been "invited" to virtually see clients in their homes. We can see and understand their motivations. We are sharing tips on things we perhaps have never previously spoken about. While attire is still important, there's a more open approach to meeting etiquette. We're paying attention to other things which allow us to talk in a closer, less antagonistic or adversarial way. Phrases like "we are all in this together" have adopted a new meaning – regardless of who we're talking to, differences disappear and it's a matter of supporting one another.
Remoteness doesn't mean detachment
All of this brings me back to what I mentioned about organizational fitness. Some people were worried we could see a drop in performance with the shift to working from home. We approached this concern by believing that remoteness does not bring detachment by default. We recognized it as a risk, and that it can happen – particularly when teams are not tightly bound, when there's no common purpose or there is no common ownership.
However, in the same way that people started volunteering to play a leading role in making everyone's life easier, the same happened with our commitment to client delivery. We only needed to make a couple of tweaks in the way we deliver our services. We increased the frequency of our team's self-assessments and made sure we're communicating more than ever with clients. The tools were already there and people were used to using them – but now, we are making the most out of them. And again, the reaction has been amazing. We also now have a way to monitor very quickly if anything starts behaving differently than expected and we have a task force to act instantly.
A culture that is adaptive and change aware, is ready to build a new normal
We set ourselves the challenge of not letting this situation cloud our ability to continue all those things that we have always been proud of. Company-wide events, training courses and certifications and even social gatherings continue to take place, of course with some adjustments to make them as rich and powerful – and as fun! – as they have always been. We've even been able to measure the impact of these events and training sessions – which provides the basis for us to fully understand what organizational "fitness" and "readiness" mean.
Being ready does not just mean having the right tools. Indeed, it also does not just mean having the right skills to make the best use of those tools. It goes much beyond this. It's about having a corporate culture that is change aware, that is able to adapt quickly, and that relies on the ability of each employee and each team to proactively look for opportunities to create the right context for the right things to happen, enabling autonomy and empowerment. Once this is accomplished, a new normal is built almost naturally.
Join me to discuss agility, culture, and adapting to this new normal world
If you've reached this far, I would like to invite you to our first LatAm Agile Unconference, on May, 29th (held in Spanish). It will be an "Open Space" event with the theme: "How can agility help us maximize learning during these times?". My expectation is that many of the topics discussed here will pop as talks, conversations or workshops. I look forward to seeing you there!
If you want to find out more about some of the things I mentioned in this post, you can check out this article: Maintaining service delivery during an unprecedented time