Globant World on Roblox has come to life as a part of our 20th-year celebration! An interactive, multi-user experience embodying the essence of innovation, creativity, and inclusion that defines Globant, where imagination has no limits. From exclusive activities for our Globers to engaging opportunities for the wider community, our 20th-anniversary festivities aim to leave a memorable mark.
With a passion for pushing boundaries and leveraging technology, this project dives into technologies like the Metaverse to craft an immersive experience that invites children and not-so-young people to discover Globant's one-of-a-kind culture,  its values, and how the company works in a fun, gamified way.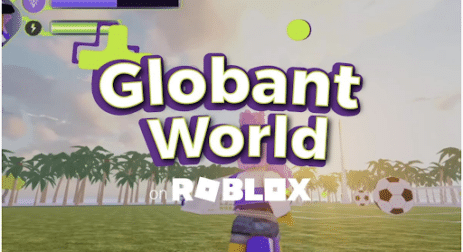 Globant aspires to foster curiosity and teamwork among the next generation of visionaries through an engaging and evolving presence within the Roblox realm for children and family members of more than 27,500 Globers worldwide and global followers.
Immersed within the virtual space of Globant World, children embark on a gamified voyage that offers insight into Globant's values, operations, and corporate culture. 
Beyond a mere game, this interactive experience serves as a virtual haven and social hub to learn, collaborate, and experience the essence of the Globant experience. 
Globant through a digital lens
The journey starts on the first day of work at Globant, where young minds have a space for coexistence and can learn in-depth about the activities of their parents and family members in a corporate adventure that mirrors real-life progression.
Globant World's proposal consists of 20 minutes experience where participants can teleport to the 20th anniversary celebration. Players using their customized avatars can connect with Globers worldwide, share Globant's distinctive spirit with friends and family, enjoy music, relive memories through a captivating photo exhibit, or strike a pose at Globar's Photobooth.
Our celebration is a testament to our unique approach to growth and collaboration, to thinking big, creatively, inclusively, and out of the box. More than a commemoration, it observes two decades of shaping the future, and everyone is invited.
Learn more here on how Globant is helping businesses reinvent themselves through technology and innovation.