"We want to create a perceptible shift in how people perceive F1. This campaign switches the focus away from our echo chamber, instead spotlighting why our fans love this sport. (…) Last season, we promised our fans to bring them closer and reshape the sport into something that resembles what they want to see, the gladiatorial conflict at its heart. (…) Across the next year and beyond, we will create further fan-centered activations at the races, fan festivals, and F1 social platforms. Watch this space. We are here to excite." Announced Ellie Norman, Formula 1 Global Director of Marketing & Communications, when they launched their new marketing campaign. 
Since 2017 the F1 has been facing a reinvention process, a fan-centric approach with a deep focus on data-driven marketing. While the teams were using this data earlier to make better cars, they could now use it for the fans to understand the races better, tell new off-track stories, and generate fan engagement. 
Using this treasure trove of data allowed F1 to bring better content to the hardcore fans, but this is not a habit in the sports industry. Recent research has shown that 61% of all sports organizations do not use data for their overall strategy, and only 51% collect data in a centralized place.
Fans expect memorable experiences after the COVID-19 pandemic when many companies began to explore technological advancements to adapt to new consumer behavior. F1's example it's just a tiny portion of the vast fertile soil for reinventing sports fan engagement through immersive and seamless experiences at scale. 
How to master this need? A sports entertainment model with a fan-centric approach, leveraging data, technology, and games to increase reach and build sustainable fan engagement and efficient monetization opportunities for sports rightsholders.
A data-driven sports-tainment experience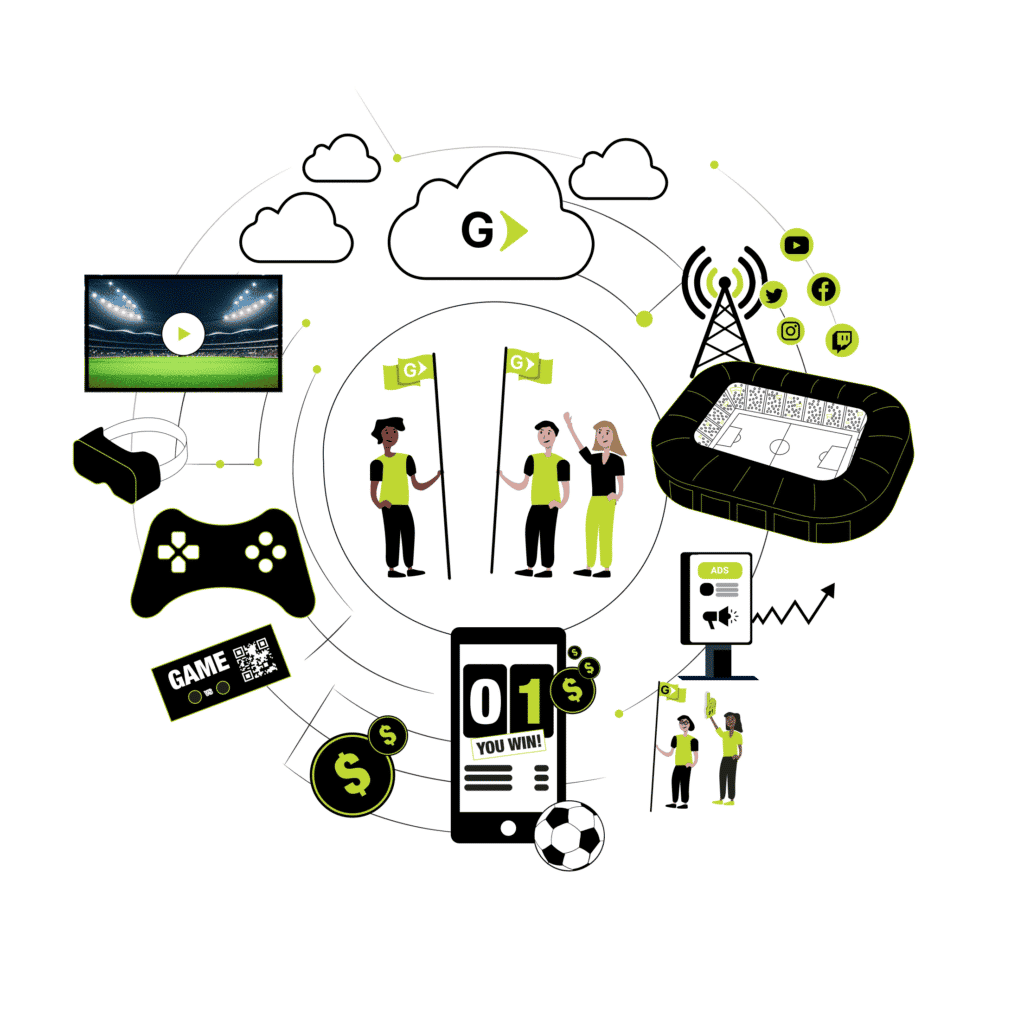 A fan-centric ecosystem is a path to delivering the next generation of connected experiences platforms. This means having an integrated technology stack that provides a unique value to the end-users, giving compelling journeys by putting fans at the center, blending digital and phygital realms (phygital) to enjoy every moment of the game and engage them whenever and wherever they are. 
The fan experience does not end when the referee gives the final whistle; it is not physically limited to the field or the stadium. There's a liquid fan whose experience goes beyond the game and spills over stadiums, home, and wherever this person goes. You must be sure to participate in that passion at the different touchpoints. There are four key areas to ensure the fan is living the game before, during, and after the competition itself: 
Enhance the Live experience for fans and maximize revenue opportunities. 
Better host fans on their way to the stadium and enjoy multiple services through digital apps and data-enabled systems.   
Create game-agnostic interactions for fans and multi-purpose venues to live the game even when it's not matchday. 
Feel closer to the stadium: bring fans at home closer to the action through immersive interactions and augmented screen broadcasting. 
The pandemic has changed how businesses are conceiving physical and digital spaces. Sports organizations need to think creatively about how to make their venues exciting today and relevant tomorrow. Smart venues bridge the digital and physical worlds to create new and improved experiences. In one of our latest Sentinel Reports, we walked through the key ingredients to create memories through physical spaces and venues. 
As the Sentinel Report highlights, "Creating memories is now your brand." To adapt to this new world, brands are creating a new generation of memories using digital magic to transform experiences that have become smoother, more sustainable, and more enjoyable.
In addition to creating new and unforgettable memories, smart venues can also drive significant up-sell and new revenue-generating opportunities. Based on Globant's analysis conducted for a major European football stadium, the effective use of digitalization would cause a 10-25% reduction in operational expenditure and a 15-30% increase in revenues. Ticket resales, improved customer experience platforms that translate into revenue gain, and rapidly launching new digital and data-based offerings contribute to these improved metrics.
By bringing together various disciplines, integrating the underlying customer data, and implementing new technologies such as artificial intelligence and augmented reality, we're helping transform how people experience sports. In this article we took a look at how to improve fan experience through technology. Stay tuned for part two, which we will post soon.