Software is everywhere and used by everyone. However, while hardware has seen an enormous evolution since the 1950s, software development has remained the same: by hand coding. The software has become more user-friendly and straightforward for users, but behind the simplicity is sophisticated code and hidden complexity. This phenomenon is referred to as the "software paradox" – an increase in simplicity for the user results in an increase in complexity for the software developer. Because of this paradox and the increasing need for scalable code, software developers and their organizations must embrace Super Apps and other Low-Code platforms to keep their code up-to-date and functional for users. 
The future of software is written with Low-Code
Low-Code is a category that describes a type of software development platform and strategy used to create custom applications that simplify and reduce programming. Since creating future-proof intelligent solutions requires all new software, many companies are betting on Low-Code platforms to provide a simplified development process. Gartner estimates that by 2025, 70% of new applications developed by organizations will be created with no-code or Low-Code technologies – a 45% increase compared to 2020. 
Low-Code benefits speak for themselves because they allow developers to write less code, improve their productivity and ultimately reduce the time they have to work on a given task. Forbes magazine highlights these benefits of Low-Code: 
Lower barrier to entry, cost, and deployment time 

Easy integration of legacy code 

Rapid assembly of solutions by a non-technical audience 

Speeding up development cycles

Automating any business idea first

Lower burden to maintain 

Ability to rapidly prototype

Faster innovation and development
The rise of Super Apps
A big part of the Low-Code conversation is Super Apps, which are individual digital ecosystems that offer various services that are not necessarily related to each other but coexist within the same application. It is usually born as an application that covers a specific need and then evolves to include additional services. 
GeneXus has the technological power to create this new generation of applications. It is the first Low-Code platform to generate Super Apps and Mini Apps, each component application that solve a problem within the Super App.
An organization can use a Super App in two main ways: create their own Super App and enable Mini Apps to be added within it, or create a Mini App to become part of a greater Super App. Developing an owned Super App is a worthwhile investment for organizations with large, established user bases. Mini Apps are more relevant for an organization that offers a solution to a segment of users that would find convenience in having access to your product or service within an existing ecosystem. 
For example, the Super App Grab, popular in Southeast Asia, allows users to engage with various Mini Apps ranging from food delivery to ridesharing to booking a hotel room – all from their app. For Grab, their large user base makes it easy to scale their app to include other solutions, or Mini Apps, to make their platform more robust and help integrate into the lives of their users. 
What's the significance?
Super Apps allow individuals to select the services they need within an ecosystem by adding Mini Apps, which adds convenience and technology integration into their lives. For a business, having users rely on the app builds authority and ultimately helps their bottom line. 
This local government example demonstrates how an organization can use a Super App.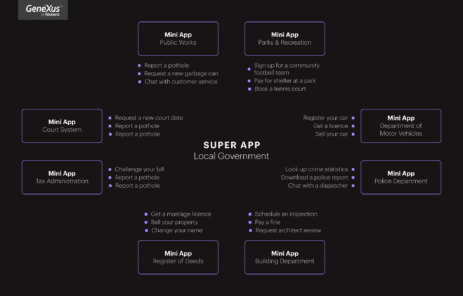 A local government may build a Super App as a one-stop shop for government services. Based on their needs, users could select to use Mini Apps to access relevant services, such as public works, police services, or the building department. Imagine this: As you leave your house for work, you notice a huge pothole in front of your driveway. Instead of having to go to the local government website, look up the public works department, find their phone number then call to report the issue, you could go to the Super App already on your phone, add the public works Mini App, and chat directly with a representative to report the issue – all before you make it to the office! 
Why now?
The demand for software development is exploding. According to the U.S. Bureau of Labor Statistics, the demand for software developers is expected to jump 22% by 2030 – that's close to 200,000 jobs per year for the next decade. 
Using Super Apps to decrease time-to-value is important, and they are becoming increasingly popular. In fact, Gartner anticipates that, by 2027, more than 50% of the world's population will be active daily users of multiple Super Apps.
Needs are ever-changing, and software must keep up – Super Apps enable longevity. According to 451 Research, 82% of firms see an enhanced ability to respond to business, political, environmental, or regulatory challenges by using Low-Code tools. 
Build your SuperApp in record time with GeneXus
GeneXus is the world's leading platform for developing Super Apps and keeping your legacy code up-to-date in the ever-changing software development process. At our core, we are committed to reinventing software construction, using artificial intelligence to automatically generate code and allow the software to evolve at scale. Today, we make native and web applications that integrate with well-known software such as WhatsApp, TikTok, SAP, Google Analytics, ERPs, or the metaverse. 
It's impossible to predict what the future of technology may hold. Still, that unknown is why GeneXus was created – to respond faster to environmental changes, adapt to new realities, and address the market's needs. Simply put, GeneXus provides eternal youth for your code. 
As part of Globant X, we work to ignite growth potential through next-gen technologies that act as a fast-pass for digital transformation, helping organizations future-proof themselves, so they can quickly adapt to an ever-changing business environment and thrive.
Learn more about GeneXus or Globant X to fuel reinvention through innovation.