Today's businesses are classified into two major markets: horizontal and vertical. Horizontal markets serve clients from various industries, whereas vertical markets focus on a specific niche with concentrated interests. In recent years, the business world has transformed rapidly due to digital innovations, particularly the widespread adoption of cloud-hosted applications known as Software as a Service (SaaS).
SaaS has resulted in significant changes, with numerous businesses employing this model to power their operations. While Salesforce has traditionally been regarded as the first SaaS company, the last two decades have witnessed an exponential increase in the number of businesses adopting this strategy. Businesses have quickly implemented SaaS solutions due to their accessibility from anywhere, reduced maintenance requirements, and lower upfront costs. Consequently, numerous SaaS categories have emerged, including IaaS, PaaS, BaaS, DBaaS, and XaaS (Anything as a Service).
Two key terms have acquired prominence among the various SaaS models: Vertical and Horizontal SaaS. These terms reflect the categorization of enterprises according to their market focus. Most SaaS companies utilize a horizontal strategy to streamline particular functions or workflows. 
Vertical SaaS has emerged as a new trend in recent years with the development of industry-specific software solutions. Through software integration and innovation, these solutions cater to the specific requirements of particular industries and transform limitations into revenue-generating opportunities.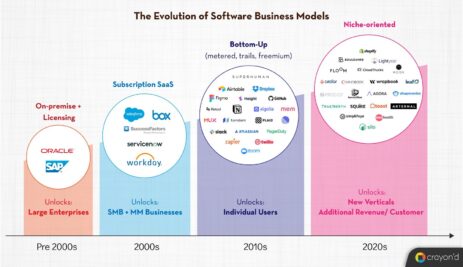 Principal distinctions between Vertical and Horizontal SaaS:
| | | |
| --- | --- | --- |
| | Vertical SaaS | Horizontal SaaS |
| Industry | Tailored to a particular industry and exclusively available to companies operating within that sector | Serves all domains and industries |
| Marketing Strategy | Lower marketing expenses due to the niche-specific nature of the solutions | Targets a large client base, leading to higher marketing expenses and lower conversion rates |
| Updates and Adaptation | Frequent introduction of new features and industry-specific upgrades | Takes more time to implement upgrades due to the generic nature of the solution |
The rise of Vertical SaaS:
Vertical SaaS solutions have been around for some time, but the success of companies like Servicetitan, Veeva, and Procore has only amplified their significance. Rather than attempting to be relevant to a broad audience, these solutions address specific business challenges within a particular market. The key to their success resides in identifying and satisfying mature markets with specific needs. As traditional businesses shift their services to online platforms, the timing and relevance of a product's offering become crucial success factors.
The following are a few noteworthy examples of Vertical SaaS solutions:
Digital Marketing:

Affable.io

assists businesses with influencer marketing campaigns and competitor monitoring.

Hospitality Sector:

Toast

provides restaurants with a platform for POS management, online ordering, marketing, and team management.

eCommerce: 

Shopify

, one of the earliest and most successful vertical SaaS solutions, facilitates the launch of an online store.
Here are some more examples:
Benefits of Vertical SaaS:
Vertical SaaS significantly reduces operational spending, offering up to a

22% reduction

in sales and marketing resources.

By focusing on targeted marketing approaches, vertical SaaS can curtail customer acquisition costs (CAC), exhibiting reductions up to a

factor of eight

compared to horizontal SaaS alternatives.

Vertical software companies demand less financial injection for growth; they require

45% less capital

to proceed with an initial public offering (IPO) than horizontal peers.

Capable of catering to niche markets, vertical SaaS boasts a robust conversion rate and improved customer retention capabilities.

Industry domain experts explicitly design vertical SaaS products to meet industry-specific regulatory requirements and standards.
The future of Vertical SaaS:
Industry titans like Microsoft, Google, and Salesforce have taken note of the rise of vertical SaaS. These businesses are constructing industry-specific clouds to compete with the next generation of disruptors. The trend toward industry-specific solutions suggests that the future of SaaS rests in delivering focused and specialized offerings tailored to the specific requirements of different industries.
In conclusion, the emergence of Vertical SaaS has created new opportunities for industry-specific advancement and innovation. Businesses can optimize operations, reduce expenses, and improve consumer experiences using sector-specific solutions. 
As the demand for niche-specific software solutions rises, professional services firms such as Globant can take the lead. Globant is well-positioned to offer customized Vertical SaaS solutions to its clients due to its extensive knowledge of a wide range of industries and cutting-edge technology. Adopting this trend will enable businesses to remain competitive, capitalize on untapped opportunities, and prosper in the ever-changing landscape of industry-specific software solutions.
Read more about Vertical SaaS and Vertical AI here.