Globant is broadening its horizons by entering new markets and strengthening the brand's presence in four continents. Its new offices are in line with the brand's growth and help boost the company's positioning as a global leader in technology and digital transformation.
Today, those responsible for this expansion are facing a new challenge: How can they innovate towards the so‑called "office of the future?" This entails a change in the work dynamic, the design, and the way collaborators relate to each other in physical spaces. How can Globant still be Globant and maintain its DNA while expanding?
Romina Pascutto, Brand Experience Manager at Globant, discusses the importance of office branding throughout this process and the differential values of each space carrying Globant's brand.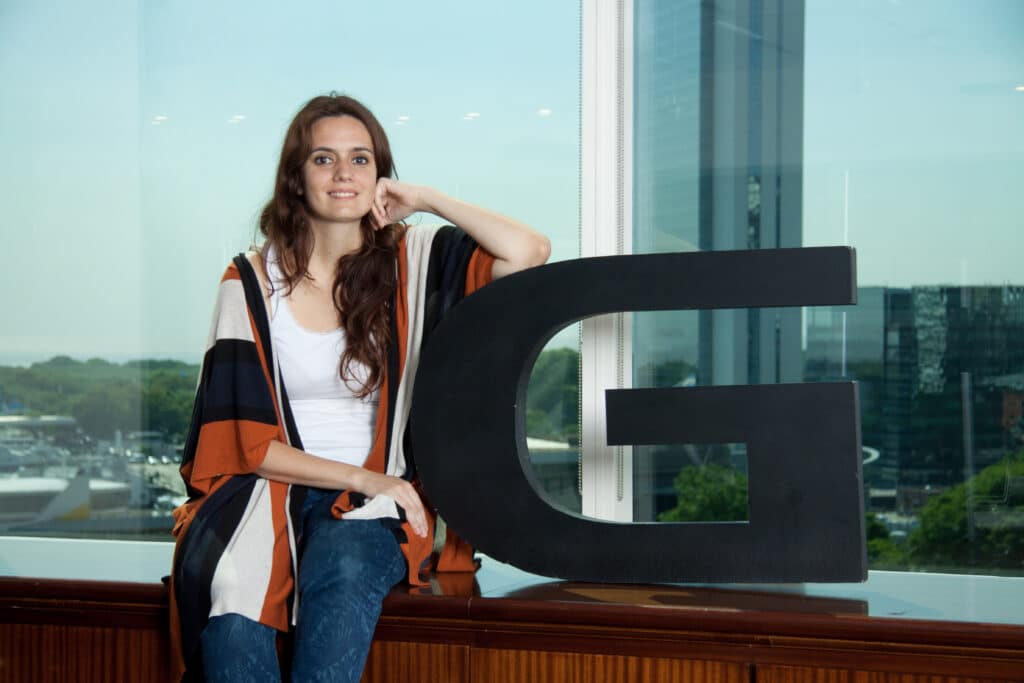 How is the design of each new office chosen?
In each project, we work with constants and variables. We love getting inspiration from design trends, but we also focus on functionality and sustainability, and on boosting differential features for Globers. Each office is designed around a concept and a unique experience that we often choose based on the feedback and ideas we receive from Globers. That pushes us to improve and reinvent ourselves constantly. Of course, we also work with some constant elements, which make you feel that no matter where you are, you're still at Globant.
What makes Globant's offices stand out from others?
At Globant, each office inauguration is the result of a lot of hard work by an interdisciplinary team to ensure the best experience for each Glober. I believe that this holistic perspective is a differential factor. Many departments collaborate and are highly committed to producing a final product that meets high standards. We also work with partners with high design quality standards who accelerate innovation processes and promote sustainable design.
How are branding and communication involved in the process of designing an office?
Our brand's team mission is to make interactions more interesting, inspiring, and pleasant in all regards. This, of course, includes our experience in the office. Being part of the creation of these spaces as boosters of our innovative and collaborative culture has always been a priority for our team. We want to make our workspaces stimulating and to ensure that they promote social and professional interaction, and foster creativity. Likewise, we pay close attention to each message within a space, as well as their style and spirit, so that they convey our values. Our offices are like a live display of our work because we also keep in mind the journey of our visitors. We actively seek to make this an unforgettable experience that stands out from others. This constant search helps us stay at the forefront in its field, reinvent ourselves, and be open to various perspectives to keep evolving.
Globant is one of the fastest growing companies. How can Globant still be Globant and maintain its DNA while expanding?
Globant's culture has always been what distinguishes it from other companies. We work carefully and make a huge effort to keep it that way. In order to boost our culture, we not only lay out our values in each office, but we also come up with disruptive messages and spaces so that those values can be spread and adopted.  
Our values guide us in every decision we make: we are a company that promotes teamwork and is constantly innovating, thinking big to achieve bold goals. We strive for excellence in everything we do and trust that we will also have fun and be kind in the process. These concepts are also embodied in our design and branding.
What are the essential elements of a Globant office layout?
Our offices are characterized by having an open concept and being designed for teamwork. The chill-out room is the heart of the office and is present in each and every one of them. It's one of the most colorful spaces, and it's full of Globant's energy. From the beginning, the chill‑out room was designed as a versatile place that can be used as a venue for events, a dining room for Globers to enjoy team meals, or a meeting and resting point. It should be able to adapt to different events. Before the pandemic, we used to host many activities in the office throughout the year, such as indoor tournaments, parties, and events that help foster our culture.
Another important element that is present in many of our offices is the healthy point, a space where we offer tranquility, connection, and emotional management. Wellness and balance are very important to us, so we wanted to include spaces to host mindfulness sessions and other "Be kind to yourself" initiatives.
These spaces can also be used for on-site benefits such as appointments for a hairdresser, doctor, or nutritionist, etc.
Our Coffee Points and "In between spaces" are spontaneous and informal meeting places. It took us a while to name them and to notice that they were also key to our culture, but now they are a must when it comes to the office experience.
We also have music rooms to spark creativity. Music and programming have many similarities because both involve, in their own way, art and science. We want our Globers to find in music a great motivation for their daily work and to have spaces that inspire them to strengthen their creativity.
Then, depending on the size of the offices, we also have a lactation room, and maybe training rooms, game rooms, karaoke, radio or TV studios, among others.
In some offices, there are elements related to the local culture of the region or country where they are located, why is that?
We believe in the value of autochthonous elements in a multicultural and global culture such as Globant's. We try to make sure that all our offices include certain elements or aspects inspired by the culture or customs of each city and country where we are located. While our different offices have many things in common, we like each building to have its own inspirational theme, its own identity.
It really enhances the creative process. For example, it can help us find a concept that will make the visual system unique and help us name our meeting rooms. In Buenos Aires, they are named after geniuses or artists; in Pune, after landmarks; in Cordoba, after movie characters; in Bogota, after games, and in Mexico, after local food or drinks, just to name a few. We always try to give them their own personality.
If you want to learn more about Globant's brand, have a look at our brand book.