Here at Globant, our Globers represent and live our culture. Cover Stories are a space to feature recognized Globers. In this edition, meet Leticia Almeida, Performance Test Engineer in QE Studio, in Globant Uruguay. Read on for her Globant experience!
How has your career developed here at Globant?
I arrived just over a year ago with a clear objective: to grow professionally. I've since found growth and much more.
No one who doesn't know what it is to belong to Globant can understand what it means to work here. Since my arrival, I met a group of wonderful people who are always available to help with everything you need.
What do you consider your next professional challenge?
There are many challenges I'd like to achieve; that's why it is tough to imagine what is next. I certainly want to continue to grow, learn from my colleagues and adopt everything I can from their practices. I'd like to continue to strengthen the bond with them and the company, to learn from their culture, and actively work to make Globant what Globant is.
On the other hand, something that I enjoy a lot is sharing everything I've learned. In the future, I'd like to continue supporting everything that has to do with mentoring and coaching programs, and above all, continue to spread our study (QE) to the community through collaboration in the creation of content and blogs. Amazing things are happening and it's great to be able to show that to the community.
Do you participate in any Open Source or Tech community?
Although I do not participate in one in particular, I'm always giving courses, talks and workshops in any event or meetups there are!
In Uruguay, there are not many performance professionals, so it is a responsibility for me to make the practice known locally and to train them. In that sense, I have taught several performance courses, in addition to always writing blogs or dictating some other talks. I want Globant Uruguay to be filled with performers, and to achieve this depends on the professionals that are currently here.
What do you like most about working with people from other countries?
I loved this question! It is the first time in my life that I work with teams so widely distributed; USA, Belarus, Arg, Mex, Colombia, Peru, India, Romania, and more! It is impressive how much this broadens your mind! Learning from other cultures, ways of speaking, phrases, helps you become more flexible.
I learned to communicate in a more unbiased way, by betting that we all have the same desire to understand and be understood, forming bonds and learning from our colleagues is wonderful. I have very close colleagues from other countries that make my day to day at Globant the best possible, we even continue talking after work. It is a very enriching experience!
If you had to define yourself with a Globant value, which one would you pick?
The value that gets the most stars in my profile is Excellence in your Work. But, sincerely, I prefer to identify myself as "Have fun" by my way of being; I put a certain amount of humor in everything I do and with everyone I speak to, it's my way of integrating and interacting. I like to help foster the sort of environment where we can all show our DNA and express ourselves in the freest and sincerest way possible.
What do you love most about your work?
I am one of those people who enjoy work very much. I like what I do, I like how Globant adapts to that, and I can spend endless hours doing my things, but if I had to go for one, researching performance problems takes all the points. Profile, read blogs, correlate results and give all the information I can to help improve the performance of each app I work on.
I am also passionate about sharing knowledge, so I dedicate time to that, to answer questions, write blogs, and everything that serves to expand knowledge.
What do you like most about working in PODS?
By sharing with multidisciplinary teams, QC / Devs / Devops / Architects and more, it is amazing what you learn working side by side with each role, and the results obtained are remarkable. The truth is, the idea of PODs seems great to me, especially the speed with which a team can gel together and work dynamically.
I am currently participating as a TL of a POD, and it is incredible the turnaround that this is giving my professional career. Once again I am happy that the company is giving me all these opportunities. As I shared before, I came with a clear objective that was to expand my career and abilities, and I feel that in a very short time I will achieve this.
What do you recommend to someone who would like to join your team?
I think about this and I find it funny, because I keep recommending Globant as a place to work and grow. Especially, those friends who feel that their careers are stagnant or frustrated. What do I recommend they do? Think about where you want to go, propose it and work every day to get it.
The opportunities are there, you just have to go for them. Take advantage of the possibilities: mentoring programs, training, webinars and everything there is. Globant is full of very diverse people willing to help and guide. You don't have to be ashamed and you have to make contact with all of them and each of our colleagues.
How do you motivate your team?
One of the things I enjoy most about the way we work at Globant is teamwork. It inspires me to see how people strive to do their best and give all they've got to achieve a common goal.
Though I don't have a recipe to motivate people, there is something I like to do, which is to promote good energy and make workspaces more relaxed and enjoyable. I also do not give titles or roles. I like to define the scope of work, and responsibilities so that we can interact with each other without differences. We are here to help and support each other in whatever role we perform.
I also like to generate conversation spaces, where we can put ourselves in the place of the other person and try to understand the team's point of view. I think this helps us work better and become a more cohesive team.
Finally, (I could go on talking about this for hours) I am passionate about fostering the career of everyone, I care about every team member, and I like to give them constant feedback. I like to generate opportunities for improvement so that the Glober's path within the company will be as pleasant as possible.
Why did you choose your technology (Sr. Performance Engineer) over all others?
A couple of years ago, I was working as a backend developer, which I also enjoyed. However, it has no comparison with Performance. I feel it is an area where very little known, therefore it has opened many doors to help others. This gives me much satisfaction.
On the other hand, at the technical level, it helps me understand things that only programming I do not think I have come to know, since they are two very different faces of the software. I like to analyze performance problems, optimize systems and applications to the point that this is reflected in a comment in the store as evidence that the end user, without knowing it, perceived the improvement and with that, my work.
If today you had to start over with technology, what language would you choose? Where would you start?
Everything I've done and all the decisions I made in my career led me to where I am today, and I am enjoying it a lot! Therefore, I really would not change anything, if it is true that there are things in which I want to continue to grow and learn, but I do not feel that I have to go back to achieve it, I still have the desire and enthusiasm to continue incorporating new skills and knowledge.
If I mention the following topics… What is the first thing that comes to mind?
Team Work: Life itself in projects and in practice. Always going forward, overcoming challenges together. I think about my Performance team and everything we work together to get things moving forward.
Passion: Without passion there is nothing! It is what moves us and leads us to achieve amazing things.
Friends: I think I have made several, I love to share my career and everything that happens to me with them.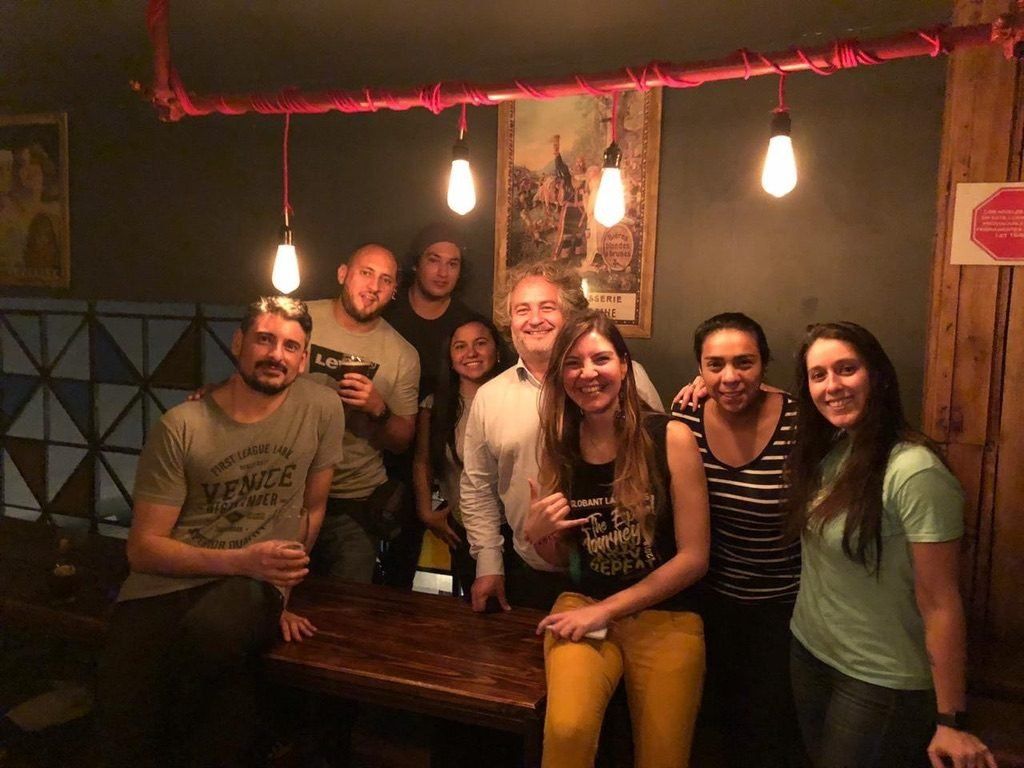 Has Globant been as you imagined?
Is better! Much better! I still remember my interview with Rose (Rosina Garrido). I was full of doubts and fears until she told me how amazing Globant is. With the passing of time, it turned out to be everything she told me it was, but I have to add the plus of living it. Telling is one thing, living it is another.
To that, I add all the stories and advice of Gonza and Farid (Gonzalo Ordeix and Farid Elias) that gave me all the power to take the plunge. Infinitely grateful to them!
Why Globant and not somewhere else?
Because Globant has JuanCa and Ro! (Juan Camilo Uribe and Rodrigo Cortés) Performance practice leaders I have been working within Performance for several years (almost 6 years), and I never met professionals on the subject who know everything these kids know. They amaze me every day, from the day of my technical interview where I could already see how amazing Globant does in terms of Performance.
I never saw anything similar in my entire career and it was what made me take the step. I know other companies that practice Performance, but what makes Globant scales to another level.
If you had to describe how you feel working at Globant in one word, what would it be?
Just one? Hard one… Great! Everything that happens here is great! The teams, the projects, the PODS, the great of the professionals, the after, the Glober band, the offices, the trips, everything… Absolutely everything is great.