What if we told you that exploring caves has a lot to do with QC?
We LOVE our cover stories because they portray the richness within all of us, the differences that make us who we are, the impact that each of us has on the Tech Industry that, my oh my, is huge…
So first, let us introduce you to one of our magnificent Globers: Claudio Feitosa
My name is Claudio Feitosa and I'm a test Analyst at Globant Brasil. I have also worked as a QC lead, mentor and Gatekeeper for the QE studio. If I had to describe myself in three words I would say that I'm adventurous, methodical and happy.
My career at Globant started after they acquired the company I was working for. From that moment on, it's been a continuous journey of learning new technologies and working methodologies. 
It's also been enriching to work with different people from different countries and cultures. The most amazing thing about Globant's culture is the union of all of those differences. It is incredible to see the spirit of the people we call Globers, where each one is willing to collaborate and help each other when necessary.
Adapting to this climate is not hard, but you need to always be willing to learn something new and start doing things you didn't know how to do before. Therefore, I would say that the five things I love the most about Globant are: 
The culture 
The collaborative spirit 
Being connected with people from different countries
Diversity of projects 
The relaxing atmosphere
Ok, that's great, but how would you explain what you do as a QC analyst to a 5-year-old kid?
Well, I wouldn't explain it in a technical way, I would say: In my job, I've helped people build the best computer programs, the best sites, and apps. I always check them to verify if they are good and when I find an error, I ask the developers to correct the problems.  
 
During our previous conversation you were just telling us that you have this kind of secret hobby….
Well, I wouldn't say it's a secret hobby, but it's totally out of the technology world: I love nature and visiting caves.
I remember some years ago I took a picture inside a cave that had little drops of water in the ceiling that in the picture looked like a sky full of stars.
Although exploring caves seems not connected to my day to day activities in any way as a test analyst, exploring a cave is in a sense similar to the testing process. 
When I'm getting ready to get inside the cave, I do not know exactly what I'll find or if everything will come out as planned without any problems. Just like when I start testing, I don't know if the application is really good or where I'll find bugs, etc … and before going out to explore a cave, I need to plan well what I am going to take, because it is not possible to take a lot of things, just like in a testing process, we have to plan well to create objective cases and find defects, you cannot just start creating without clear goals.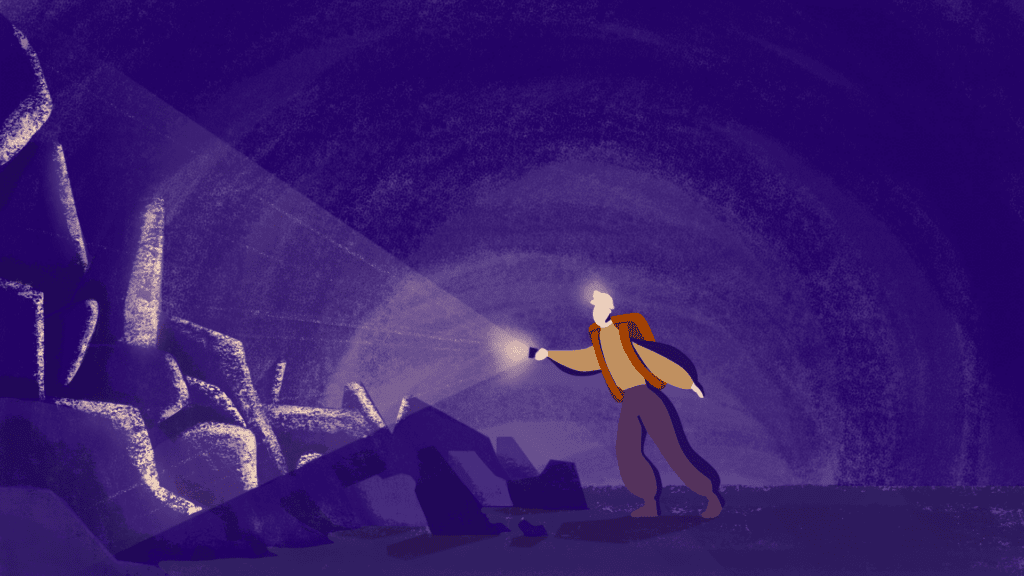 And in regards to adventuring in new things or "exploring new caves"… What was it like to be a speaker at Globant events?
It was an incredible experience. I had to give a lecture about the test analyst role in agile structures. The simple fact of having to give a lecture already made me learn a lot, because you have to be sure of what you are going to talk about. You have to check if everything is right, if it makes sense. And because I had little time to prepare for this lecture, I decided to simply talk about my experience at Globant and about how we organize ourselves in teams to do the job as test analysts.
Honestly, I thought that what I was saying during the session wasn't new to many people.  When I finished the lecture and gave time for some Q&A, I was surprised with the questions such as:
"Do you believe it is possible to do this with remote teams?"
"But can you really do all that?"
Well, this is our daily routine at Globant. I was telling the audience about the way we do things at Globant, about how we distribute the tasks we do. And this all happens with people who are in different countries and time zones.
So I can say that when you try to teach something you always end up learning too. In my case, it helped me get more confidence in what I'm capable of doing.
 
Lastly, if Globant was a friend in your group of friends, how would you describe him or her?
I would describe Globant as a fun, strong, innovative and a positive friend, but also one that motivates you to improve your skills.
 
So as Claudio was saying, we know being a QC is no joke, but it can really be a lot of fun and a lot like getting into an adventure. If you want to know more about QC or feel this is an adventure you want to be part of, don't hesitate to contact jobs@globant.com. We have amazing things going on!