From a mysterious ad in a newspaper to having the chance to work at the worldwide Headquarters of the client, get to know the story of Ale Nieto, one of our first Globers at Globant Uruguay. 
Are you curious about his experience, his first steps at Globant or all the funny anecdotes he has been collecting throughout these years?
Check out our Cover Story and don't miss the opportunity to be part of this adventure too!
Tell us about your first steps at Globant… How did your career evolve?
My professional career was like a ride on a roller coaster. I started working at Globant in July 2010 purely by chance. I was looking at the newspaper (yes, a paper one), and I saw this riddle in the classified section. It asked to find an X number, and if you found the solution you could send your resume to cv@X.com
The ad drew my attention even though I wasn't looking for a job at that time. I tried to solve the riddle and once I found the solution, I didn't hesitate and sent my resume. A few days later, I received a phone call from an international number. An Argentine company, called Globant, that worked for Google at that time, was hiring engineers in Uruguay.
From the start, I had the chance to develop and grow in my career at Globant.
I started as a Java Developer and in my first project I was already rubbing Web UI in Javascript. Then I went through consulting assignments, discoveries, various industries, and I even had the chance to travel to many different offices. I worked on projects for huge companies. In these you could travel and get to know how life is at the headquarters of worldwide clients.
What can I say, a roller coaster that has no end.
How was your first day at Globant?
When I joined the company not many people knew about it. This was because Uruguay was the first branch Globant opened outside Argentina.
I dressed up with my best suit and tie for my first day. Not the best decision. Marcos wearing jeans, sneakers and giving me a huge hug welcomed me to the office. I felt at home from day one.
I started as a junior developer along with six other people in Uruguay. The first day, as we were introducing ourselves, I noticed everyone had a lot of experience and many degrees. For a fleeting moment, I thought they had just made a mistake, they had confused me with another Alejandro, that I was in the wrong place. But as the day went by, I realized I was in the exact place I wanted to be all my life.
Which are your best memories at the office?
My best memories include arriving early in the morning, getting to organize the day, and starting to code a bit, so that when my colleague Farid arrived we could play on the PlayStation some minutes before the day really began.
I remember that our PM went from interrupting our games, to asking us when we would have a little time to look at an email from the client, because he did not want to disturb us while we were playing.
I remember delivery days, those good old days when we stayed side by side to finish our tasks. Then we would grab some beers after work. I remember singing along with other Globers, while we were playing the guitar in the music room. Also, preparing mate for each other when someone had a deadline. We stayed in the office waiting until the others finished their tasks, even though we had already finished ours.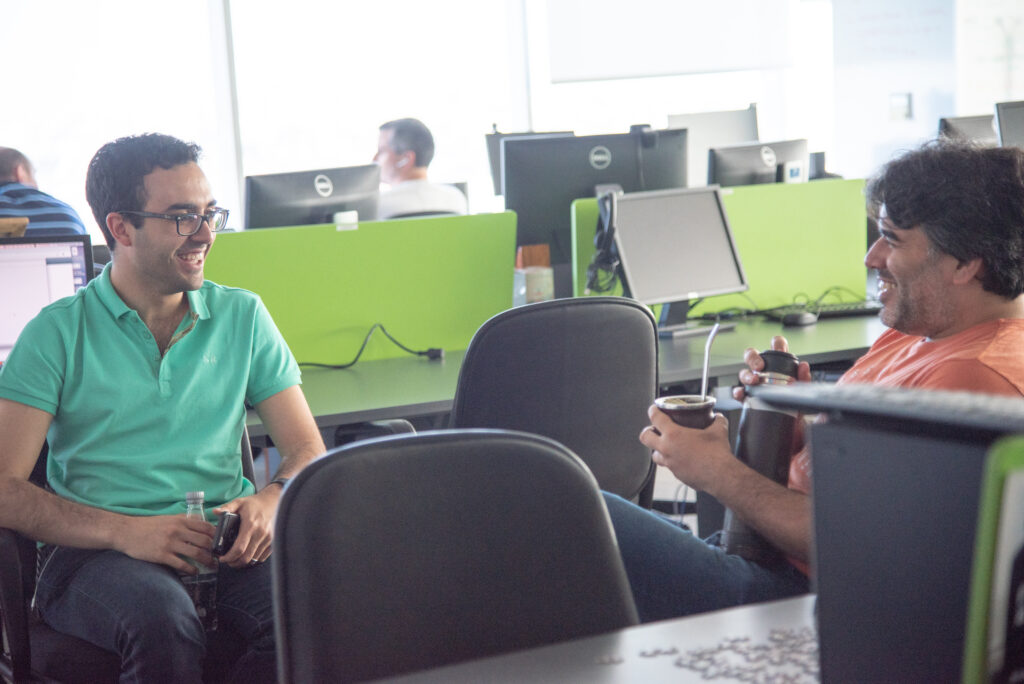 Another memory that I have is sleeping on the red sofa, that today looks so beautiful in the entrance of the office. I just cannot detach that memory from those demanding delivery days, where I learned a lot.
I also remember the lessons my leaders and mentors gave me, worthy of a university lecture (as a matter of fact, many of them were professors), so I could understand certain topics better and in greater depth.
What about some fun stories from the office during these ten years? Do you want to highlight one?
The best anecdote I have is a fun one, which is also kind of motivational.
The first client I worked for at Globant was based in London. They had a stakeholder who was British in the best James Bond way, or at least that's how I imagined him. He was always on time and was a very serious but excellent client to work with. He was always open to different opinions.
Well, it turns out that even though I had studied English for over seven years, I was a little rusty at the time. Considering that the client was from London, it made me nervous and it was very difficult to express myself adequately and understand him. When you work on any Agile project, daily meetings are very important. So I dedicated most of the time to prepare my speech for those sessions with the client.
One day, as usual, I had my speech written in my notebook and got on with the daily meeting. Luckily, at that time we didn't make video calls, because if not what was about to happen was going to be even more ridiculous. The daily meeting started like any other, right at 11 a.m., and our Scrum Master at that time began to go one by one, asking for updates.
I heard my name out loud, so I grabbed my notes and started telling him about my progress… but suddenly I started to hear extremely loud music playing.
The music was so loud that I couldn't focus on the meeting. I started babbling and gesturing to my partner Farid who was by my side. He looked at me with a confused expression because he didn't understand that I was trying to ask him what that music was.
I took a deep breath, despite the music and my nerves, and tried to start again. But it was impossible to concentrate and could not even read my notes out loud. I kept making gestures to the people around me, asking them to turn the music off, but nobody understood what I was saying. So I muted the call and said, "Farid, don't you hear the loud music!?" Obviously, he was not hearing a thing.
I was perplexed. How could it be possible that I was hearing loud AC/DC music in my headphones and apparently nobody else was hearing it? I started to sweat as my nerves were rising. My PMr started looking at me from a distance with a frustrated face so I finally decided to take a deep breath and tried to talk one last time. I thought to myself, "I have to tell everyone that I have a problem with my headphones but that I will send my updates by mail later."
But what came out was, "I'm hearing voices". As soon as I finished saying it, there was dead silence in the office. They all looked at me and burst out laughing. To make matters worse, I tried to clarify myself and added "but I'm not crazy". This was ten times worse because people laughed even harder.
Ten years later I am still working at Globant. So if you are concerned about your English level, or hearing strange voices around you, don't worry: remember this story and keep calm. I continued improving my English and my nerves eased throughout all these years.
(For the curious ones: what really happened was that there was a malware that spawned instances of Explorer with a YouTube video in the background.)
Were there any important visits that you received at the office?
Globant founders come very often to the Uruguay office, and it is  a privilege to be around them. In fact, every year they make a tour and visit every Globant office around the world!
In Uruguay, we have also received managers from some very important clients. Actually, it is the third  year in a row that product, design and technology Managers from the account I'm working for visit Uruguay. They love it every time they come. We try to host them in the best way possible.
Last year, the Senior Vice President of the account visited us. We prepared a traditional asado for him at my house. We wanted him to have a taste of what these meetings mean for us: good food and excellent company. He was able to get to know the team in a new way and enjoy local food along with Uruguay and Argentine wines, the best ones in the world.
These types of moments allow us to connect in a very different way with our clients, in fact, in more real ways. This is also what helps us establish better and more trustful relationships with them.
Tell us four things that we probably didn't know about Uruguay's office:
The first Glober at the Uruguay office is not from Uruguay. He is from Buenos Aires and his name is Bernardo Manzella.
We were the first company in Uruguay that had a place called "Chill out" to relax and have fun with videogames.
Uruguay was the first branch of Globant outside Argentina.
We were the first Globant site to have a Studio Partner that was not in Argentina.
What was the best trip you made with Globant?
Traveling to Palo Alto was one of the best trips of my life. I went there to work in a startup that had been acquired by Salesforce. The office had the DNA of a startup in Silicon Valley, but powered by Salesforce. It had the best of both worlds.
The first time I went to the office, the Head of Development and the CTO greeted us. When they took us to where we were going to work I was blown away by that incredible place. Suddenly, a guy came and asked me what kind of setup I wanted for my own desk.
I had never been given so many options to choose from… I ended up choosing the best setup that I could have ever imagined. It had a laptop, a keyboard, touchpad and a desk that automatically lifted so you could work standing up. All this happened six years ago, so imagine my fascination and surprise.
As it is common in startups, every Friday afternoon was demo day. Almost every development team showcased what they had been working on that week. We did no do this through video calls but in the main room, with music, free beer and a stage where each team stood and presented with a microphone. The teams that had best performed were given a symbolic football helmet and it was so much fun. They also used the demo days to introduce the new people on the teams. So on my first Friday in the office, they welcomed me by playing the Lady Gaga song "Alejandro" and applauded me. At that moment, I did not understand what was happening. But I ended up living the dream: working in Silicon Valley and living in Mountain View, which as you can imagine, for a guy from Montevideo, Uruguay, was like a dream come true.
On another trip we went to work on a project for a very important social media company in Palo Alto. We had to develop a real-time customer service platform for a product. At that time, only two people from the team could enter their famous building. We had to try the platform we were making inside the building always. Also, until we finished, some security staff sat next to us.
Which was the best Afteroffice you can remember?
Every Afteroffice was better than the previous one. We enjoyed many things there, like singing karaoke, being beer juries, playing board games… we not only enjoyed the official events that Globant organized, but also those we organized ourselves. They always started spontaneously with three or four people that felt like going for a drink after working hours. Most times, we ended up being 15 and went for pub crawls.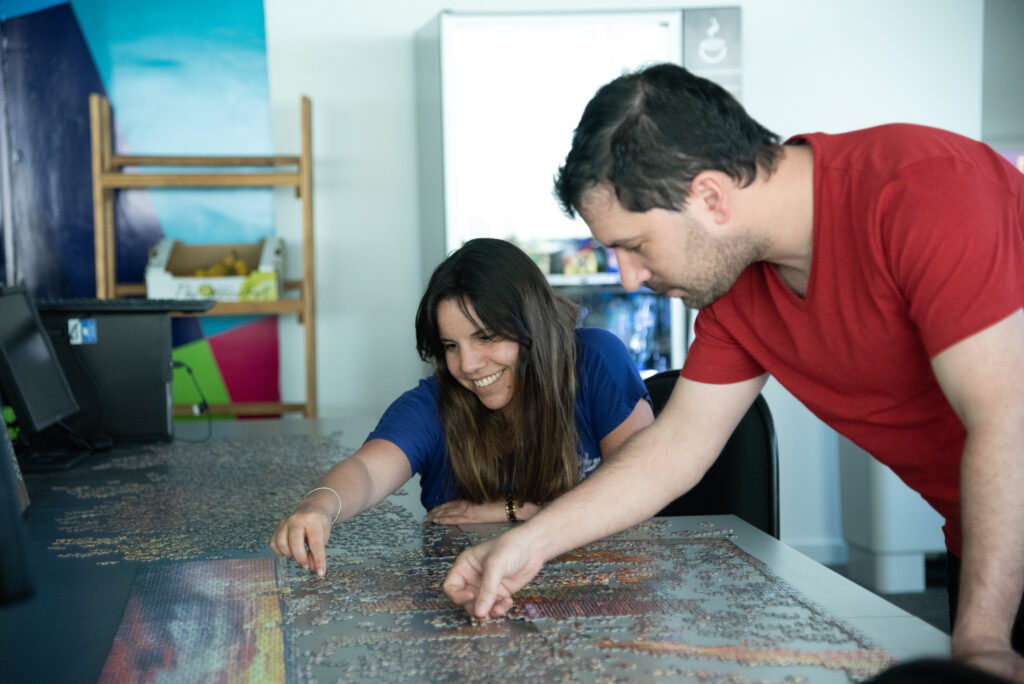 I remember that when I started working here, some people asked my then girlfriend where I worked. When she told them that I worked at Globant, they all said "Oh, the company where they holdAfters every Friday at the office!"
Hope you have enjoyed Ale's remembrance of these 10 fantastic years at Globant Uruguay. For this special edition, we have prepared a challenge for you. Just as he did ten years ago, let's give it a chance and try to solve this riddle. Are you ready to start your adventure at Globant?
ABCDEFGHIJ is a number with its digits all different from each other.
AB is a perfect square
EFis a perfect square
IJ is a perfect square
And the whole number, ABCDEFGHIJ, is also a perfect square
¿What number is ABCDEFGHIJ?
Send your answer and your resume to employer-brand@globant.com