The IT industry has been evolving in leaps and bounds. To it we owe easier, simplified lives. However, the IT world is yet to address the gender gap problem, which severely hinders its capacity for innovation.
Gender gap statistics are alarming to say the least: according to UNESCO, only 35% of STEM (science, technology, engineering, and mathematics) students in higher education worldwide are women. In the US, women account for a mere 25% of employees at tech giants like Google, Apple, Facebook, Amazon, and Microsoft. In Latin America and the Caribbean, only 3 out of 10 workers in mathematics and computer-related fields are women. Further data indicates that women abandon the tech industry 45% more often than men, with another meagre 26,5% of females holding senior management positions.
This year, the employment crisis triggered by the Covid-19 pandemic further worsened the situation and caused many women to abandon their careers in technology.
Globant has broken this trend and is achieving positive indicators at retaining female talent over time. Here we outline some of the cultural strategies behind this gender diversity milestone. We hope that these ideas will help guide the community's pursuit of greater inclusion within the IT sector.
The role of companies in accelerating change
Tackling a problem by its multiple causes is a joint effort involving all social agencies. Tech companies have a key role not only in driving the education and professional participation of women in STEM fields, but also in generating working conditions aimed at preventing women from abandoning the industry altogether.  We are a digital native company with 12,300 professionals across 16 countries. Despite the fact that men are in the majority in our workforce men, our research shows we are a company women feel very comfortable working in. Indeed, our turnover rate tends to be higher in men. And in stark contrast to broader employment trends and data, Covid-19 has not impacted women's decision to stay at Globant. In fact, figures show that the percentage of abandonment decreased significantly during the worst phases of the ongoing crisis.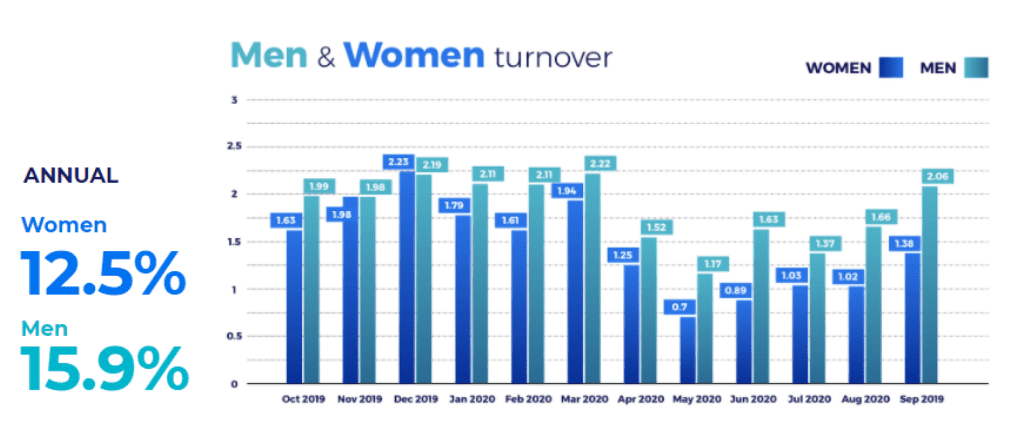 Against the odds then, we've been able to retain women by fostering a culture that encourages long-term career commitment. We are set on narrowing the structural gender gap in the IT industry by inspiring and helping women to get involved as leaders. We are also committed to generating substantial changes both within our organization and in society as a whole. As part of our Be Kind initiative, we seek to achieve:
 ●      50% of positions with women or non-binary persons by 2025
●       Training 5,000 women and non-binary persons in technology by 2025
We work at all levels of our organization on a daily basis to both develop talent and give women their own voice and equal opportunity. 
 A path designed to boost women
Globant is also going full steam with the "Women That Build" initiative, a program aimed at accompanying women and non-binary persons through their journey as professionals. The program starts from when women are in school, and continues along milestones (such as the moment when they land their first job), all the way until they reach leadership positions. 
To this end, we have designed a path comprising several stages ("inspire," "educate," "contract," "accompany," and "lead"), all aimed at helping women attain their full potential across different fields.
Greater visibility to break gender bias
One of the biggest hurdles that women currently face are the cultural stereotypes that curtail their ambition while unconsciously discouraging them from choosing and staying in STEM careers.
If we are to eliminate gender imbalance within IT, we need to break this paradigm by underscoring the message that women too can succeed and self-actualize. Globant has launched the "Globant Awards: Women that Build Edition" as a showcase for women who have either proved to be exceptional leaders, are fostering inclusion in the industry,  or who have displayed outstanding talent in technological innovation. For us at Globant, inspiring and supporting women in IT is paramount if we are to bring about a fairer community and industry.
We invite you to nominate the women who make a difference in the industry!
NOMINATE HERE