The tech industry unfortunately remains male dominated. Women remain highly underrepresented in software engineering (14% of total workforce) and computer science-related jobs (25% of total workforce). Only 3 out of 10 workers in the field of ​​mathematics and computer science in Latin America and the Caribbean are women. We want to change this reality and inspire women and non-binary people to get interested in STEM-related careers, and create a more diverse and inclusive industry.
To challenge the status quo, we want to create a place of inspiration and growth – a place based on equality and diversity. We designed a program where we accompany women and non-binary people through their career journey, from when they are at school through starting their first job, to further career and professional development. At each stage, we have put in place a variety of training programs and initiatives to help them thrive.
Women That Build is our program to promote the inclusion and professional growth of women in our industry. It is a space where we encourage the participation of women in the technology industry, boosting talent diversity, both within the organization and outside doors, in the communities we are part of.
These are the five steps that comprise "Women that Build":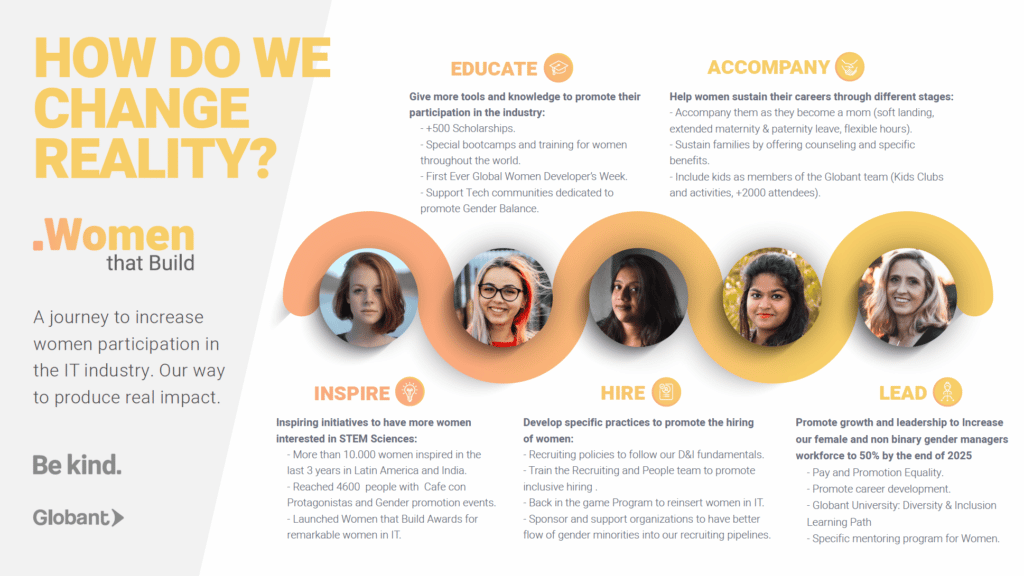 Inspire
This first step aims to encourage women to become interested in science, technology, and mathematics. Some of the key programs that we have put together are the Girls programming Club in Argentina, in which 1,500 girls between the ages of 12 and 17, in 15 different cities, have already participated. There is the Empower Her program in India and our partnership with Laboratoria, a non-profit organization, where we aim to train and mentor women in Peru, Chile, Mexico, and Colombia. More than 450 women have so far enjoyed the training.
We also have created initiatives such as Coffee with role models, which are live sessions to generate inclusive and reflective dialogues on topics that typically have a gender perspective; and Women's Development Week, a space for women to be inspired by the latest trends in the digital and cognitive fields. We are launching the Globant "Women that Build" Awards in September. We also host a "Women that Build" month, dedicated to inspire, provide tools, and share learnings with women in IT.
Educate
We are working to improve access to education for women and non-binary people. We have put in place specific Globant initiatives to provide tools and knowledge, and we also collaborate with educational institutions. We have offered more than 500 scholarships. As part of our Be Kind initiative, we aim to train 5,000 women and non-binary people in technology by 2025.
An example of these initiatives is Globant Academy, our corporate university, as well as courses and training covering subjects that include DevOps, UI, Angular, CSS, among others. 
Hire
We apply diversity and inclusion practices in our recruitment processes to increase awareness, understanding, and ensure diversity at scale. We have created an inclusive hiring training, which we are currently conducting with all our recruiters. We have a gender identity and expression training with Globant's People team. Every Glober has to take mandatory diversity and inclusion awareness training.
We've also created an initiative to empower and encourage experienced technologists who are in a career break to rejoin the industry.
Accompany
We accompany women and non-binary people to sustain their careers in different stages of their lives such as when becoming a mother, offering extended maternity and paternity leave. We have created the "Soft Landing" program, part of the "Globant4U" initiative, to help women as they become mothers. 
Another branch of this initiative are our parenting talks. So far we have provided talks to 700 families covering everything from safety and first aid, and how to cope with children during quarantine. 
Lead
As part of our Be Kind initiative, we aim to achieve 50% female and non-binary in management positions by 2025. To help with career development, we have specific programs in place, such as those run by Globant University. These include the Diversity & Inclusion Learning Path, and LEAP, Globant's leadership program.
As Mercedes MacPherson, Chief Talent & Diversity Officer at Globant says, inclusivity is a strong word – it means democratizing decision-making in a way that doesn't just change who sits at the table where key decisions are made, but also how they are made. We want women and non-binary people to sit at that table to change the face of the technology industry, making it more accessible and diverse.