At Globant, we believe work and personal life purpose have to be aligned and grow together. We are convinced that the strength to innovate and transform the future of business begins with people's well-being, so today we want to give each Glober a powerful message by launching a new pillar to our Be Kind approach: Be kind to yourself.
Although we have been doing initiatives that focus on work-life balance, the way we work has evolved since the pandemic has arrived. So we took a step forward: we now customize and personalize the employee value proposition through Be Kind to Yourself.
As we reinvent the way we work, it is becoming increasingly clear that prioritizing people's experience is the basis for building a successful organization in the long term.
Now more than ever, leaders and employees everywhere identify a dire need for increased empathy, humanity, and well-being in the workplace. Be Kind to Yourself is our holistic approach to support Globers and promote a wellness environment that will help them unleash their full potential.
Body, mind and spirit
Be Kind to yourself brings together all of the company's benefits, campaigns, activities and proposals in a comprehensive way, understanding that people's well-being depends on a good work-life balance, and taking care of both their physical and emotional health.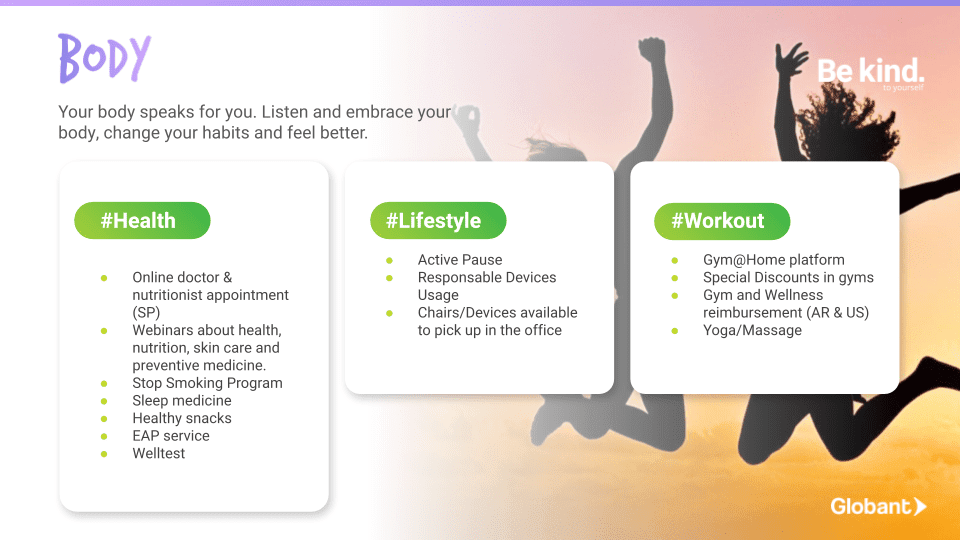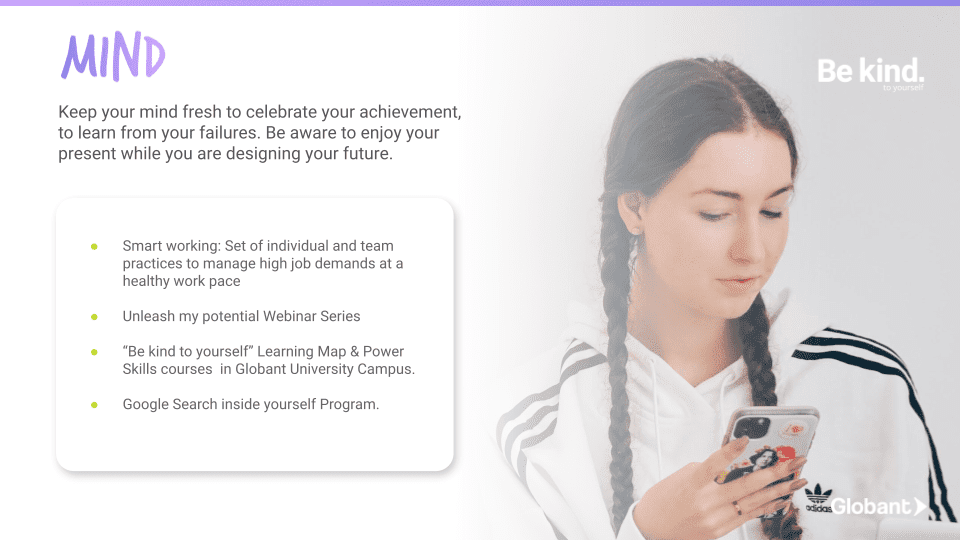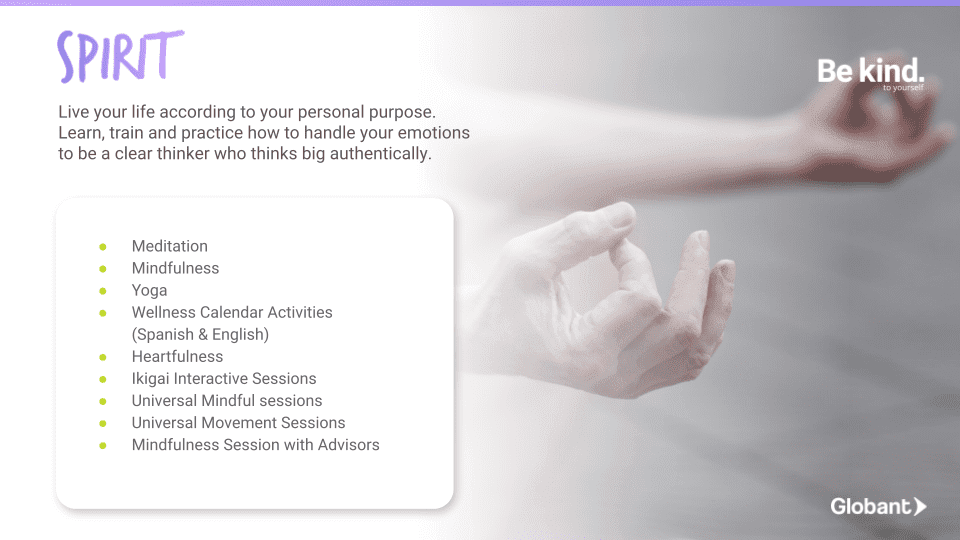 But this is just the beginning. In 2021, we are going to multiply our efforts to provide more opportunities for Globers to boost their well-being. This includes fitness activities, mindfulness sessions, medical checkouts, recreational events, emotional intelligence support, nutrition, and much more.
Humanize the workplace through technology
Even once the pandemic is over, the distributed workforce, coexisting at some point with face-to-face work experiences, is here to stay. The question is no longer where we are physically located but how we connect and take care of each other. Technology allowed us to enter the homes of our Globers and learn that it is possible to feel fulfilled while working remotely, to reinvent our powerful culture to support our team, and to stay connected despite the distance.
Last year, seeing Globers adapt to changing circumstances in their personal lives made us realize that the line between work and home has faded, and that's ok. We have all learned to be more open, compassionate and empathetic. As an organization, we are more ready than ever to support each Glober throughout their paths to personal and professional success. Be Kind to Yourself was born as a recognition of a more holistic approach to people's well-being. In this new reality, we use digital cultural tools and leverage technology to contribute to the well-being and flourishing of employees in the workplace.
Be Kind: changing the world starts from within
In 2019, we launched the Be Kind program as a global sustainability strategy to transform reality and make the world a better place. Our commitment arose as a call to action to build a more balanced and fair future together. We started from the outside in, making an impact on our peers (Be Kind to your Peers), the planet (Be Kind to the Planet) and humanity as a whole (Be Kind to Humanity). When we think about empathy, compassion and kindness, we tend to associate them with the feelings and actions we express and perform for others, but it is important to start applying them to ourselves, as a form of self-care.  
2021 found us more united than ever, using technology to accelerate a fundamental part of Globant's DNA: our constant search for happiness and well-being. And that is why Be Kind to Yourself is now a reality, which will include initiatives for physical, mental and spiritual well-being to help Globers achieve their full potential, connecting their personal purpose with the organization's purpose.
Are you ready to Be Kind to Yourself?