A IDC MarketScape reconhece a Globant como líder mundial em aperfeiçoamentos para o CX no 2020
Temos o prazer de anunciar que a empresa de pesquisas, a IDC, reconheceu a Globant como um dos lideres em CX no seu relatório MarketScape: Worldwide Customer Experience Improvement Services 2020 Vendor Assessment (documento #US45658220, setembro de 2020). Esse estudo representa uma avaliação dos fornecedores de serviços que melhoram a experiência do cliente (CX) através do modelo IDC MarketScape. A avaliação identificou e depois avaliou, de forma quantitativa e qualitativa, a 13 fornecedores de serviços de experiência do cliente a nível mundial.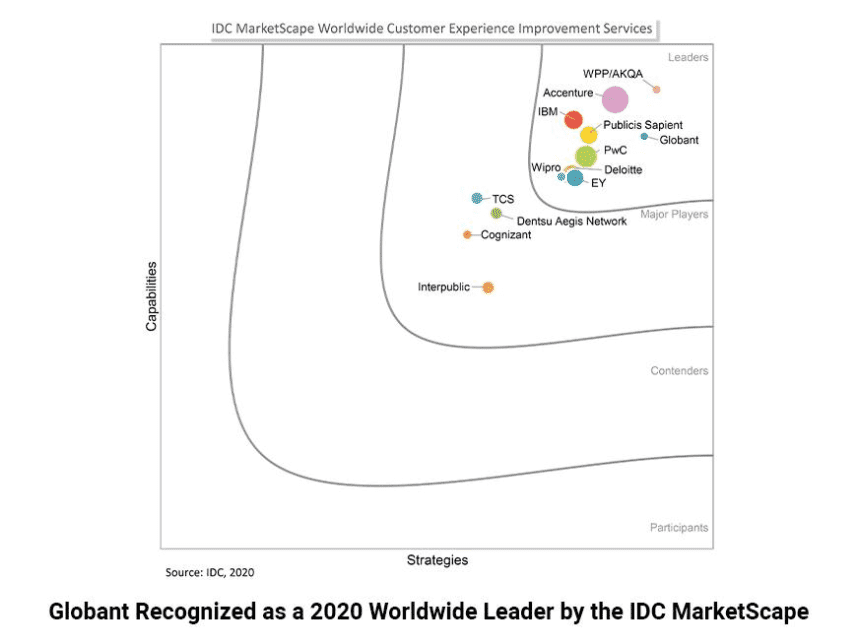 O modelo de análises dos fornecedores da IDC MarketScape está desenhado para proporcionar uma descrição geral da atitude competitiva dos fornecedores de TIC em um mercado determinado. Esta forma de pesquisa utiliza uma metodologia de pontuação rigorosa baseada em critérios, sejam qualitativos como quantitativos que dão como resultado uma única ilustração gráfica da posição de cada fornecedor dentro de cada mercado. A pontuação de Capacidades mede o produto do fornecedor, o lançamento no mercado e a execução comercial em um curto prazo. A pontuação Estratégica mede a alienação das estratégias do fornecedor com os requisitos do cliente em um período de tempo de aproximadamente 3 a 4 anos. A cota de mercado dos fornecedores está representada pelo tamanho dos ícones.
O estudo, realizado pelo diretor de pesquisa da IDC, Douglas Hayward, encontrou que as organizações "querem uma combinação entre visão e ação" dos fornecedores. O relatório enfatiza que "criar e manter uma grande experiência para o cliente ou o cidadão é mais importante que nunca para as empresas e os organismos públicos no ano 2020. Confrontam-se a novos e potencialmente desafios existentes no mundo posterior à COVID-19, onde o comportamento (e o gasto) dos consumidores e as empresas tem se visto radicalmente alterado".
É assim que, dentro de esse contexto de mudanças rápidas e a necessidade urgente de criar excelentes experiências para os clientes, que a IDC reconheceu as capacidades da Globant. Quando trabalhamos com organizações, adotamos uma visão centrada no desenho do seu negócio, o jeito em que estão organizadas e seus clientes. De fato, a chave da evolução foi a nossa capacidade de oferecer resultados comerciais aos clientes através da implementação de uma mistura multidisciplinaria de serviços.

As fortalezas da Globant, identificadas pela IDC
Quando se destacaram as fortalezas da Globant, o relatório enfatizou os comentários dos nossos clientes atuais, quem "elogiaram à firma pela inovação no caminho do cliente, a compreensão e conhecimento e pela entrega de valor comercial". A IDC afirmou que a Globant é "uma boa opção para as organizações que buscam um sócio ágil e criativo que seja proativo e tenha uma visão ampla das necessidades do cliente".
Os comentários adicionais no relatório sobre a Globant incluíram:
"Eles são muito inovadores na maneira como pensam sobre o percorrido do cliente. Realmente desafiam o status quo e apoiam isso com pesquisas".
"Eles realmente entendem como funcionam as coisas em nossa organização desde uma perspectiva operativa e política, eu me sinto muito seguro incluindo à Globant nas reuniões com meus líderes".
"O positivo de falar com eles é que suas ideias não têm limites. Sempre tem um jeito de resolver o que aconteça, nunca tem um "não" como resposta com a Globant".
Falando sobre o relatório, Douglas Hayward, diretor de Pesquisa da Estratégia Digital e Serviços para Agencias (Digital Strategy and Agency Services) da IDC, comentou que "a participação do cliente já é o segundo objetivo comercial estratégico para as organizações no mundo inteiro, e sua importância continuará aumentando à medida que as empresas e os organismos públicos se confrontem aos desafios da COVID-19 e façam seus planos para a era da "nova normalidade" ainda por definir. Os clientes da Globant com os que falou a IDC elogiaram à empresa pela inovação no percorrido do cliente, a compreensão e o conhecimento do cliente e a entrega de valor comercial. Eles gostaram da atitude positiva e da sua perspectiva de início ao fim".
Na avaliação, a IDC examinou diferentes elementos das capacidades da Globant em relação à experiência do cliente. Esses incluíram nosso desenho de serviços, desenho de produtos e instalações, personalização, dados e analises, participação e inovação do cliente, inovação e criatividade de conteúdo e serviços de transformação organizacional. Também avaliaram a nossa experiência com diferentes plataformas tecnológicas e, em última instância, a profundidade da compreensão e o conhecimento de nossos clientes.
Para mais informação , deixamos a seguinte citação do artigo da IDC from the 2020 IDC MarketScape Worldwide Customer Experience Improvement Services report.