Last week we were proud to receive two awards from Salesforce, as they recognized their top partners in Latin America. We received the awards in the region in recognition of being the most significant partner in the region with respect to revenues.
Globant has been a partner of Salesforce for more than 17 years – during which time we have conducted more than 500 projects for over 300 clients. For example, earlier this year we worked together to create a real-time, interactive dashboard for healthcare authorities in Argentina. The dashboard meant that governments could have visibility into the availability of health resources during the pandemic – such as the number of intensive-care beds, healthcare professionals, and availability of ventilators which was carried out by the healthcare ministry of Argentina.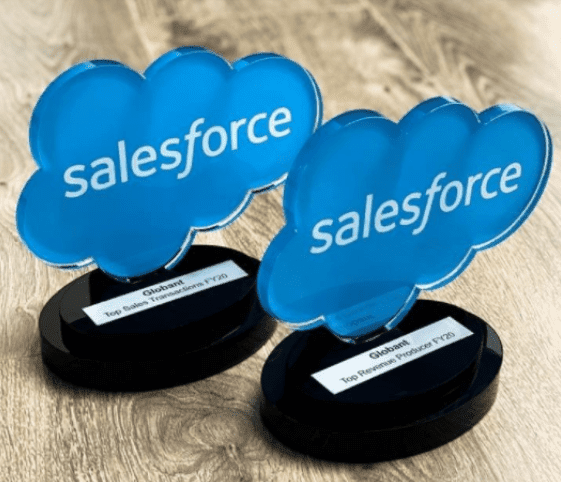 During the award ceremony, we also spoke about our work with the healthcare provider, Keralty, to build and deploy a Salesforce based solution to centralize and manage patient information, traceability and actions related to Covid-19. Due to the urgency of the situation, Keralty had asked Globant to go live with this solution in less than a week. We deployed the first version in 5 days. This solution is now enabling Keralty not only to manage patient information, but also provide a patient-centered self-service portal so people can access information, and request priority help depending on their symptoms. Ultimately it means identifying and more efficiently managing suspicious cases of COVID-19, while speeding up response times and decision-making processes.
Such success stories demonstrate the value that Salesforce is providing to organizations around the world, that desperately need to digitalize their processes, and move to cloud-based solutions. Here at Globant, we're ready to help organizations with this journey.