If you are reading this post it is likely because you are trying to deal with this global crisis. Your life isn't the same as it was three weeks ago or maybe 7 weeks ago. Your interactions have changed, some of your relationships are too close (thanks #quarantine!) and others have become more distant; at least in the physical world thanks to social networks. So this is what we call the "new normal". Consumption patterns have changed and we are ingesting more digital services than ever before.
If you have a business or if you are part of a company, you're dealing with new ways of working, closing deals, and hiring. This includes how to manage new regulations, new rules, new everything! We are facing a "new normal" way to live, to connect, to experience, and also to do business.
We are living in times with a lot of uncertainty. Something is certain: COVID-19 is pushing us to define and roll out new operating models, organizational dynamics, and digital transformational paths. All of this faster than originally conceived.
Globant has conducted a survey of 300 U.S. decision-makers from the private sector who are on the front lines of their companies' adaptation to the COVID-19 crisis. These managers work for global organizations with more than 500 employees.
Of the respondents whose working areas are affected by government-mandated "shelter in place" ordinances due to coronavirus, 53% of respondents don't feel very prepared to ensure business continuity. 33% of U.S. companies consulted have decided to work from home until further notice, and 27% have thus far allowed remote work for a two-week period only.
The situations that companies are finding themselves can be described in three ways:
A- pure survival mode
B- adapting and capitalizing on the crisis
C- growing, thriving, and leading the way. 
Despite their differences, all of them know that the world is changing and their ability to adapt to those changes is the key. 
The Coronavirus pandemic is transforming all industries, and that makes innovation more important than ever. Companies that understand the implications of this crisis faster than their competitors and that are ready to bring their digital transformation plans to the next level will define worldwide competition maps in the future.
In the middle of this chaos, there are some guidelines that companies can use to adapt faster and to become a more flexible organization.
Digital transformation is an "ace up your sleeve". People centricity is the "new secret ingredient". Data is the main asset and new alliances and partnerships will be the differentiating factor of sustainable business growth.
The following chart illustrates what our 3 imaginary Companies -A, B & C- are dealing with.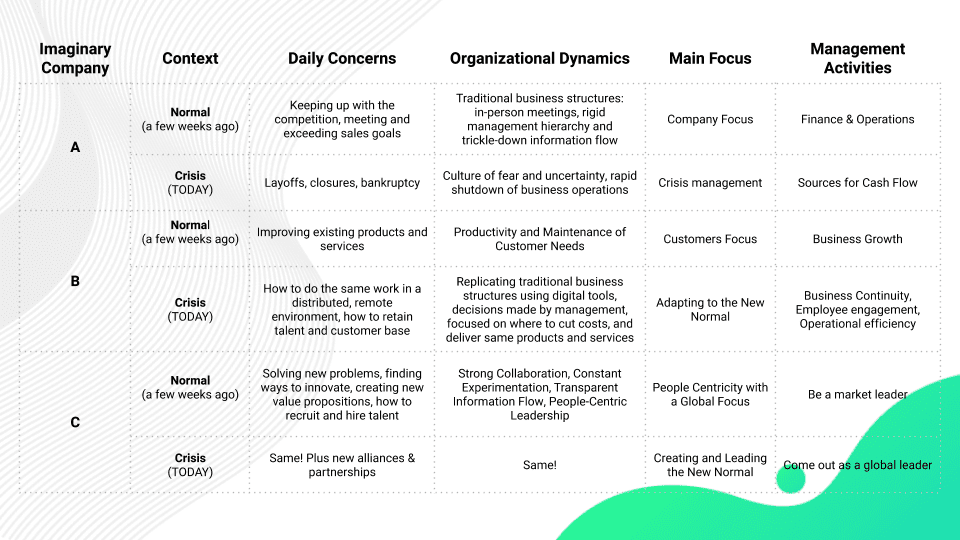 How to be like Company C?
Companies with advanced organizational agility, like those in Company C,  are able to make rapid and sustainable progress. Even during a global crisis, they seize opportunities to change how they produce and deliver value to customers, markets, and employees.
They can do this because they have already adopted the organizational dynamics and business structures. This enables them to change course when the unexpected happens. 
The more you can operate like Company C, the better positioned you will be when we return to the "New Normal".
So which initiatives should you prioritize to survive and thrive in this crisis and be more like "C"? 
Physical distancing and working from home for a long period of time can build anxiety. Respondents' main concerns seem to be related to going "stir-crazy," effective communication, and motivation. Fully support the onboarding of your employees in using virtual team collaboration tools. The faster they learn how to use the tools, the more productive they will be. This way they are more likely to promote using it to collaborate across functional groups, distributed teams, and client interactions moving forward. 
According to Globant's survey almost 60% of respondents believe their company is disrupting their routine by requiring remote work due to coronavirus. Be fully transparent with your team members. Tell them about the actions, priorities, decisions, and unknowns that the company is considering and engage them in the conversations. Being involved allows them to have a sense of control over their situation and enables them to work with focus and confidence.  
Embrace experimentation and out-of-the-box thinking. Encourage your teams to consider new value propositions, process optimizations, and partnerships that would help mitigate the impact of this crisis and even open up new opportunities in the near future. 
When considering the adoption of new initiatives during the crisis, evaluate whether the initiative promotes or detracts from your progress toward digital readiness and organizational agility. Play the "long game". Take the time to find solutions that provide both a quick win and a step forward on the path toward becoming more like Company C! 
Globant is closely monitoring the business landscape across various industries and documenting the trends and patterns that are starting to shape and define the new normal. Download the report, learn about the results of the survey and take advantage of expert advice to accelerate adaptation to the new normal.