Three key elements to take out the value of digital twins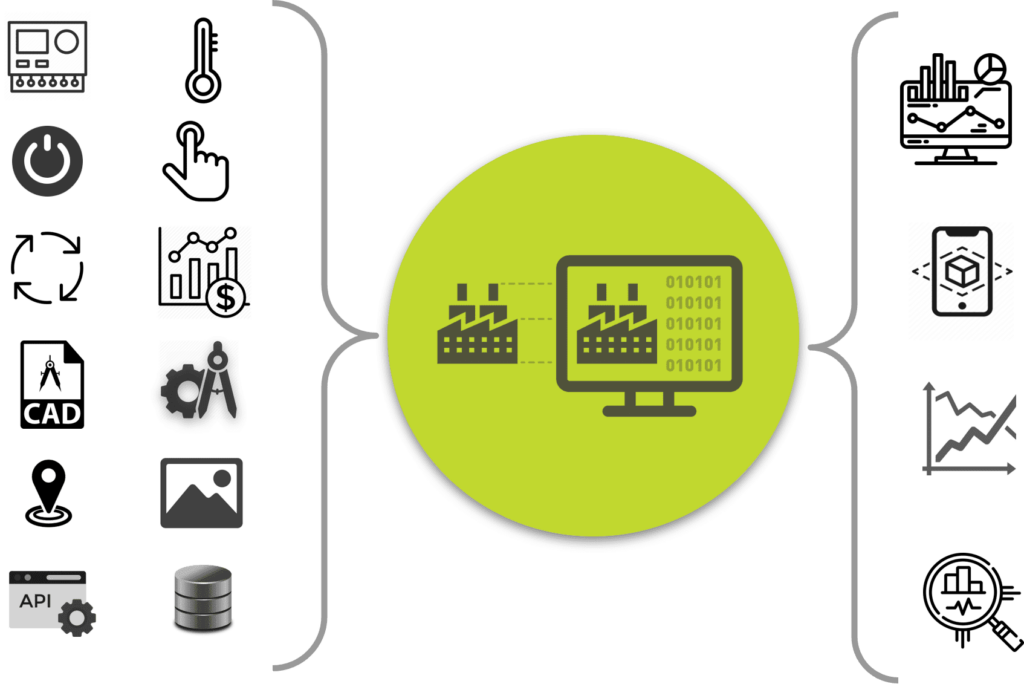 In the fourth episode of Globant's newest podcast, "Unscripted Tech," we discuss digital twins. The concept of Digital Twin was used the first time back in 2002. Last year in May, the Object Management Group announced the Digital Twin Consortium™. In December 2020, they released the following definition: A digital twin is a virtual representation of real-world entities and processes synchronized at a specified frequency and fidelity. 
The virtual representation of entities from the real world and processes: assets, systems, things, and even persons, that could be represented by data provided by sensors, control systems, state machine status, user interaction, CAD (2D/3D), schematics, specifications, location, pictures, applications' workflows, and persisted data, among others. From these entities' representations, its integration into the digital world is enabled to develop data visualization applications, XR experiences (virtual/augmented), simulations, applications services integration to aggregate context, and data analytics. 
A digital twin-based application aims to orchestrate integration through digital solutions and collaboration from areas of a given business value chain, enabling data-driven decisions to impact KPIs positively.
An important idea to understand is that you can achieve virtual representations from different perspectives. You can model digital twins within an IoT platform or use gaming engines depending on the use case; you could also have more complex entities such as the company's process that will result in a DTO (Digital Twin of Organizations) within a process mining tool. 
This article will review three key elements to understand how you can take advantage of digital twin-based implementations.
1. Silo mode organization vs digital twin centric organization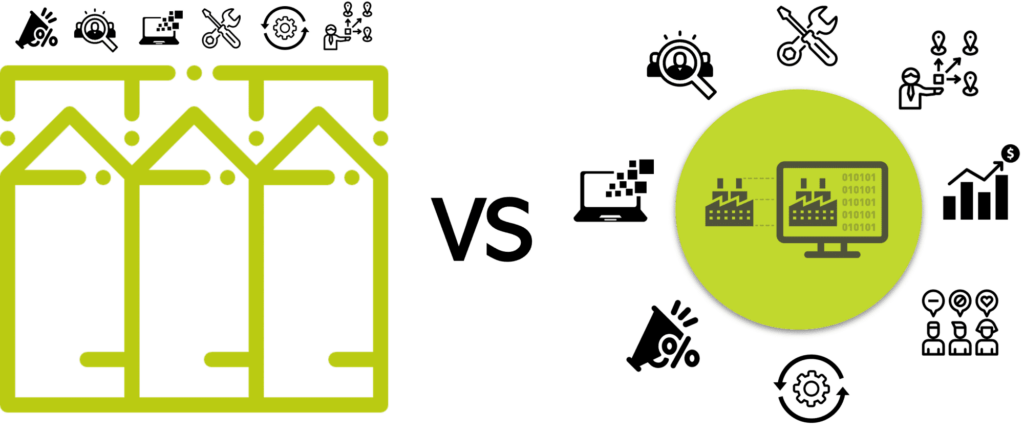 Digital twin implementation can help your business shift from a silo mode organization where the data and people from different areas operate independently, evolving to a digital twin-centric organization. The value is in modeling virtual representations involving all the data sources related to the business value chain. The data aggregation generates collaborations between IT (Infrastructure technology), OT (Operational Technology), sales, human resources, marketing, finance, procurement, c-level, among other areas related to physical entities, and enables data decision making.
2. Digital twin as a driver for technology adoption/transformation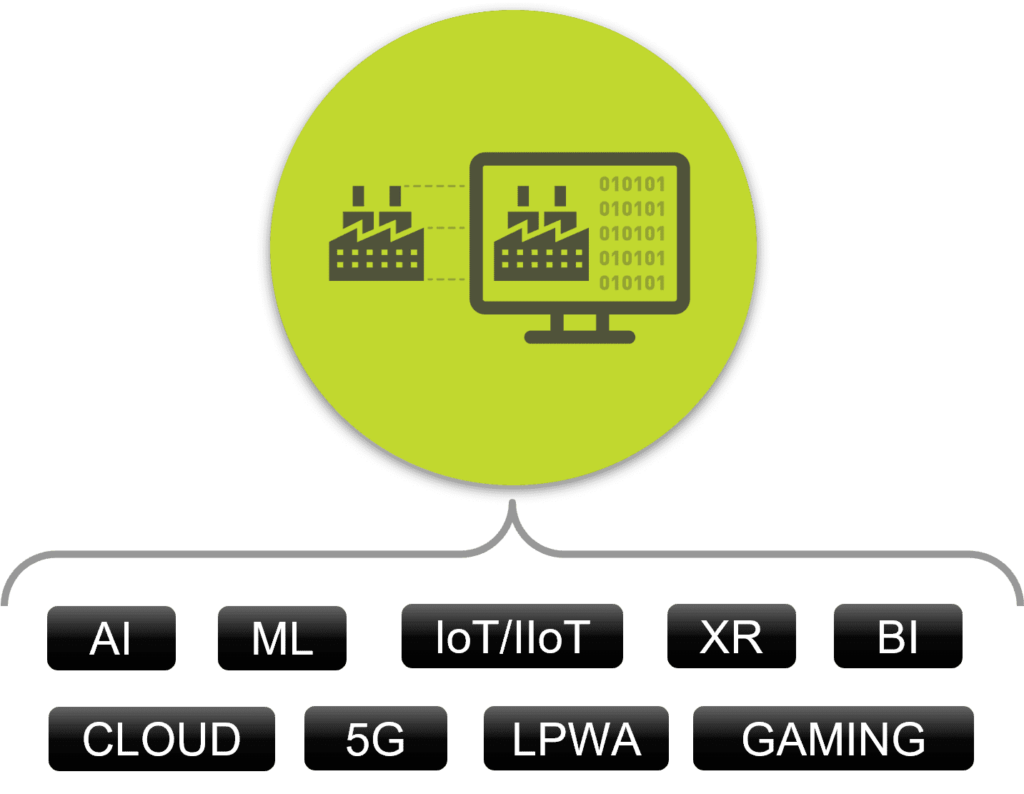 We can find several technologies and trends underlying digital twin-based implementations to support features like:
Data gathering, transmission, and ingestion.
Data aggregation/processing
Data analysis
Data visualization (BI)
Simulation
Rendering
Augmented/Virtual reality experiences
The value is in adopting key technologies that are at a mature level to support the orchestration of the components needed for your use case. In the scenario that your business is at a low level of technology adoption, a digital twin-based implementation can define a clear roadmap for your digital transformation strategy with a specific appropriation goal.
3. Digital twin business impact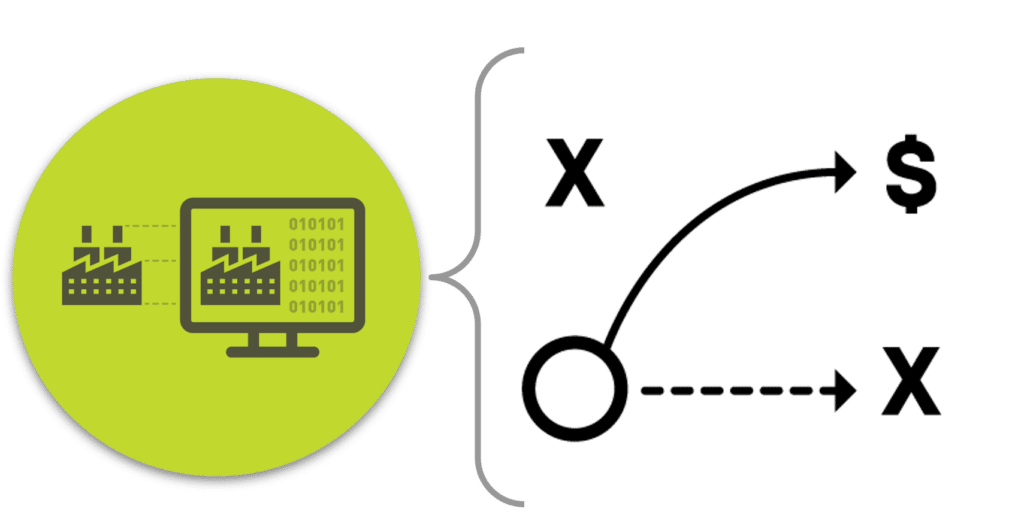 Similar to other trends, the value of digital twin solutions is also given by how it can impact business KPIs. Identifying the metrics you want to target is essential; this is an important thing to have in mind along the way and due to all the technologies involved, you will find other insights to articulate strategies to impact your business. 
Let's review some examples in different scenarios:
For a manufacturing process, you can use a digital implementation to support, among many other features, predictive maintenance capabilities. It is aimed at avoiding the most expensive maintenance procedure in machinery that impacts a whole production line—reducing unplanned downtime and maintaining the overall equipment effectiveness goals.
For a large corporation built around complex process integrations, having a DTO will help find bottlenecks and duplicated efforts, among others. Addressing these elements will result in time optimization and corporate savings.
For a city, having a digital twin implementation that models the traffic and infrastructure behavior capacity will allow for a strategy to manage traffic optimization to reduce vehicle emissions.
Conclusion
Digital twin implementations are enabled by the evolution and maturity level of several underlying technologies that allow solutions to shift the way organizations operate and impact their business. The goal is to achieve data-driven decisions to improve ROI (Return of investment), UX (User experience), forecasting, efficiency, safety, security, and optimization. 
Listen to our experts discuss this concept in more detail on our newest podcast episode.