June has arrived and with it Apple's WWDC 2020, this year with an online format and much more controlled than usual. The keynote was full of novelties all over the board, lasting a full two hours that had a fast and enjoyable pace for us.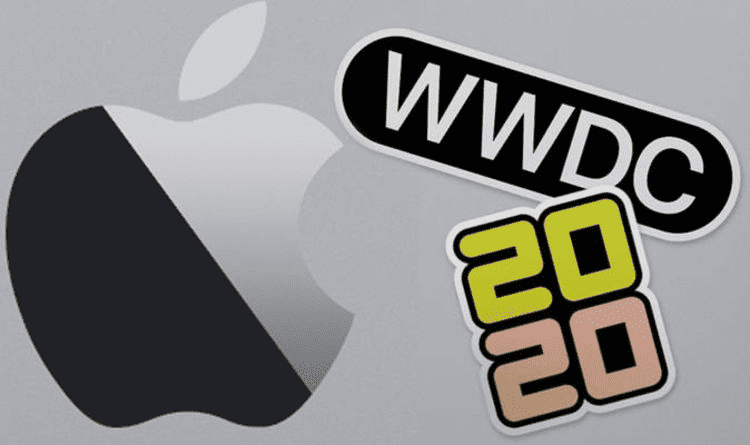 iOS
Apple started with the announcement of iOS 14, which for the first time since the redesign in 2013, has UI changes, specially on the home screen. There are new widgets which enable you to have additional information about your favorite applications. Although it's not possible to interact with them, it's an improvement so the users have more information right away. This broadens the spectrum of functionalities, such as the estimated time of arrival for Uber rides, status of your order in Rappi, recently taken photos in a Disney park attraction, or daily results of your favorite sport in the ESPN app.
Continuing with the changes on the home screen, Apple presented its Application Library, which is the version of the Android's App Drawer with a Cupertino flavor that groups the apps by itself using machine learning. 
Additionally, App Clips were presented. Using NFC and/or a tag, they allow access to functionalities without downloading an application but accessing a reduced version of it. These could be of great help for industries that have some kind of check-in, for remote payments or a quick exchange of information. For example, Airbnb could implement a self-check in. People could purchase a FastPass at a Disney Park when they are already in line. You could see a Gap tag on the street and be able to check the promotions of the month by bringing your iPhone closer, and so on. Endless possibilities are coming.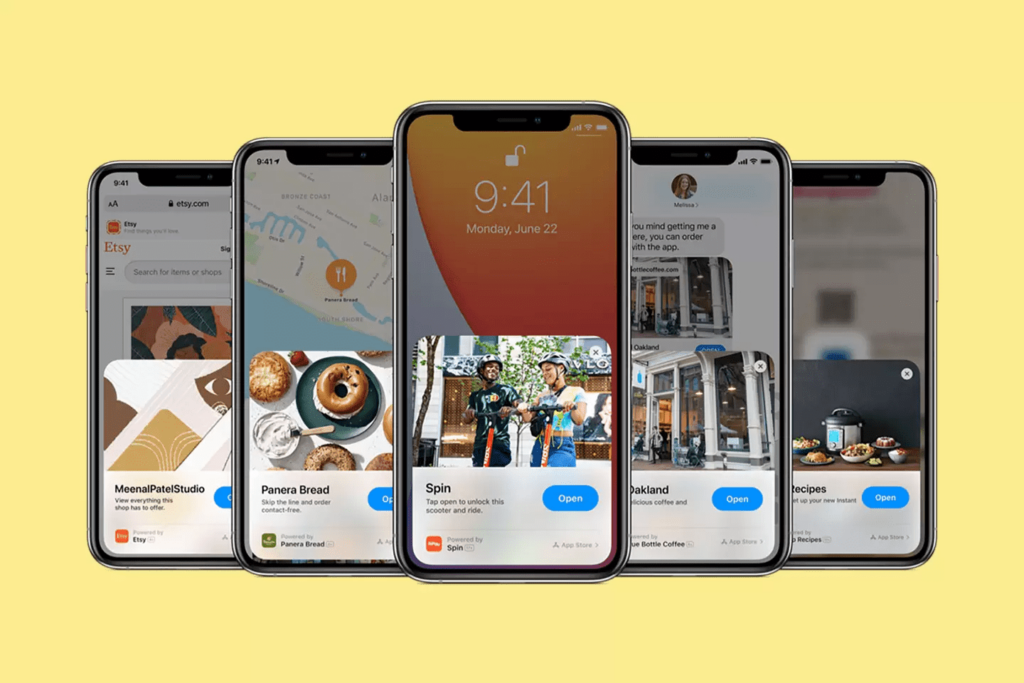 Apple also introduced a new translation app with a complete text and voice translator. All translations are processed locally with the Neural Engine, so this feature works even without an internet connection and will not send data to Apple. Apple says this feature initially works with 11 different languages ​​and will have more in the future.
More UI changes in iOS 14 include a redesigned Siri interface that doesn't block the entire screen and a new interface for incoming calls that will allow users to continue with their current workflow. One fact that wasn't presented, but is relevant, is that users will be able to change their default applications for the first time.
iPad
Many new features for iPadOS 14 are shared with iOS 14, such as memoji's added option to use masks and more than 20 new looks. However iPadOS includes great improvements designed exclusively for iPad, a new Safari that is faster and safer, translation functions, and a security report that allows you to see cookie tracking sites that have been blocked and a new search engine very similar to the MacOS Spotlight.
iPad apps now have a new sidebar very similar in style to the one used in Apple's MacOS apps like Photos and Files. iPadOS' stellar improvement was definitely its integration with Apple Pencil and Scribble. With the use of AI, you can hand write to any TextField and it will automatically convert it to text. This feature is currently only available in English and Chinese and it includes new gestures for Apple Pencil to facilitate text editing.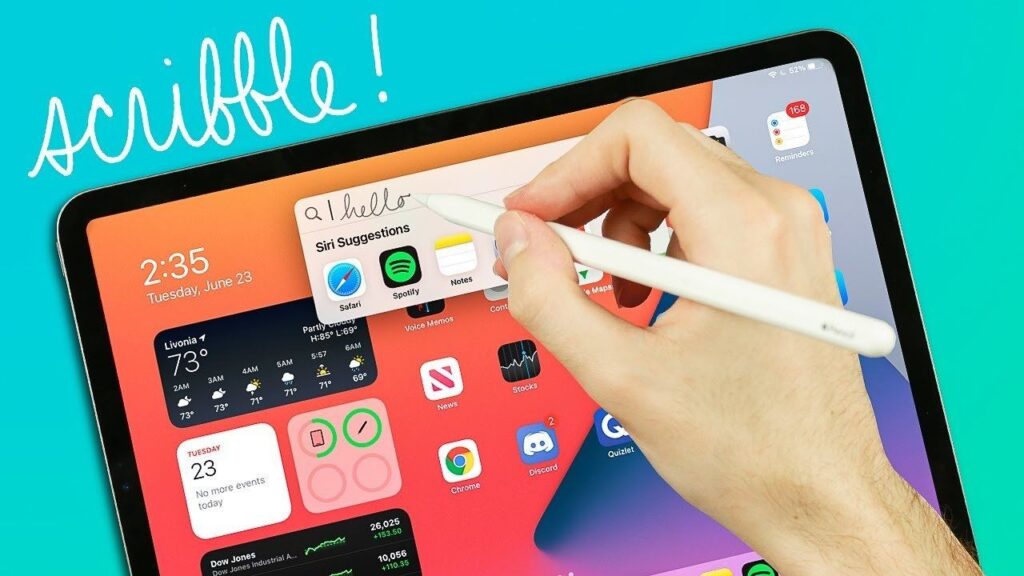 macOS Big Sur
For Apple's desktop operating system, there was a small face lift bringing it closer to iOS. Will a unified OS be coming? From the redesign of the dock, newly added control center and the notification center, all additions bring macOS closer to iOS. Finally, functionality parity of Messages was presented, brought about by porting the iPad version.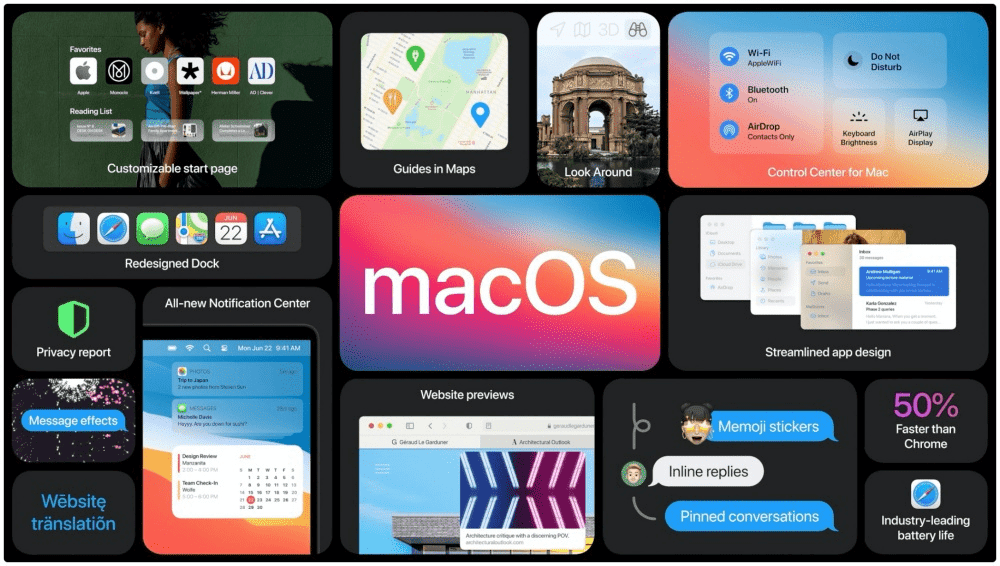 Apple's Catalyst project was another area for improvement. It will now allow developers to easily migrate applications from iOS, iPadOS to MacOS. Although these are totally different paradigms, we will see what new experiences developers will bring to Big Sur.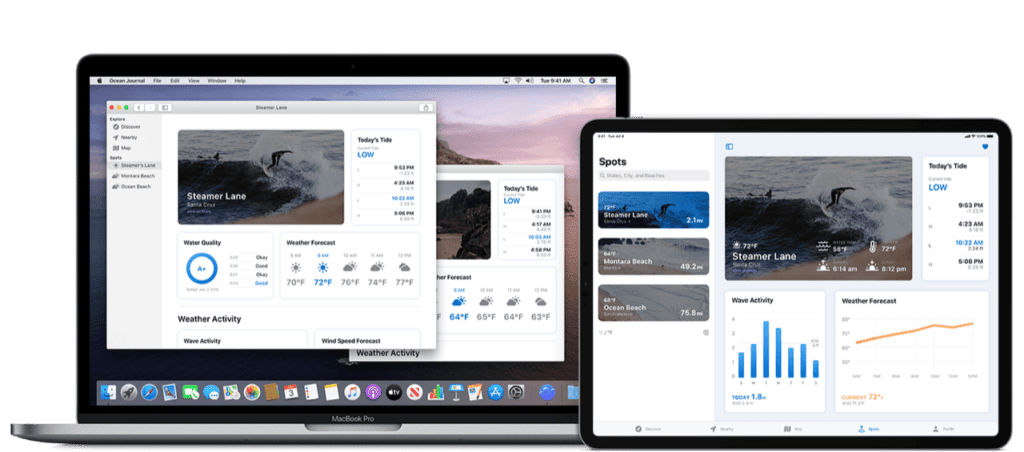 Apple Silicon
The most rumored change for several years finally came true in Apple's WWDC 2020: macOS was introduced for Apple's own System on a Chip (SOCs). The Cupertino company announced the long-rumored transition as well as the tools to support software virtualization and compatibility to facilitate change. We will have Apple "desktop" processors in addition to a very aggressive transition period of just 2 years. This means that they will have the ability to replace Intel even on models like the Mac Pro, which currently uses Xeon processors.
Fortunately not everything will be forgotten and the Apple Silicon version of macOS will include a new version of Rosetta, which used to be an application translator during the first architecture migration from Power PC processors to Intel. Furthermore, since the iPhone, iPad, and Mac will share a common chip architecture, we will be able to run iPhone and iPad applications on the Mac. Most applications will work without any changes, and all will be available to download at the Mac App Store.
For developers, Apple is launching a quick start program that provides them with documentation and sample code to help ease Intel's transition to its SOCs. There will be a Developer Transition Kit that includes a Mac mini with the Apple A12Z (currently used in iPad Pro).
You can re-watch Apple's WWDC 2020 keynote on the Apple Developer website.