The pandemic rapidly changed customer expectations
It is not news that the Covid-19 pandemic rapidly accelerated the pace of change. Many analysts have argued that it was the catalyst to drive businesses' digital transformation – putting existing transformation efforts on steroids. But the underlying driver of these transformations was not really the pandemic, but rather fundamental changes in customer expectations as we all adapted to the "new normal".
When shopping, in almost no time at all, we have come to expect, not just the possibility to shop via a retailers website or app, but to also enjoy everything from omni-channel fulfillment (such as buying online, and then picking up in-store – or waiting in our car whilst a store clerk brings the product to us), dynamic updates on product availability, and personalized suggestions for what we might like.
This meant businesses have needed to find new and better ways to connect with, and attract, customers – and in turn provide deeply customized experiences and unique personal moments. At the same time, customers have shifted from simply receiving compelling experiences to being integral parts of those experiences – as Forrester Research analyst James McQuivey has written, "forward-looking CMOs will recognize that customers don't merely want to be served but want to be part of the service". Achieving this requires an approach and marketing tools very different from traditional ones.
The importance of being human-centric
Leading companies are already focusing on creating human experiences, not just digital or consumer experiences. It's about what people are trying to achieve and their expectations when it comes to a brand or product. The potential lies in enhancing the human experience. For example, in Globant's 2021 Tech Trends report, we analyze the potential of humanizing artificial intelligence – and find that the sophistication of AI is now such that it's no longer about automating processes, but rather bringing humans back into engagements and interactions to create that all important personal touch.
In the "experience economy," the memories, emotions and feelings that customers take away are ultimately what matters most. To achieve success, companies will need to blend strategies and create what we're calling "augmented digital experiences" or "total experiences"
Augmented digital experiences
The next generation of DXPs are enabling organizations to create total experiences – bringing together four main elements:
Multi experience. Customers today expect a seamless experience between the physical and digital worlds – for example, receiving a notification on their cell phone that the item they ordered on your website is now ready to be collected in a store. Doing this well means focusing on the so-called "last mile" experience which is currently where many businesses continue to struggle.
User experience. New technologies are transforming experiences on the browser and mobile devices. For example, facial recognition payments can significantly reduce friction in the payment process for e-commerce sites.
Customer experience. For example this involves creating smart customer journeys, where businesses can predict a person's next action based on data they have previously, with the consent of the customer, collected. Such experiences need to be hyper-personalized – treating each person in a highly individualized manner.
Employee experience. The only way to effectively serve customers in this new world, is to have the employees who are passionate about your business and what you stand for. This means improving the employee experience and adapting to the new world of work – such as creating digital onboarding experiences.
The role of digital experience platforms
The only way to effectively create, manage, and improve these multi-dimensional experiences is with a digital experience platform, which will have content at its core. Personalizing experiences, moments, and ecosystems requires both very different tool sets, as well as technologies, from those which characterize traditional approaches today.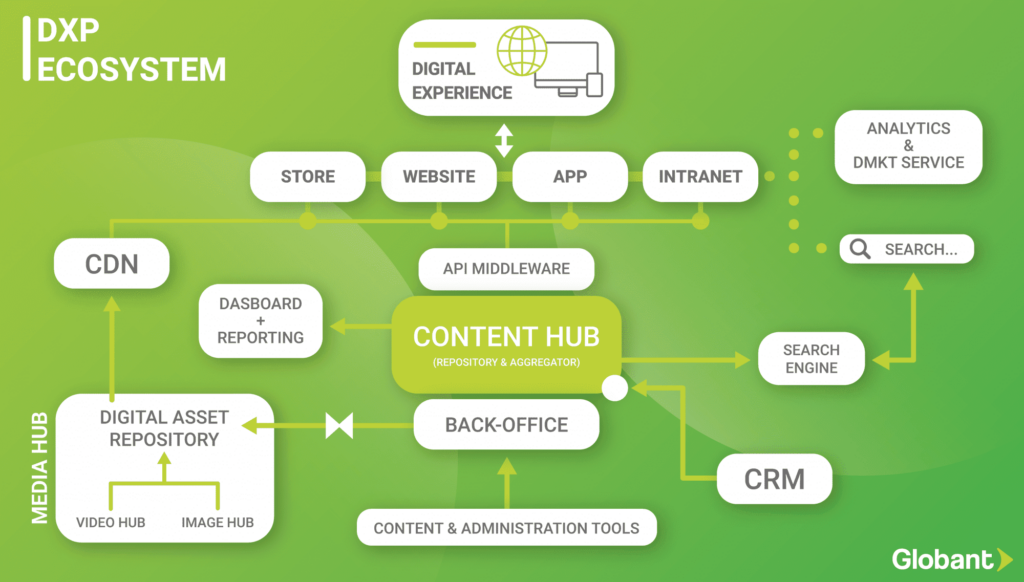 Digital experience platforms (DXPs) are much more than an evolutionary step over web content management and ecommerce platforms. DXPs create an optimized customer approach and customer journey generated by smart interfaces and seamless processes for all relevant channels, continuously updated in real time. DXP solutions are designed to help create these new types of experiences in a world where digital commerce, marketing automation and multichannel content management alone are no longer competitive advantages.
Just look at the example of content creation. We know that content remains king, because it enables connections – it transmits a concept, an idea, or a product. But more recently we have seen a move away from the single experience that a lot of content provides – and a shift to more dynamic, interactive, fun, and often addictive, content-based experiences.
That is why the rise of machine learning and natural language processing is crucial for content creation. This is because we need to be prepared for new digital channels where your content management system (CMS) can provide solutions, or apply cognitive computing, to generate contextualized content. It will also use data-driven insights to improve everything from the context layout to how people interact with it.
Conclusion: The time is now
If you're not already, then it's time to evaluate your customer journeys and compare the experiences you are creating with the most compelling brands in the world. The technology to do this is now more widely available than it was in the past – the challenge is bringing together all the different components of an augmented digital experience and break down the existing siloes that all too often characterize today's experiences –  and then executing on this consistently and efficiently, time after time, for customers more demanding than ever before.