Globant released its latest Sentinel Report, digging into the challenges and opportunities of shaping a brand's voice. The report examines the driving force and trends behind the rapid adoption of conversational interfaces. Here we delve into some of the context and insights.
– – –
The very way that customers interact with brands is changing. Between options of ordering pizza by chatbot to placing buttonless, clickless orders by Alexa, the days of "dial now" are being eclipsed. What makes the difference in customers' experiences with brands nowadays? Their voice.
Wait, you might ask…which "Voice" are we talking about? Voice interfaces or my voice as a brand? That's the cool thing about Conversational Design: it concerns building a brand's voice, in large part by way of voice interfaces. So, we mean "Voice" in both ways. One serves to build the other, in the post-screen era.
What's this about the "post-screen era"?
It's the era we're now in, and there's precedence for this trend. The mouse and the touch-screen, in their respective moments, revolutionized people's way of interacting with computers. Now, voice technology is altering customers' interactions with brands.
The post-screen era is where customers are interacting with brands in ways that don't rely on screens. This includes speculation and research into holographic technologies as well as the more currently available immersive experience by Voice technologies. Voice is forming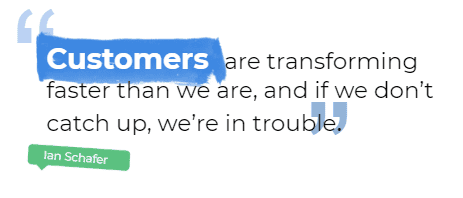 new patterns in the way we communicate with devices, and poorly designed interactions leave consumers frustrated not just with the device but more devastatingly with the brands behind it. This new era requires a shifting focus, on the behalf of designers and brands alike. Customers have already been shifting; staying relevant as brands depends on our learning from the new patterns and designing even better conversations.
But why does this era point to voice?
This era heralds voice technology precisely because the user has invoked it. By 2022, research says that 55% of all US homes will own a smart speaker. That's up from 13% in 2017. As brands that seek to center around the consumer, we have to pay attention to the ways that voice can improve the users' overall experience with our digital solutions. It will end up being one of the surest ways to build trust and solve their problems effectively. The distinguishing factor lies in how brands make use of voice.
Voice is capable not only of replacing current functions—actions that people already execute by other means, like turning on and off lights, and scheduling a reminder. Voice applications must start with the goal of solving a problem, a need that the user has. But the true value of this technology lies in altering the way we solve that problem for the user, making it even more intuitive and organic than previous technologies allowed. That's where we confirm the user's trust in our brand—on the four fronts of integrity, governance, metrics, and evidence—and confidence that we can be the ones to solve their problem.
What started as a voice is now a conversation
One of the first notable (and incredibly complex) electronically-powered attempts at replicating the human voice was called the VODER. During its debut at the New York World's Fair in 1939, the VODER and its highly trained operator, Ms. Harper, exhibited the ability to reproduce sounds that had been considered so uniquely human. The voice could now be produced without recording human sounds. Fast forward to 2011, when Siri meets the iPhone. A mere 73 years later, the idea of reproducing the human voice found a daily, or even hourly, use. But now it was contextualized within the bounds of a conversation. This added another layer of complexity, and one that still needs to be addressed by designers today. That's the impetus for conversational design. For more insights, read on: the latest Sentinel Report focuses on Conversational Design. Worth a read.