With challenging situations like the COVID-19, IT businesses today are facing unprecedented times, thus forcing numerous changes in the way they function. One of the most crucial aspects is that of the workforce –  a majority of which has had to work remotely. Over the last few months, when almost 99 percent of the workforce is connected from the safety of their homes,  the success of business continuity plans across organizations through remote working has made decision-makers start thinking about adopting this new mode of execution as a strategic step to reduce cost and increase productivity. 
Remote working today is ideally being seen as one of the biggest workplace revolutions in history. Remote work policies are radically changing the way we interact with each other, and organizations that learn how to manage it will be successful in the future. A large number of organizations have already come out with their long term plans around this. Once biggies in the industry begin with this revolutionary idea, a lot of organizations are definitely going to follow suit.
While remote working is shortly going to be the new normal, organizations will struggle in this new mode of execution if they are not able to move the office culture too remote. Company culture influences every aspect of any organization, and that is no different in the case of remote work. Being mindful of this when embarking on a distributed team model is a great first step to avoiding the impact of remote working on company culture. 
Taking your office culture remote
A crucial challenge of remote working that all organizations need to purposefully work on is to ensure that the office culture that they have created over the years is preserved during remote working. Here are some tips to carry the office culture home:
Create your office culture and values if you don't have them ready or refine them further if needed. Document them well and make them public. Do ensure that every employee, working in the office or remotely, is well aligned with these. That will go a long way in establishing trust in a distributed team
Standardize processes and practices across geographies and offices.  Pay special attention to processes around Onboarding and Exits. A remote employee should have the same onboarding experience as any other in-office employee. 
Focus more on Team Building activities. Informal meetings like Cafetaria chitchats, fun activities, and even celebrations should be continued even if you move remotely, even though virtual.
Even for distributed teams, occasional in-person meet-ups are a must. Create informal meet-ups at regular intervals.  Use these occasions to also do things that help foster the company culture
Explore digital tools for collaboration and fun among team members.
Communicating wisely is the key You just cannot over-communicate in a distributed setup.
Once you ensure the above, remote working will certainly pay-off for your organizations. Let us now look at how home / remote working, integrated with the office culture, could create huge benefits for organizations and how they could prepare themselves for the big move.
Why remote working?
Remote Working in itself is not a new concept and many organizations have already adopted it for the significant advantages it brings in:
Reduction in Infrastructure
A lot of IT organizations spend significant amounts on Office Space rentals. There are further costs involved in maintaining these offices, including electricity, security, people commute, etc. Allowing people to work remotely from home definitely helps organizations save significant costs on Infrastructure and will allow them to utilize this money in other initiatives. 
Benefits to customers
The cost saved by IT service organizations through Remote Working could also get passed to the clients and this would make them more competitive and cost-effective on the cost of services provided.
Access to global talent 
With remote working, organizations need not restrict themselves to local talent. They can look for the best talent available across the globe. With next-generation job portals driven by the internet, talent hunting has now literally become "Glocal". Hiring globally also enhances an organization's brand and makes it visible beyond local markets.
Enhanced productivity
Employees working from home tend to put in more working hours as compared to working from the office as they are able to save significant time on commuting. Also, the flexibility of working across the day rather than just working during office hours also helps them plan their work in a better way, thus resulting in longer working hours and increased output.
Reduced attrition
Work-from-home opportunities give employees a better work-life balance and hence they tend to stick to the organization for a longer duration. This leads to higher retention and reduced attrition for the companies and they are able to retain highly productive and performing employees.
Enhanced flexibility with work schedules
Remote working helps employees plan their work schedules in accordance with their family constraints and that helps them strike a perfect work-life balance. They have the flexibility to adjust their work hours and take breaks at will to take care of their social and home responsibilities. This flexibility allows them to spend more time with their loved ones.
Reduced stress   
There are interesting studies that suggest that long commutes and horrific peak hour traffic does tend to sap away the energy out of employees and cause a lot of stress. This has a cascading effect on their focus at work and the time spent with family, once they are back home. Work from home spares them from this agony. 
Customized workspace
When you work from home, you are no more bound to the corporate and urbane workspaces. You can choose to have your workspace customized the way you want. You can have your favorite plants surrounding you and your favorite music being played in the background and that will add more comfort to your working style and indirectly enhance productivity!
Healthy body & healthy mind 
Working from home also gives employees more time to take care of themselves. The time saved from commuting could be utilized to focus on health. Some yoga, some meditation, and some good home cooked food shall certainly help your body and mind become more vigilant and active. No long hour sitting will also help you improve your body posture.
Are you prepared for culture-driven remote working?
When we talk about remote working, it is a paradigm shift from the way we have been working traditionally and hence all the stakeholders of the business need to be prepared to adapt to this next-generation execution-style. They should however also strive to preserve the office culture and exhibit the same values while working remotely, as they would exhibit otherwise from office. The primary stakeholders in IT-Services businesses are the following:
Organizations
Employees
Managers
Let us look at how each of these stakeholders needs to be prepared to carry the office culture into remote working:
Organizations
Any IT organization needs to adapt to the remote mindset before moving to remote working. Organizations need to take care of the following before moving to remote working:
Managing Communication effectively and faster than ever is crucial to ensure every employee is promptly and adequately informed of what to do and what not to do. They should be consistently communicated on the company values, mission, and goals. In order to grow a positive company culture with a remote team, organizations need to continue to monitor their culture and values and never stop. They should prepare Employees for this shift and update them on the benefits this situation can provide. Organizations also need to make sure that relevant digital tools and processes are made available to employees to facilitate communication and collaboration. They should also set expectations with them on communication norms like best practices for messenger chats, response time frames, and email etiquettes to ensure clarity. They also need to be communicated with the best practices of working remotely. Organizations could also come up with company-wide newsletters to share the happenings, goals, and achievements of different functions of the organization, to bring the entire organization together. In short, effective communication is key to pass office culture to employees working remotely.
Manage Risks effectively and distribute them whenever possible by relocating critical work among strategic locations, thereby moving to a fully virtually distributed delivery model. Extremely critical tasks may still get executed by a central team working in the office premises, however, less critical tasks could be handed over to remote working teams. 
Be prepared for a quick shift in demand, reinforcing Digital Experiences for existing and new employees, and adjusting policies and processes to be efficient during contingency and accessible from remote infrastructures.
Quickly close any gap in terms of Culture, Infrastructure, and Security. This becomes even more critical during remote working in a distributed environment across geographies as remote workers may represent different cultures and use remote infrastructure and connections to access the organizational applications and servers. Cultural differences should be used as a reason to celebrate, not separate. The more you ensure that your employees focus on common goals and values, and the shared mission of your global team, the greater your chances for success in your efforts to manage cultural differences.
Be ready to efficiently work with a virtually Distributed Workforce, in an organized and consistent manner. Set up the right processes to still keep them connected.
Cleary segregate all the Roles and Tasks that could be executed remotely without a physical presence in the workplace.
Create additional processes and tools to track Delivery as well as Employee Engagement. Monitor performances to identify visible gaps immediately, once the organization moves to remote working. Set up formal quarterly surveys to check the sentiments. general happiness and mood amongst your employees while working remotely. Also, check whether they are missing the office culture while being away from the office. 
Employees:
There is a different mindset required for employees too in order to work efficiently remotely. Following are some preparations that employees need to ensure before working remotely from home:
Workspace setup:  Creating a comfortable and professional working space is imperative to enhance productivity and efficiency. Experimenting on where to work (specific room/area at home, café, co-working space, etc.), what to wear (casual vs business clothes), what artifacts to surround the workspace (plants, photo frames), seating (table, chair), etc. is the key. Whatever workspace they chose, employees should continue to exhibit the company values from it.
Work schedule: Remote working doesn't mean that you are always available. It's critical that you develop clear boundaries between work and personal priorities. Establish your working hours, set up your calendars, and communicate that to all stakeholders. Imbibe the office culture in your work schedule. Make sure that you accommodate sufficient breaks. Within this schedule, clearly identify what type of work you would do during certain times of the day, e.g.: creative work in the morning, monotonous work during late hours, etc. Clearly define your break plans as well – when you take breaks and what you do during breaks. Identify the enablers (eg: what music to play in the background) and distractors (notifications, WhatsApp, unwanted calls, etc). Turning off all distractors during work hours would ideally be helpful. 
Meetings: Virtual Meetings are one of the most critical components of remote working and you need to really prepare yourself well for the same. For these meetings, leverage video as much as possible. Keep your cameras always ON during video calls. Make sure that you have enough lighting in your workspace so that others can see you.  Also make sure that you have good connectivity and audio equipment (mike, headsets) to support these virtual calls. Keep a pen and pad always ready to take notes. Join these meetings on time. If you are setting up these meetings, make sure that you set them within the work schedules of others.
Check-in with your teams: Make sure that you check-in frequently with your teams. Set up a time for pleasantry greeting exchanges in the morning. Daily stand-ups are extremely critical and you should not miss them. Such connects will keep you aligned with the company culture as well. Update the status of your tasks on team slack or a chosen communication tool and respond to messages as well. Timely responses also make your Manager and co-workers aware that you are working. This improves visibility.
Be self-accountable: In Remote working, you can't have managers walking to your place and checking on the status of your work. Rather, you would need to be more accountable for yourself. To ensure that you are focussed on completing your targets, make sure that you set time-bound goals for yourself for the day. Use Calendars to set time slots for tasks. Commit publicly on what you plan to complete during the day. This commitment will also make you more accountable to complete the tasks. Always keep a To-do list for yourself. Strike-off the items that you have completed. This also ensures that you don't miss any task.
Communication is the key: Communication gaps may turn very costly during remote working. Hence it's imperative that you communicate clearly & effectively and ensure that you share all of the information with your team when they need it. Use collaboration tools to communicate with others. Document 'minutes of meeting' to avoid any communication gaps. Don't presume things, ask for clarifications, if needed. Set clear responsibilities for everyone in the team so that there is no overlap of tasks.
Take time to socialize: Remote working often takes away the informal social interactions in office and hence you need to make proactive efforts to socialize. Set up some time-off the work routine to connect informally with your teams over Tea or Coffee. Celebrate birthdays and project achievements. Set up virtual games and quizzes for the team to get together and spend some quality time. This will help you establish office culture when working remotely.
Focus on your Health: While working remotely from home, employees may tend to ignore their health. They may sit in one place for hours without the need for walking as in the case of office. This is not sustainable and may burn you out soon. You need to make conscious efforts to maintain your health. Make sure you have some time in your day to go out for a walk or do some other exercises. Yoga and meditation are good options for keeping a healthy body as well as mind. You should aim to get outside for at least a few minutes each day. Taking breaks away from work can also help you to rejuvenate and be more creative and work harder when it comes time to get back to work. Stretch yourself during breaks. Working at home also gives you a good scope to have home-cooked healthy food. 
Managers: 
Managers have a significant role to play in the success of remote working. They need to alter their style of management to suit Remote Working. They should strive to preserve the office culture in their teams. Some of the best practices that managers can apply are:
Team Building: Use digital platforms for Team Building.  Communicate effectively and promote collaboration. Create opportunities to get the team together frequently.
Goal Setting: Set Meaningful goals for the team and track the progress regularly through virtual assessments. Communicate clear guidelines around accountability.
Trust Building:  Establish a solid foundation built on trust. You must have confidence that your employees are fulfilling their daily responsibilities to the best of their ability even while working remotely. It is imperative that you are thorough with the tasks and are completely transparent with the team.. This will help you develop a strong culture built on trust and honesty.
Rewards & Recognition: Move digital and identify alternate ways for rewarding your employees on their achievements. Using digital certifications, badges, online vouchers as modes for Rewards & Recognition would be a good idea too.
Learning & Development: Remote working doesn't mean that the employees cannot upskill or reskill themselves. Encourage virtual learning through Digital Training platforms. Set up virtual webinars and workshops for training.
Equipment & Facilities: Collaborate with the Facilities team to support requests from employees on Equipment availability at their homes etc.
Employee Mental Health & Wellness: Remote Working, especially in current stressful times with the Covid-19 pandemic, can be more complicated. It takes time to build healthy routines up again in a different environment. Some team members may get bogged down emotionally or mentally due to the stress of health and financial concerns. Give them some time to cope up with the new normal. As a manager, you can help employees by encouraging them to practice healthier behaviors. Lead by example; share what you are doing to stay healthy while working from home. As a manager, check in with your employees often on their health and well-being.
Essential tools for remote working
While Remote Working offers a number of advantages to all the stakeholders involved, the organizations need to ensure that appropriate tools, that match their culture,  are made available to its employees and managers to preserve the office culture and make the most out of remote working. There are a plethora of tools out there – listed below a few that will not only enhance the Remote Workers' efficiency but will also simplify the process to manage them, keeping them productive, aligned to company culture & values and growing professionally: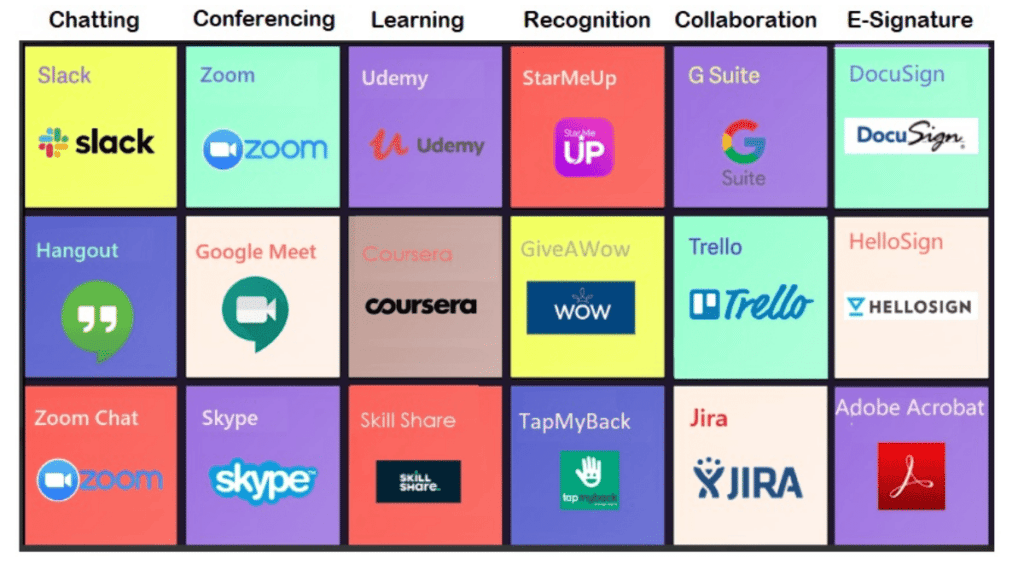 In conclusion
While the current Covid-19 situation has forced many organizations to switch to remote working, the success of this mode of working has already prompted many organizations to re-look at their working models and move more towards remote working as a long term solution. Even employees may now be more attracted to organizations that provide remote working options as it gives them good flexibility and spares them from the painful commute. While remote working is proving its worth, organizations should be careful and well prepared before moving to it and ensure that the company culture and values don't get diluted in this new mode of execution. They should ideally experiment with a step-by-step approach before moving to a fully Remote Working model. However, one thing is quite clear, that the first mover's advantage will definitely be reaped by players who jump onto the bandwagon at the earliest.