In the midst of the Covid-19 pandemic in early April, with people unable to go to physical stores, most retailers were closing down stores and activating business continuity plans. However, one fashion retailer continued to grow, even achieving a 400% increase in app downloads. This was Drest, a digital company that enables you to take the role of a fashion stylist via its app – blending a virtual game with the latest trends in fashion. As we enter the "new normal", many retailers will look to such examples of digitally-native companies, as they urgently evaluate how they can effectively operate and succeed in a world where the only channel is online.The retail experts in Globant's Business Hacking studio have analyzed the sector, mapping both the immediate consequences of the Covid-19 pandemic to the industry, as well as the path back to growth. Below I outline a few of our main thoughts about what is happening, but I encourage you to download our full presentation here.
Adapting to the "new normal": Moving from survival to growth
Even in those countries which gradually allow physical stores to reopen, there will be restrictions for the foreseeable future. Retailers will, therefore, need to move quickly to the "new normal" over the next few weeks, building digital channels, services, and improving their use of data to better understand changing customer requirements. This shift to digital will impact everything from business models, operations, infrastructure, and will ultimately get at the very core of the relationship between customers and retailers.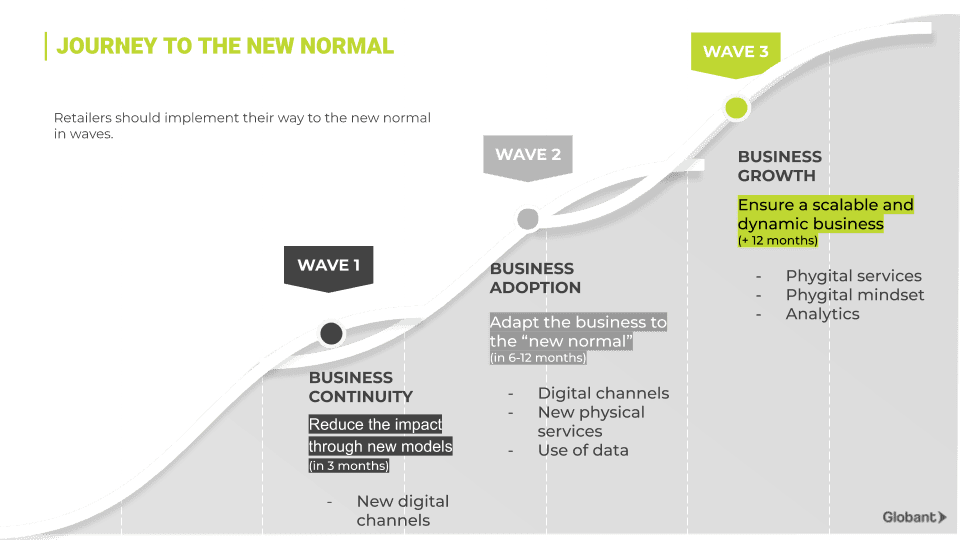 Based on discussions with Globant's retail customers, we mapped the 3 core forces that will shape the future of retail:
– Fundamental changes in customer behaviors
While many consumers are used to shopping online, this will quickly become much more widespread. Customer loyalty will be challenged, particularly if their usual retailers struggle to have stock available – indeed, managing these shifts in demand will be one of the biggest challenges going forward. Consumers will also be more open to engaging in new channels, particularly due to the extensive use of social media and messaging apps during the quarantine.
– A fragile economy and limited consumption
Even in a best-case scenario of a quick economic recovery enabled by effective containment of the Coronavirus, many countries will enter a recession. Consumers will have limited spending power, and sentiment will be low as people cut back on expenditure.
– Shifts in the competitive landscape
Due to the tough economic environment, market consolidation will occur quickly. Many retailers of non-essential products which initially closed, will not re-open. Digitally-native retailers will be at a distinct advantage compared to those which are just starting to move their business online.
The strategy for retailers will depend on their digital maturity. For those who are taking their initial steps, they will need to urgently build digital channels to continue to serve their new remote customer base. For more digitally-mature companies, they will look to improve their customer experience, implement or expand the use of automation, and find new opportunities for monetization.
Retailers will be able to achieve business growth within the next 12 months. To do so, we have mapped the different strategies they can take. We've identified those "quick wins", such as providing more personalized services to boost revenues and optimizing core back-end processes with automation.
Other strategies will take more time, but will be crucial in the future – such as using machine learning and artificial intelligence to optimize demand planning and inventory management. Modern AI solutions enable you to do more with the data you have and better understand everything from patterns in customer behavior to pricing.
Download your copy of the full report, where we identify the strategies and timelines which will serve as a guide for how you can reimagine your business and provide a roadmap to achieve long-term success in the "new normal".