In the first part of this series of blogs, we explored the relevance of marketing intelligence for organizations that are going through a digital transformation. In this blog, we will examine how marketing intelligence is helping financial organizations respond and thrive amid the era of digitalization.  
When we talk about a digital transformation program, we refer to a comprehensive adaptation process that involves a change of mindset in the organization. Being digital involves the work of multidisciplinary and collaborative teams capable of analyzing and leveraging their digital assets to improve relationships with their customers and users. 
One of the industries that has been going through a significant transformation in recent years is the banking industry. In response to the growing demands of clients and consumers, banks are having to develop more efficient ways to respond to their daily needs. Just as our minds transform to adapt to the variables of our environment, it is essential for organizations to adapt to the constant changes in both the industry and specific markets. 
Leveraging our experience in this sector, we detected pain points and actionable insights that served as the basis for developing a measurement strategy. This strategy will support a data-driven vision to make decisions based on data in real-time that are adapted to the needs of the industry and users.
The need for banks to reinvent themselves
Although the digital trends of young people have helped accelerate the digital transformation of this sector, the banking industry in Latin America is still tied to extremely old processes and organizational cultures.  Based on our experience working with this sector, we know that the biggest challenge is the adoption and adaptability of digital solutions for traditional processes. 
Banks are part of their customers' lives and, in order to meet their needs, they need to be able to transform and adapt to the digital era. Consumers increasingly expect self-managed and intuitive processes that respond to new on-demand trends in consumer experiences (for example, entertainment with Netflix, food delivery with GrubHub, education with Coursera, and even social interaction with Instagram). 
Compared to Latin America, the U.S. market is always leading the way with respect to consumer trends. In that market, we find that 66% of seniors think that the Covid-19 pandemic accelerated digital transformation globally. According to Globant's Sentinel Report, Consumers in Context (2020), "we are in the middle of a re-invention era, and customer experience needs to be re-invented with new values, channels and technologies to put consumers at the center."
For example, we know that most consumers prefer to solve any issues that may come up themselves, without having to take the time to visit the physical branch. Visiting physical bank branches is synonymous with long waits, slow-moving lines, and out-of-order counters, resulting in an uncomfortable experience for the customer/consumer of financial services. 
On the other hand, internal mechanisms of data collection and cross-referencing are also quite outdated and mostly dependent on manual tasks. Manual tasks are not only susceptible to human error, but also encourage a biased vision due to the impossibility of cross-referencing data between departments, resulting in silos. This vertical structure was designed and used at a time when all the data was unified by areas, and each one of them showed the results of what they were strictly responsible for without having a joint and horizontal vision with other teams.      
How Globant helped a financial institution apply marketing intelligence in its digital transformation
In one of our experiences with a Latin American financial institution, our experts helped the bank define strategic pillars, adopt an automated data flow, and establish KPIs that would allow it to make the best decisions to drive its business forward. 
We co-defined 3 strategic pillars: Efficiency, Experience and Business.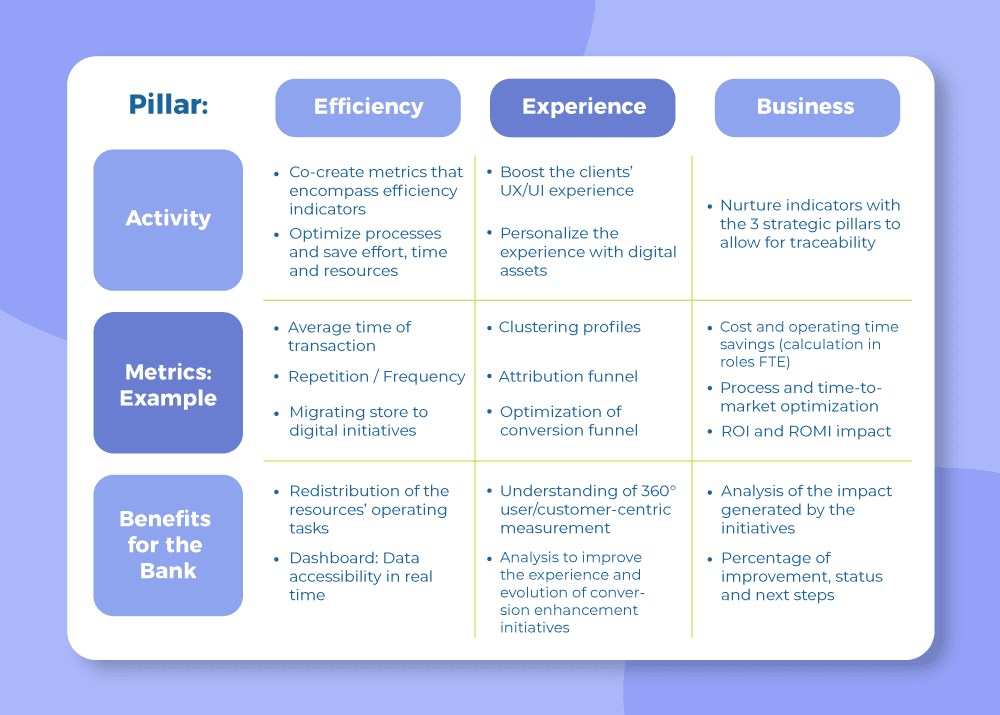 The bank had digital initiatives in trial and even beta stages, which allowed it to present instant solutions to its customers at a time when branches were closed indefinitely. All those who were used to traditional processes were forced to go digital, so these initiatives,designed to be intuitive and easy to adopt for the target users were a relief. 
This transformation, in turn, highlighted the need to automate data flow since it was no longer possible to go to branch offices or connect to internal servers. The need to monitor the users of the new applications and portals of the bank in question (at least three times the regular flow), highlighted the importance of having a clear and established metrics structure, with defined KPIs and known benchmarks, which can help shed light at a time of chaos and restructuring. On the other hand, user monitoring provided assurance to the public about the functioning of the new mechanisms and allowed the bank to make real-time decisions based on data, initiatives and needs. 
2020 showed us the need for digitalization
2020 showed us how important it is to keep up to date digitally, as it took the world by surprise and turned all social and economic structures upside down. Social distancing made it clear: digitalization is the solution to continue providing services. 
As famous Peter Drucker would say, "if you can't measure it, you can't improve it." Data is the necessary basis for constant iteration, and the measurement and interpretation of data are the pillars for the evolution and exponential growth of a business.