Brands must pay attention to content, create conversations, and engage with the public.
The presence of brands on digital has been a reality for a long time. We have given consumers a voice, and today digital channels are the best way to be close to them.. About 4 in 10 consumers say they're using social media more to discover new products and brands. Therefore, a brand strategy needs content that creates conversations with its customers while selling its product. 
But, before any creation, we must understand that branding content is a strategy to attract the public's attention. Whether by creating texts, images, videos, posts on social networks, or other ways. As long as the content is relevant, it's ok. 
It is through content that brands work their products and services without making direct mention of the sale. With it, it is possible to work on the customer's pain points, to attract them, whether to solve a problem or offer a service or a product spontaneously.
In addition, the content needs to generate conversation and help to retain the user. Especially on social networks, developing relevant content that creates value for the public is necessary. In this way, users identify with the brand and build a relationship with it, increasing the possibility of becoming customers in the future.
So how do we make good branded content?
First, we must ask ourselves: what is the purpose of the content? Engagement? Likes? Shares? Why would the user choose this material among so many? This is one of the main points to analyze when considering content production.
Next, the content should be about the audience's needs and the niche it is being created for. In this step, we talk directly about the product or service.
It is essential to explore the differentials and not save time, creativity, and dedication when thinking about the storytelling of the content to make it attractive and unique. Likewise, studying and knowing your audience opens doors. Find out who consumes your content and what they are talking about, and, above all, have a clear definition of your target audience – be helpful to your audience. Users need more time and are looking for content to help them solve problems, doubts, and other daily pains. Bet on tips and tutorials. If necessary, develop deeper, educational content. Generate conversation.
Attention to conversations related to the segment to which the content will be part and what is happening worldwide is essential to get closer to the audience and create relationships. This shows that the brand respects its audience.
We must remember to think about engagement to make the public interact and participate in the conversations we generate. Opinions can always help develop new content and bring more relevance to the brand. We can ask people questions and if it's part of the brand's tone of voice, even jokes. All this is an invitation for the public to be present and bring others to participate.
A digital content strategy is crucial to give visibility to brands, products, or services, generating engagement and credibility. In addition, it helps to attract the audience organically. This way, in addition to creating a solid community that trusts your brand, you also save money on acquiring new customers.
You also create a good impression and a positive experience for consumers. You are increasing the possibilities of referral and new acquisitions by the same users.
And the most remarkable thing is that you can apply the content in various channels such as blogs, social networks, ebooks, videos, and email marketing. You should always consider the best format for each piece of content.
An example of how brands use content to create conversations with the consumer was the arrival of the Oxxo market in Brazil, which caused some buzz regarding the pronunciation of its name. They landed there in 2020 and already have more than 120 stores across São Paulo. However, with Brazilians' difficulty pronouncing its name correctly, the brand was the "target" of funny memes – and they did not miss the opportunity to leverage them.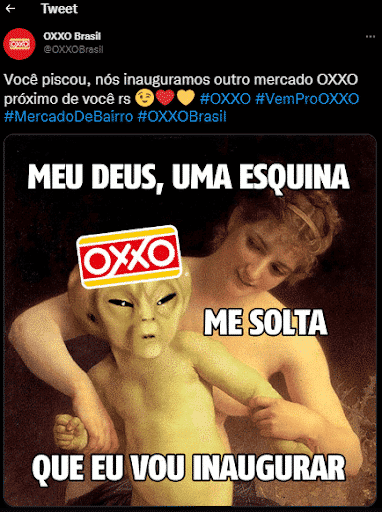 The brand adopt a series of actions to educate Brazilian consumers to pronounce the company name correctly. 

And when the content is B2B?
They say that B2B content is monotonous and boring compared to B2C. But what needs to be said is that many B2B brands use content as the basis of their customer acquisition strategy – which, if implemented well, can be a growth engine with excellent results.
The difference between B2B and B2C content is who receives the message. That is, while B2C brands speak to the end consumer, B2B focuses on companies. This type of content aims to make the brand easily found by potential customers and, more than that, win them over. This aspect is one of the main challenges and goals of B2B sales funnel content.
It is essential to have a very well-designed strategy, which consists of the following:
Market research

Identify and understand customer personas

Understand the sales funnel

Set goals for content

Know the content formats that work for B2B

Promotion tactics to distribute content
It is worth remembering that B2B sales generally have a longer cycle, as purchasing involves more than one person. And depending on the product or service, it encompasses different levels of decision-making. Therefore, B2B content must be even more qualified, as it will assertively stimulate the lead at each stage of the sales funnel.
Content strategists should create materials that differentiate them in the market. In addition to relevance and attractiveness with up-to-date data, the content should add to the lead's life. As you aim to win the lead over and stimulate conversation, showing the differentials of the product or service offered is a plus.
The main challenges when making B2B content are constantly innovating and revising the strategy. After all, developing new content and materials will always be necessary to achieve conversion.
Currently, with the user expansion in the digital world, we have several tools, channels, and formats that help companies in the creation of content, such as:
Ebooks

Podcasts

Quizzes

Live Commerce

Webinars

Virtual avatars
And as in B2C, it is essential to invest in the production of diversified content, which follows market trends and the public profile—in addition to creating rich content that requires filling out a form to gain access.CRM is still a great way to sustain the relationship with the lead. Be sure to feed the brand's social networks; a blog is paramount.
At Globant's Digital Marketing Studio, we create and implement content strategies based on a deep understanding of the brand's business goals, challenges, and audiences. We curate, create, and distribute content that boosts awareness, brand engagement, authority, and conversions.