Covid-19 has impacted business operations across industries, particularly hitting those predominantly dependent on human interactions. Thus, digital transformation has become even more imperative for businesses to stay relevant and stay afloat. Context aware consumers and threats from disruptive innovators has driven digital adoption to the top of the C-suite agenda. More and more businesses are looking to automate their operational processes and make their organizations leaner.
The Now Platform
The Now Platform from ServiceNow is an enabler which helps organisations accelerate their digital transformation journeys. Through its cloud-based platform-as-a-service offering, it helps customers automate, predict, digitize, and optimize business processes to fuel digital transformation. It helps achieve operational agility, improves business efficiency and by providing user autonomy, helps reduce delays due to lack of resources. The strategic platform architecture helps everyone in an organisation build powerful applications quickly to deliver business solutions to their customers, internal or external. The platform provides a single system of engagement for all of its stakeholders, thus making processes leaner and efficient.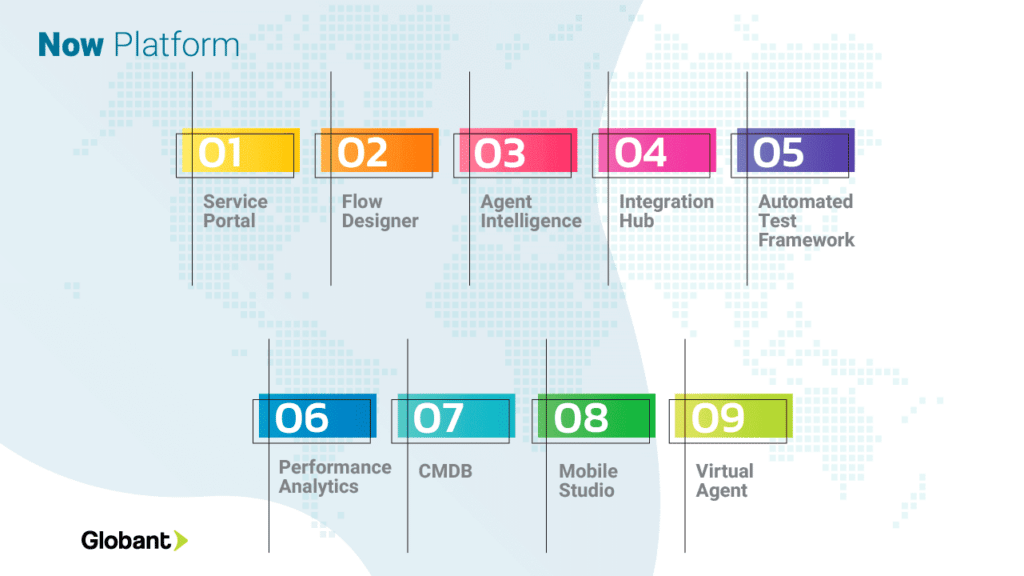 The platform helps businesses with:
Reimagining business processes as digital workflows catering to IT, employee or customer needs, thus boosting enterprise productivity. The platform provides multiple integration touchpoints out of box or custom ones which can be quickly created to integrate the platform with legacy enterprise applications to pull in data.
User autonomy to create custom applications and workflows using a standardized framework and toolset. It also enables non-IT users to quickly come up with powerful apps with little to no-code app development.
Drive continuous business improvement by leveraging native innovations like machine learning algorithms, chatbots, real-time analytics and predictive insights to forecast and anticipate trends, prioritize opportunities, manage resources.
How we helped one of our customers transform their business operations digitally using the Now Platform
Our customer is one of the global leaders in the media and entertainment space. They had multiple bespoke employee-facing applications hosted on a legacy platform. They had more than 100 applications built using disparate technologies. This posed challenges in the  upgrades, as well as with accessibility and maintenance. The set-up was archaic and was hindering the customer's digital journey.
What we did
At the core of our approach was to help our customer re-imagine the way applications are built. With the cloud first approach of Now platform, we helped set up an application framework for the client to easily conceptualize and build custom scoped applications. This involved:
Using the Now Platform to build custom scoped applications.
Rapid prototyping and iterative product development to leverage early client feedback.
Simplifying the process of production onboarding of an application using ServiceNow application features.
Implementing a standardized library for a unified user interface.
Designing reusable/shared components.
Benefits delivered to the client
Together we built 15+ apps using the ServiceNow Service Portal and 20+ complex single page apps using AngularJS. This approach delivered several key benefits to our client:
A consistent, reliable and sustainable product development cycle.
A simple yet rapid application development process.
A single system of engagement for all stakeholders.
Ease of access to advanced features like workflow-engine, performance analytics and intuitive dashboards.
ServiceNow practice at Globant
We have a mature ServiceNow practice, with 120 experts comprising developers, QAs, business analysts and project managers spread across our talent development centers. With more than 40 ServiceNow certified professionals, we have the expertise to accelerate the digital transformation journey for organisations. Since 2012, we have executed more than 50 engagements for over 10 customers across the globe, spanning the media and entertainment, banking and financial services and professional services industries. We are a ServiceNow Certified Implementation Partner.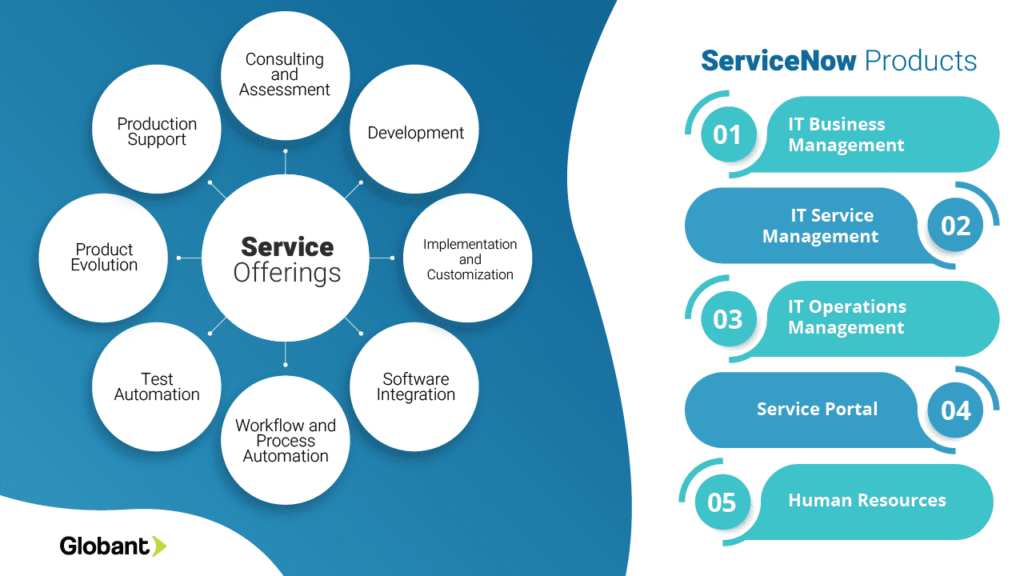 Conclusions and considerations
Leveraging the robust, scalable and evolving Now platform, we are ready to transform businesses digitally and help them realise operational and financial efficiencies. In these unprecedented times, with customers and employees interactions restricted to digital channels, going digital is no longer a nice-to-have. Rather it is at the forefront of the strategic roadmaps for CTOs and CIOs globally. Do get in touch with our ServiceNow team to explore opportunities and jumpstart your digital transformation journey.