Among the most affected industries of the Covid-19 pandemic in the USA, retail is unfortunately near the top of the list.  However, not all retailers are facing the same challenges – the severity of the impact of the pandemic depends on various factors, such as a retailers' current digital maturity, the strength of their brand, and their product category.
In Globant's latest White paper, we explore how the retail sector in the US is responding, and evaluate the factors that determine whether their organizations are in survival mode, adapting to the crisis, or thriving and leading the way. Below we provide some of the highlights from the report, but we recommend downloading the full White paper.
Consumer behavior is changing
There are two primary factors that retailers need to consider in order to navigate the crisis. Firstly, as a result of economic woes, consumers are spending less. Even as the US economy starts to re-open in many places, almost two-thirds of consumers state they will be spending less on retail items in the near-future. Secondly, consumers are shifting rapidly to digital channels. 80% of people state that the crisis has changed at least some of their spending from stores to online channels, and these new habits are likely to remain after the pandemic.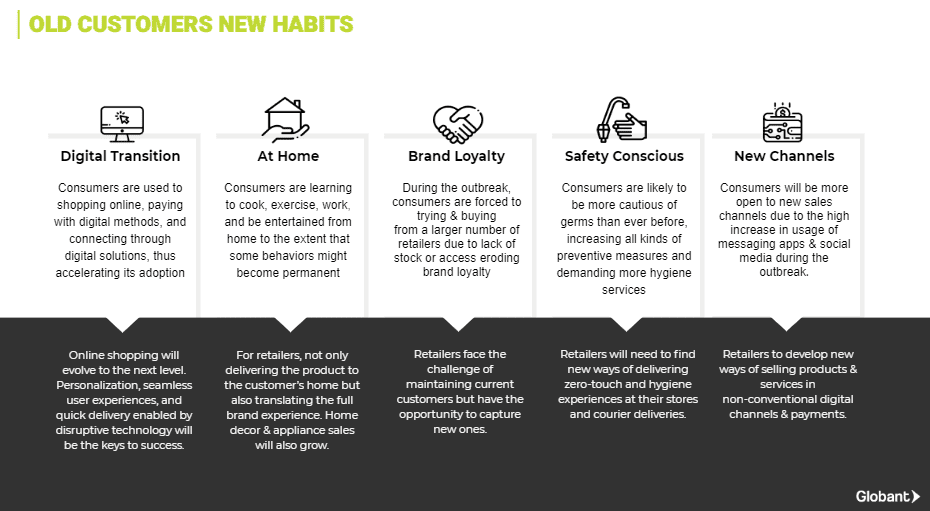 What are the factors that determine retailers' success during the crisis?
Retailers' ability to keep providing products to consumers, adapt to changes in customer behavior, and respond to the crisis depends on three key factors:
Digital maturity. Companies able to provide services through a variety of digital channels with an agile and adaptive culture are better able to manage the impact of the pandemic.
Product category. As people are buying mostly essential products, other sectors such as luxury goods are facing greater challenges. Nonetheless, companies that have found their products in demand are also facing difficulties in interacting with customers and providing their services. 
Brand equity. Having a strong brand and customers' support is key in navigating the new normal where digitalization is a must. 
These factors create specific challenges and opportunities for retailers. In many cases consumers may be there, but retailers are struggling to reach them effectively in this new world. For example, while some companies may be digitally mature, they might be facing challenges related to product category. Other retailers who have seen an increased demand for their products may need to strengthen their brand and migrate to digital channels.
This combination of factors provokes shifts in the competitive landscape. Here at Globant, we see three distinct environments in which retail businesses are operating:  
Pure survival mode: Retailers in this category are typically those with less mature digital presence and/or those that focus on non-essential products. The wave of bankruptcies that we've seen among US retailers reflects the quantity of companies that are unfortunately in this category.
Adapting and capitalizing on the crisis: Retail companies with a consolidated digital arm which have been able to achieve steady to moderate growth during the pandemic.
Growing, thriving, and leading the way: Digital giants such as Amazon and 1-800 Flowers, and innovative digital retailers, which are currently experiencing significant growth.
Your strategy depends on the category your company finds itself in
There are different strategies that retail executives can take, depending on the situation your organization finds itself in. For companies in survival mode, we emphasize the benefits of diversifying digital channels and revenue streams – using quick wins, such as social media, landing pages, and investments in areas such as search engine optimization. For those that are growing and leading the way, we stress the importance of creating powerful and personal digital experiences, while at the same time, taking the time to understand how customer journeys have changed over the past few months.
While companies have been put into crisis mode, we've also seen executives successfully pivot their business, and implement digital strategies at a speed barely anyone would have thought possible just a few weeks ago. To further explore the strategies leading retailers are taking to create innovative digital retail services in a resource-constrained environment, download our White paper.