A new chapter in the history of humanity has just begun: as of April 2020, there are already 195 countries with coronavirus cases and are fighting this pandemic. 
We have seen how the proper use of technology can be great support both for controlling the spread of the disease and lowering the fatality rates, as well as for reducing the socio-economic impact of the crisis. 
Beyond the social distancing and isolation currently affecting 3.9 billion people around the world, some countries are taking successful measures based on artificial intelligence, big data, hyperconnectivity, and more., and understanding them constitutes a key differential in combating the pandemic in an efficient manner and in the shortest time possible.
The speed at which each government leveraged the information and technological resources shows a very diverse impact on social health and economic realities. Some countries, like Germany and the Netherlands, register fatality rates that are much lower than the worldwide average.
In order to analyze the situation, it is also important to look at: 
the hospitalization ratios 
the percentage of hospital capacity occupied coronavirus-infected cases
the recovery rate and relapse rate of each region
Learning about good practices, which in many cases depends on the proper use of technology, is fundamental to help overcome the crisis.
More Than Nine Technologies Are Saving the World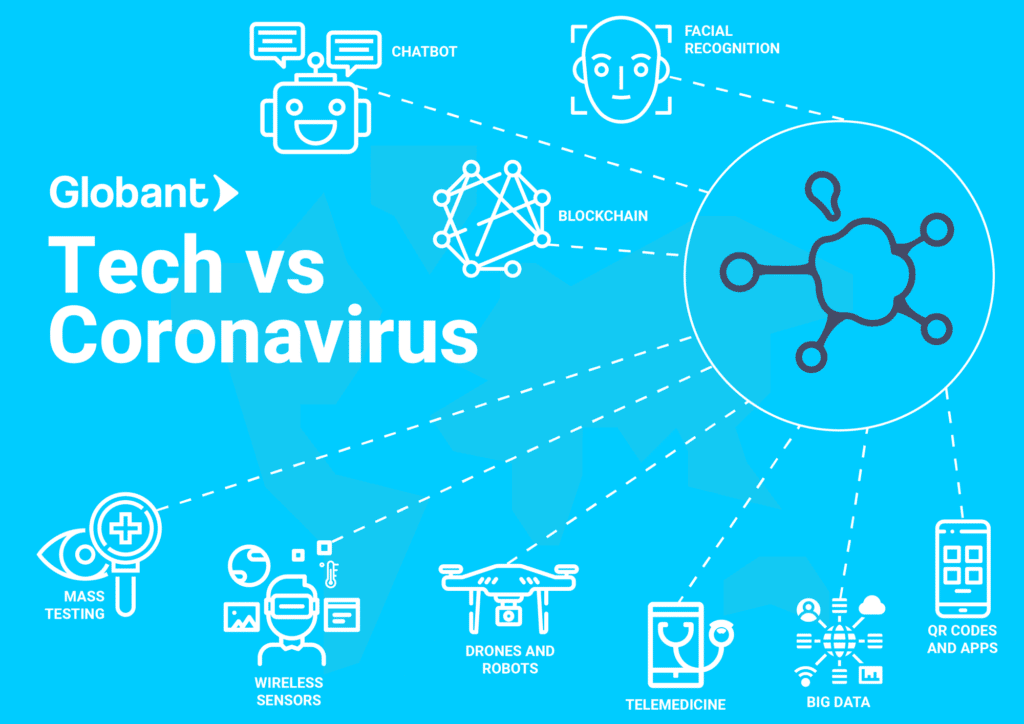 At Globant, we have created this White paper to analyze some of the successful cases headed by governments of countries such as Singapore, Germany, China, South Korea, and Australia between January and March 2020.
Some innovations appear like science fiction, so expect to be surprised and download the free document here.
Drones and robots
Facial recognition
Chatbots
Mass testing
Big Data
Blockchain
QR codes and apps 
Wireless clinical sensors and smart glasses
Telemedicine and digital therapeutics
The appearance of the Coronavirus forced countries to speed up their research and technological development in order to find positive results in record time. 
Faced with the systemic challenge that this crisis represents, solutions cannot help but derive from collective efforts and from greater integration of multiple sources of data in order to map and predict the spread of the disease. 

This white paper allows us to learn about the successful experiences of the countries that are applying technology to combat the pandemic and to understand which measures worked and why. There is no time to lose. Make the most of it!