Driving fundamental digital change, from the front-end customer experience, to optimizing the core technology environment, is one of the top priorities for organizations in 2021. A lot has been said about how best to embrace this digital transformation and the capabilities companies need to develop to succeed. Some organizations had already embraced such transformations before the pandemic, while others had to quickly change how they go to market and meet their customers' needs.
The question is, are CEOs and Board Members prepared to face a rapidly changing business environment? Are they ready to build a digital-first organization, transforming everything from their company culture, to creating a truly disruptive value proposition with technology at its heart?
I want to explore some of the aspects that Board Members and C-Suite need to consider when deciding what is best for their company and where digital onboarding can play a key role.
Do Board Members and C-level truly understand what being digital means?
Almost half of C-Suite executives admit they have launched digital transformation plans without a clear strategy (resulting in poor correlation with shareholder´s value) hence, without knowing what roadmap to follow and how to measure one's progress if available.
Such a striking percentage should serve as a wake-up call. It's also a key reminder for many of us working in strategy / technology, to recognize the gap that exists among many business executives between the fact of "being" digital with a business purpose, rather than just ¨pretend¨ digital.
It's not longer enough, for example, to simply focus on adding functionality to our e-commerce site. But rather it requires a holistic and deep approach, from creating powerful and delightful / simple digital customer experiences, to developing an agile, innovative digital-first company culture (a must not only for our customers but also key to attract necessary top talent).
Achieving this requires full support and understanding from the top: C-suite executives, managers, and directors. However, not all Board Members are technology experts. In most cases they are former CEOs, company presidents, or have financial or business backgrounds. They will need a technology-driven mindset in order to guide their organization in digital initiatives. According to research there are opposite ideas when it comes to digital savviness among leaders: 85% percent of executives agree or strongly agree that their company leadership is digitally savvy and helps the workforce in new ways. In contrast, only 56% of directors agree with this statement. How can managers and directors be on the same page when it comes to creating a digital culture and harness digital onboarding?
Improving leaders' "digital fitness"
A fundamental asset of a company in their path to digital transformation is having leaders who fully understand its implications. In PwC-CBM research, 34 percent of directors said "changing the leadership mindset and standard processes" was one of their top barriers to digital transformation. Members of the board need to reach consensus to be willing to take a certain amount of risk and adopt new ways to deliver to really capitalize the benefits that new technology can bring.
For leaders to have the expertise and insights to drive these transformations, an holistic approach to "digital onboarding" can help. Such a model can include:
Enlightenment sessions. Hands-on sessions with industry leaders to help executives understand the implications of the latest technology developments, and ask the right questions as to what it means for their specific business models. For example, what might quantum computing mean for your business in one, two or five years down the road – should you start thinking about whether quantum computing has implications for your security protocols?
Applied technology exhibitions. Understanding technology requires seeing it in action. It is important for directors and CEOs to attend venues or technology exhibitions where they can see the scope of technology applied in real-life scenarios. Given social distancing, directors and managers can attend virtual conferences or use augmented reality, and interact with industry experts to fully understand the implications of adopting new technologies.
Cross-pollination of industry trends. Considering what happens in adjacent sectors and how it affects your business is crucial for digital transformation. For example, if you're in healthcare, are your executives aware of the latest developments in the Consumer or retail industries? Such insights may help a healthcare provider bring in a fresh perspective to generate greater patient-centricity, by using many of the techniques and approaches of highly consumer focused companies.
Generating "Augmented Collaboration" and a digital culture. While this may seem simple, team collaboration has changed dramatically over the past 12 months. You need to ask yourself if your leadership recognizes the power of technology to drive "augmented collaboration" between people, helping them work more efficiently together, while also helping to foster a digital first culture.
Finding mentors. Finding people who can help the board and C-suite acquire better knowledge and understanding of the digital world is crucial. Here, it's important to look for people with expertise, coming from different contexts and with different mindsets. Some leaders might want to add to their team an experienced executive from a company in a tech hub such as Silicon Valley, others may find value in leaders and coaches coming from adjacent sectors with a different perspective of what digital transformation means. This helps the board and C-level to diversify viewpoints, enrich their conversation with management and identify the digital skills that are most relevant to their organization.
Globant's value proposition to help directors and C-suite executives be ready to lead digital transformations
At Globant, we apply a future centric approach to help companies become Augmented Organizations, meaning they are empowered by AI, and built upon their adaptability, the strength of their culture and the reach of their business. Our approach unleashes the potential of organizations from six core strategic pillars that include creating disruptive businesses, building augmented capabilities, creating agility and culture, unlocking the potential of data and technology, increasing an organization's capacity to adapt and the creation of engaging and powerful experiences.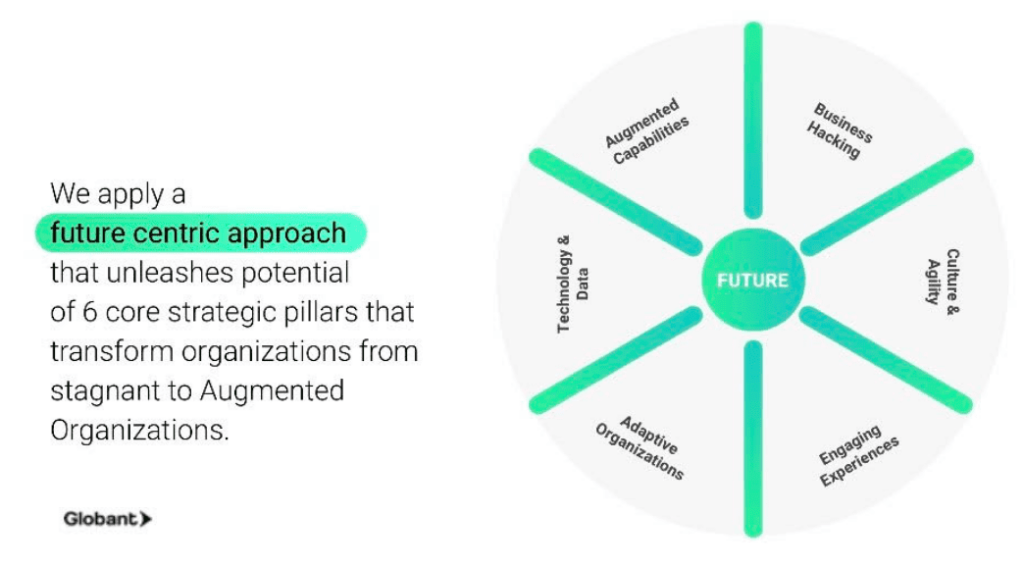 We believe fostering a digital culture among C-suite executives and board members is key. We offer digital onboarding, consisting of training, self evaluations, and sessions to help cross-pollinate market trends and ideas. Our objective is to bolster senior executives and board members' "digital fitness". We can help unlock the exponential potential of multidisciplinary teams and find new value streams. We offer solutions to create a disruptive value proposition in the market, ensure business sustainability, and provide a guide on how to become an "augmented organization".