Last month I had the opportunity to participate in the 2018 Agile Open Camp Colombia. It was an immersive experience consisting of three days of learning, exchanging and creating Agile content. Beyond all the knowledge I acquired, there were three important lessons I learned that made this experience unforgettable:
Thinking outside the box
Being in contact with nature 24 hours a day while thinking about agile unblocked my senses and motivated me to find different ways of doing things. One example of this was the Open Space, which is a collaborative practice Agile events implement in order to create the agenda for each day. It looks like this: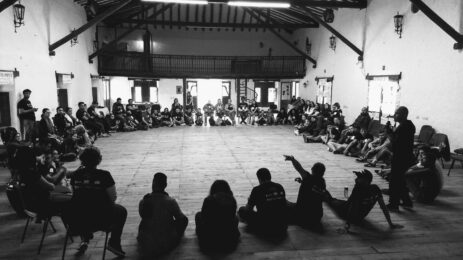 Each volunteer stands in the center of the circle and makes a one minute elevator speech to communicate the topic he/she wants to share with the community. Everyone listens and afterwards sign up for the talks/workshops that seem more interesting or useful for them. After everyone has presented and enrolled, the result is the marketplace or agenda for the  day, looks like this: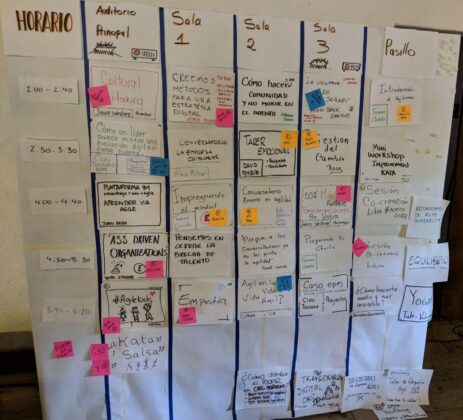 More collaboration less control
As this was a real community space, not a virtual one, any moment was a good moment to talk about Agile. No one was aiming to exercise control over the meetings, the focus of the conversation or the content. I also had the opportunity to meet and collaborate with people who didn't judge my points of view;  who listened to me, made me powerful questions and asked for my feedback.
There were, however, ground rules established at  the beginning of the event so it could be productive and efficient for everyone:
Prepare yourself to be surprised, avoid expectations

We are the ones that should be here, no one  else

Each talk starts in the perfect moment and

When the talk ends, it's because is due to end

What happen was what should have happened

The law of Movement: If it's time to go, use your feet.
Agile is beyond software development
This was the proper space to meet people from different countries and professions that think like me in terms of agility. They also believe that Agility is not just a way to develop software, it's a lifestyle. At that moment, I realized Agile is a topic of continuous evolution and that every day there are people that work in areas like education, with NGOs (Non-Governmental Organization), as writers, and even children, that use Agile in their fields, their jobs and their lives with most promising results.
It was an enriching experience. I hope that everything I learned in the Camp, professional and personal, will help me contribute even more in my day to day job.
In conclusion, I want to thank Globant for their support in this initiative and invite everyone to join this kind of experiences (AoC Chile is coming in November). I invite you all to take advantage of Globant's interest in supporting and pushing us to grow and expand our knowledge. I can assure you, you won't regret it.