We're delighted to announce that the research company, IDC, has recognized Globant as one of the leaders in their MarketScape: Worldwide Customer Experience Improvement Services 2020 Vendor Assessment report (Doc # US45658220, September 2020). This IDC MarketScape study represents a vendor assessment of the customer experience (CX) improvement services market through the IDC MarketScape model. The evaluation identified, and evaluated, 13 global providers of customer experience services.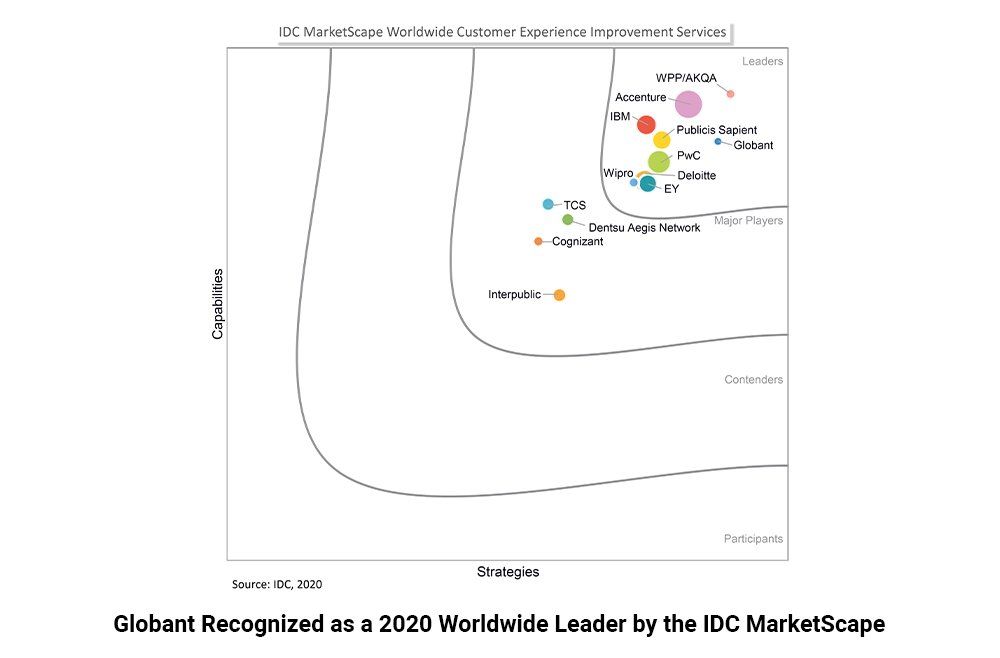 IDC MarketScape vendor analysis model is designed to provide an overview of the competitive fitness of ICT suppliers in a given market. The research methodology utilizes a rigorous scoring methodology based on both qualitative and quantitative criteria that results in a single graphical illustration of each vendor's position within a given market. The Capabilities score measures vendor product, go-to-market and business execution in the short-term. The Strategy score measures alignment of vendor strategies with customer requirements in a 3-5-year timeframe. Vendor market share is represented by the size of the icons.
The research, conducted by IDC Research Director, Douglas Hayward, found that organizations today "want a mix of vision and action" from suppliers. The report emphasizes that "creating and sustaining a great customer or citizen experience is more important than ever for enterprises and public bodies in 2020. They are faced with new and potentially existential challenges in the post-COVID-19 world where consumer and business behavior (and spend) has been radically disrupted".
It is within this context of rapid change, and an urgent need to create great customer experiences, that IDC recognized Globant's capabilities. When working with organizations we take a design centric view of their business, their organization and their customers. Indeed, key to the evaluation was our ability to deliver business outcomes for clients by deploying a multidisciplinary mixture of services.
Globant's strengths, as identified by IDC
Highlighting Globant's strengths, the report emphasized comments from our existing clients, who "commended the firm for customer journey innovation, client understanding and insight, and business value delivery". IDC stated that Globant is a "good fit for organizations looking for an agile and creative partner that is proactive and takes a broad view of the client's needs". Additional comments from Globant customers in the report included:
"They are very innovative in the way they think about the customer journey. They really challenge the status quo, and they back this up with research."
"They really understand how things work in our organization from an operational and political perspective, I feel very comfortable about including them in meetings with my senior leadership."
"The good thing about talking with them is that there is no limit to their ideas. There is always a way to work it out — there's never 'no' as an answer with Globant."
Talking about the report, Douglas Hayward, Research Director for Digital Strategy and Agency Services at IDC commented that "Customer engagement is already the number two strategic business objective for organizations worldwide, and its importance will only grow as enterprises and public bodies face the challenges of COVID-19 and plan for the yet-to-be-defined 'new normal' era. Globant clients that IDC talked to commended the firm for customer-journey innovation, client understanding and insight, and business value delivery. They liked its can-do attitude and its end-to-end perspective".
In the evaluation IDC examined different elements of Globant's customer experience capabilities. These included our service design, product and facility design, personalization, data and analytics, customer engagement and innovation, content innovation and creativity, and organizational transformation services. They also evaluated our experience with different technology platforms, and ultimately the depth of our client understanding and insight.
To learn more, read the excerpt from the 2020 IDC MarketScape Worldwide Customer Experience Improvement Services report.