Globant is turning 20! We're celebrating it our way: by thinking big and making it creative and memorable.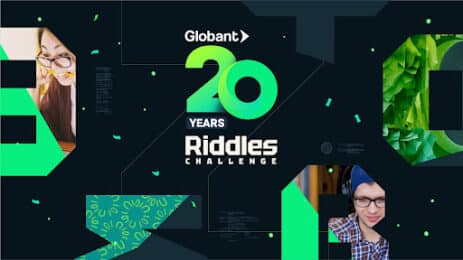 Our extraordinary journey started 20 years ago with four friends who followed their intuition and dared to think beyond the status quo. With boldness, perseverance, and courage to navigate new territories, we have become enablers for change, progress, and future growth.
What better way to celebrate the First 20 Years of Globant than through game dynamics that encourage curiosity, creativity, and knowledge, the key elements to drive digital transformation and growth?
Thanks for participating in our challenge!
Our challenge is over! Thanks to all the tech enthusiasts, and visionary thinkers passionate about problem-solving who participated and challenged themselves in our Riddles Challenge.
If you are curious about the answers to our riddles or compare them to your own solutions, check them out here! 
Congratulations to our winners of a trip to New York: Pablo Pilotti and Paulo Ojeda
Why are riddles important at Globant?
Riddles, cryptograms, and puzzles are a tradition at Globant. In our very first days, we used them to attract visionary thinkers and to build a solid and empowered community of Globers. 
"When we started the company, we published riddles instead of recruiting with normal advertising. People needed to solve the riddle to discover where to send their CVs. This created a whole set of ideas on connecting with the community and crafted one of the most vibrant company cultures in Latin America."

Martin Migoya, Co-founder and CEO of Globant
Thanks for celebrating creativity, growth, and reinvention with us. Let's keep rocking.