After a successful Converge CDMX, we're now looking forward to Converge Madrid. Everyone waiting for this day-long conversation—on the digital and cognitive revolution, the concepts and technologies necessary to keep relevant in this new era, and the power of data-driven design—is making their plans. All these things are crucial to the success of brands as we look together to the future, and they're the core concepts we'll delve into at Converge. We thought we'd mention the seven reasons it's worth attending the event in the fantastic Madrid. Aside from the tortilla and cochinillo, which are givens.
1. Face time with the best and brightest minds
Besides the people that sit next to us in workshops and the plenary sessions, what motivates us to take the time to go to conferences are the great minds onstage. Each attendee brings their own mix of challenges and ideas, hoping for the speakers to address them or even tangentially spark the idea that leads to a solution. Whether you're looking for testimonies from organizations on transforming digitally in their industry, or hoping to supplement your already-started transformation with new technologies, we will be answering your questions at Converge. Maybe you're intrigued by exponential startups, or want to hear more about the impact that design has on business. That's important to us, too; important enough to set a panel discussion to make sure we've got it covered. Here's a sneak peek of who's coming:
José Carlos Díaz Lacaci (Director de Transformación Digital, Globalia)
Alejandro de Zunzunegui (Chief Digital & Transformation Officer, Sanitas & Bupa ELA)
Juan Jiménez Zaballos (Head of Financial Industry Transformation, Santander Digital)
Patricia Benito de Mateo (General Manager, Openbank)
Juan José Casado (Director de Hub Data & Analytics, Repsol)
Mariano Silveyra (President Europe, Cabify)
Carlos Ruiz (Chief Product Officer, Mr Jeff)
Marco Bressan (Chief Data Scientist, Satellogic)
Marcelo Soria (Data & Futures Strategy & Vision independent consultant; co-founder of Databeers, advisor at Trecone Solutions, partner at Tramontana)
Haldo Spontón (Head of Artificial Intelligence & Internal Initiatives, Globant)
Noemí Ramírez (Chief Product and Customer Officer, PRISA Noticias)
Santiago San Antonio (Business Intelligence & Data Analytics Manager, AXA)
Sergio Rosillo (Managing Partner & Founder, Garaje de Ideas)
Emiliano Horcada (Global Head of Design and Digital Transformation Partner, Globant)
These thought leaders will help us stay relevant.
2. To get to know new technologies and the kind of culture that will empower your business
Are you familiar with augmented organizations? Are you working for one, do you own one? Do you wish you did? We spend a lot of time thinking about what it means to be an organization that applies Artificial Intelligence (AI) to all aspects of its business, and have done so for a while. At Converge we can expect to hear about amazing new technologies and their potential for taking our businesses where they need to go. This will take place in the experiences as well as the plenary sessions.
And it's not just a technology thing, because, as business leaders are increasingly aware, culture is key to unlocking frontiers of innovation as well as greater revenue (see our Sentinel Report for more info). In the words of our Co-founder and CTO, Guibert: AI is giving us an opportunity "to help us form organizations that don't have the issues we usually complain about at work." Really, the technology and the culture have to work together to propel our organizations forward in the face of digitalization and augmentation of the world's leading businesses. At Converge Madrid we will be diving into various aspects of this journey.
3. To "go off on a tangent" in the name of innovation
The same thing is true at conferences today as it was in coffee shops during the Enlightenment: innovation occurs when people come together. It's the way of things. When people bring their disparate backgrounds and experiences together, setting their sights on the same goal, sparks fly. The benefit of events like Converge is that, while the sessions focus on the digital and cognitive reality we're living, they touch on so many other experiences and concepts along the way.
Sure, we'll hear about the buzzwords— "design," "Machine Learning," "data," and others—but tied to them we will hear anecdotes that set new thoughts in motion. If we just look at a select few of the talks' titles—"Artificial Intelligence & Creativity," "The Keys to Success of Exponential Startups," and the power panel "Exploring Data-Driven Organizations"— you can tell that, as we're listening, we will come away with unexpected insights because of the combination of the conversations as a whole. It's about grasping the elements related to your field, but just outside, on the outskirts…and incorporating those to give the solution the twist it needed. Let's have more of that, please.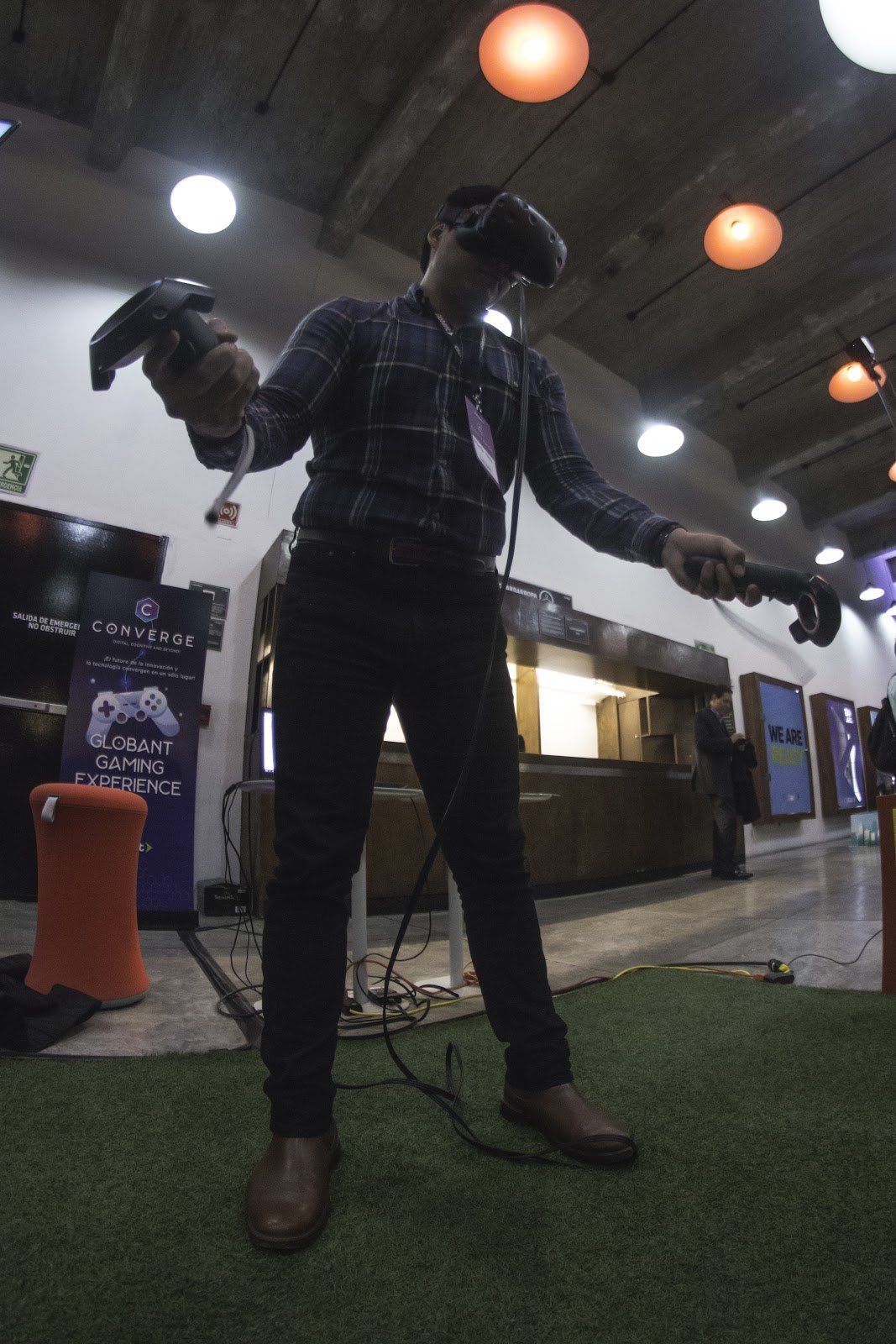 4. Experiences with technology
Another thing that makes Converge worthwhile: the contact we'll have with the technologies in question. This is our chance to interact with the technology itself, not just talk and dream about it. Artificial Intelligence? For sure—come check out AI in the forms of StarMeUp OS and Minds. You'll even have the chance to work on your storytelling abilities with our Design studio. We have these experiences with amazing technology to look forward to.
5. The takeaways
Of course, going to conferences isn't just about all that takes place the day of. It's also important to have in mind the takeaways you'll gain from the experience. With various talks—from data-driven design in Energy to the challenges of new data—Converge Madrid will keep us busy. Speakers from numerous organizations will delve into their work and experiences to give us insights we can work with in our own spheres. Whether design itself attracts your attention, or you prefer to spend time hearing other industries' experiences with data and its symbiotic relationship with design, plan to attend with your thinking caps on.
6. To make connections: expected and unexpected
Let's be honest. What we look forward to at conferences, in large part, is the people who will get together for the mind-meld. In the case of Converge next week, there are hundreds of us getting together because we're jazzed about or intrigued by the implications of the digital and cognitive revolution. We're convening because we have ideas to share, solutions to create, and questions to seek answers to. Networking happens in the hallway among the different experiences, or around the coffee break. It takes place in the line for workshops, or heading into the plenary session. Converge's moments of connecting stand the chance to make a difference in all of our digital journeys.
7. Experience the buzzing business of Madrid
Strategically located in Spain's capital and central business hub, Converge puts you in the midst of a hopping city with over half of a million companies. That's in addition to the incredible cuisine. And as we've already mentioned experiences, you can't even think about leaving without visiting one of the art museums: the Museo del Prado, Centro de Arte Reina Sofia, and Museo Thyssen-Bornemisza. Madrid has rich flavors, culture, and entertainment to offer. After all, it's one of Europe's most visited cities, after Paris. You'll have no shortage of ways to invest your time outside of the event.
Take advantage of Converge Madrid
With all this in mind, make sure you save your seat for this conference. Come with your questions, looking for answers. Prepare your expectations and goals for this event before you arrive, in order to make the most of it. Preview our speakers. Read up on them so that you're prepared. And lastly, come ready to think big and have fun.