Here at Globant, our Globers represent and live our culture. Cover Stories are a space to feature recognized Globers. In this edition, meet María Castro, Web UI Developer in Globant Chile. Read on for her Globant experience!
How has your career developed here at Globant?
I started my Globant experience a year ago, but it feels like it's been longer! Currently, I am a Web UI Developer. I have worked on a few different projects. Amid all the programming I do every day, I have been part of several activities. I have presented at Tech Talks and other events. Also I've given logistical support to some initiatives, and became the "official artist" of the blackboard that we have in the Chill.
What do you consider your next professional challenge?
Someday I would like to lead a team. It is something I would not have imagined a couple of years ago, but now I am ready for the challenge. I want to apply the things I have learned from the leaders I've had.
Do you participate in any Open Source or Tech community?
A lot! I like to attend meetups and I have given talks for JavaScript and Agile communities in Santiago. At Globant I sometimes support the events we have on the site. I belong to the Cobra Kai, an internal POD that is responsible for providing trainings to Globers.
What do you like most about working with people from other countries?
The Globant experience is like living in a set of small worlds because of its multiculturalism. What pleases me most is that, although we come from different places, it is very easy to find points in common when working together. We also adopt certain things from each other, especially the taste for food! I am Venezuelan, and now I like to drink mate, my Chilean and Argentine companions are now fans of tequeños!
If you had to define yourself with a Globant value, which one would you pick?
It is very difficult to choose just one because they are all important! I think I identify a lot with Team Player, like what Patricio talked about at XDS recently. I always try to get involved in many activities at Globant and help my fellow Globers.
What do you love most about your work?
I believe that one of the best things a person can do is to create something. This could be a work of art, a website, or breakfast that day. So, the concept of working as a team to make a product from scratch which will help others seems incredible. And if it inspires and motivates others to do the same, even better.
What do you like most about working in PODS?
What I like most is that Agility is a big part of the identity of PODS. It is very important to create a good product and ensure the happiness of each team member.
What do you recommend someone who would like to join your team?
I would recommend that they always focus on building an exceptional product. This involves many things. We have to strive to ensure the quality of the code and development processes. Another thing is to ensure, and contribute to, the well-being of the team. Be willing to listen to colleagues and sometimes give in on your positions. Last but not least, be willing to share gifs of kittens!
If today you had to start over with technology, what language would you choose? Where would you start?
I studied computing by chance because I couldn't study what I wanted at the beginning, which was Graphic Design. I don't think I would change this, but Python is a very good language to learn to program. That would be my choice. I would also have liked to reach web programming a couple of years ago. I feel that I missed a good part of the evolution of JavaScript, which would have been interesting to know.
If I mention the following topics… what is the first thing that comes to mind? (choose 3)
Have Fun | Team Work | Friends | Work culture | Chill out | Technology | Big data | Artificial Intelligence | Gaming | Vocation | Free time | Passion Desk | Country in which you relocated / live | Favorite food |
Technology: My day to day.
Chill Out: The place where I sometimes draw. Here's a picture of my latest work!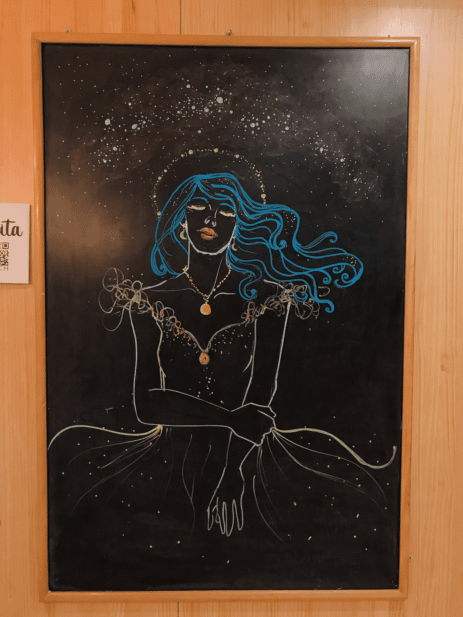 Country in which you relocated / live: Chile, my new home.
Has Globant been as you imagined?
No, it has been far better! It is an achievement for everyone to get a job where they feel comfortable. Really, at Globant, I have a second home where I am learning every day. And I have found a family in my co-workers.
Why Globant and not somewhere else?
Because Globant has a remarkable culture of excellence like no other company. Since the first day of my Globant experience, I have felt heard and loved by wonderful people from whom I have learned from and spent time together.
If you had to describe how you feel working at Globant in one word, what would it be?
Happy!