Inspiring Glober Stories
  This article is part of our series of Inspiring Glober Stories. These are stories of people, who with passion, courage and creativity overcame obstacles, made their dreams come true, or helped change the world. We hope you enjoy it and find it inspiring!
Believe, create and grow. I believe there is a special synergy between these words; they entangle, they are consequences of each other, and they are intimately necessary to achieve results for each one.
This was something that I was able to prove during my journey of more than 10 years at Globant, where, as a result of a deep introspection process, I decided to write this article and share it to invite others to immerse themselves in that dialectical wordplay, which is the basic foundation of all doing.
There are two facts that have left deep tracks in my personality: me being an identical twin to my sister and moving regularly due to my father's job. 
Being an identical twin created in me an instinctive way of connecting with others, based on trusting them from the very first moment. This allowed me to be unconditionally authentic, which is perceived reciprocally. This has helped me vastly, not only in my relationship with customers, who sense transparency in the way I communicate, but also with those I have met at Globant. I make others feel at home being kind; an attitude that always opens doors for me.
I have shared my space since the womb, as I grew with another person in there, and that has become my life philosophy. Sharing a vision, spreading it to others, and watching it expand and become better with other people's contribution and support is what motivates me on a daily basis. That is my Eureka moment.  
Networking produces a reaffirmation of myself that has allowed me to do many things, from climbing onto a stage and singing without fear,speaking in front of a crowd without shame. The feeling of freedom and self-trust is what allows me to believe in myself and others.  
Simultaneously to my incursion into singing, where I found that words without interpretation are empty of meaning, at Globant I have been able to develop a method of my own The way I communicate resonates with others because I live what I say, putting all my body language into my words, generating empathy. The same way I have been backed along my path, I can back up others.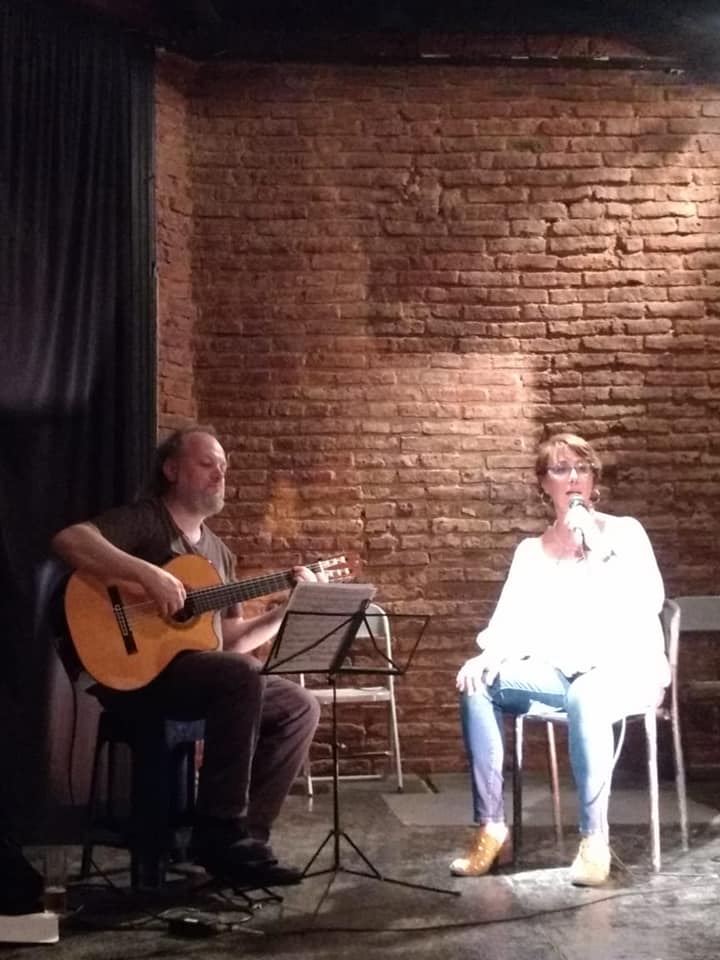 On the other hand, moving regularly created an eagerness for change in me, which I have channeled through my work at Globant.
Here, I have been able to develop my creativity, work on my individuality, and step out of my comfort zone, experimenting and embracing a taste for taking risks, moving internally between different areas. 
I started as a testing leader and my passion for quality issues led me to join the QCI area (now known as Service Delivery Fitness), which deals with this issue at the organizational level. There, I could venture into knowledge management, a topic that I am passionate about, and I even worked on the first version of Globant University, collaborating in the generation of the Big Data certification with the Career & Talent Development area (now known as Learning and DE&I). I am currently developing a new practice of processes and tools capitalizing on all the knowledge I acquired over the years of leading this area. As you can see, not only did Globant change, but so did my roles. I changed as many times as I wished and Globant always supported me.
This sense of mutual trust allows me to let my intuition loose, it boosts my creativity and expands my possibilities, regardless of the challenge and without fear of the outcome.  This new practice I'm leading is just starting out, and the vision behind it is huge. But having seen Globant grow and having their support encourages me to think that way.
This time of pandemic led me through an inner journey that reasserted what I have been saying all along: identity and relationships are the main protagonists, they are opposing complementaries, that do not exist nor can be developed without the other. I also understood that being flexible, and accepting, and generating changes has become a necessary skill to accompany this volatile and uncertain present. And we can only achieve that by Believing (in ourselves), Creating (meaningful relationships), and Growing (constantly).