The technology industry continues to demand talent to the point that by 2050 it is expected that 75% of jobs will be related to the STEAM (science, technology, engineering, art, and math) fields. However, women's participation in these areas, specifically in technology, needs to be more equitable: worldwide, only 22% of people working on artificial intelligence are women. In machine learning, women represent 12%, and in the gamer world, only 30% are developers.      
Figures reflect that in 2023 the gender gap in IT persists. If conditions for women do not improve, it runs the risk of increasing, jeopardizing the growth of the industry most linked to innovation and progress in all sectors of the global economy. So, what can companies do to hack gender inequality and create an industry where women have an equal chance to access, grow and succeed? 
Women that Build: making an impact on IT for future generations
At Globant, we want to challenge the status quo, making the IT world a place for inspiration and growth based on equality and diversity. That's why we created Women that Build, our program to promote the inclusion and professional development of women in our sector. It's a space where we encourage their participation, promoting diverse talent, both inside and outside the organization, in our communities.
"Women that Build is committed to transforming every women's career and development opportunities; this year, we will launch an open community of women in technology. Not only within Globant itself but Globant for the world. We believe that change is systemic and implies agile articulations with different institutions; from universities to other companies, the community will be the key link." Melina Masnatta, Global Learning & DEI Director of Globant.
With the Women that Build program, we support women and non-binary people throughout their careers. We design a journey in which we take various action steps to help them reach their greatest potential. We articulate and co-design the initiatives with different areas, which is key to generating traceability in development.
In addition, we focus on various pillars such as generational, cultural, racial, and ethnic diversity, accessibility, and neurodiversity, promoting the notion of intersectionality.
As part of the Be Kind commitment to promote diversity, equity, and inclusion, Globant aims to ensure that women hold 50% of our managerial positions. 
Since we made this commitment…
In 2022, hiring women in managerial positions increased compared to 2021 [from 29% in 2021 to 32% in 2022]. 

Women and non-binary people get promoted faster: on average, they get promoted two months faster.

At Globant, the retention rate of women is higher than that of other IT companies.
One problem that most affects women is the gap between their pay and that of their male coworkers for the same work. This gap threatens the scant progress in gender equality that society took decades to achieve. According to the UN, it will take 257 years to close the gender gap. At Globant, we are committed to eliminating the pay gap since it is a crucial deterrent for women in entering the industry andin developing and aspiring to leadership roles.
Specialists agree that to change reality, all sectors of society have to be actively involved. Therefore, it is important that all people, especially those who perceive themselves as men, who are the majority in the IT industry, participate in the conversation on creating a more diverse industry. They are strategic allies. At Globant, we believe that men are agents of change in the fight for gender equality, so we generate talks about new masculinities, participate in mentoring programs, and partner actions. 
A fair and safe culture; the basis of equity
To create an environment where all people feel motivated to develop their potential, organizations must build a culture that guarantees fair treatment, respect, and security, regardless of gender identity. To this end, Globant created and disseminated policies and protocols that ensure diversity, non-discrimination, inclusion, and equal opportunities for all people.    
Diversity, Equity, and Inclusion Policy – This describes the concepts and pillars with which we work and suggests respectful, equitable, and inclusive behaviors so that people incorporate them into their day-to-day work and personal life.
Anti-Harassment Protocol – This includes definitions and recommendations against workplace and sexual harassment and discrimination and complaint procedures. It also has a section on prevention and action against domestic violence.
Gender Transition Protocol –The Gender Transition Protocol includes the definition of gender transition, instructions with actions to support the gender transition process, and confidentiality and respect for individual privacy and good practices. 
Women's Month 2023, a call to embrace equity 
In 2021, Globant was distinguished with the WEP Awards, which awards the promotion of gender equality and women empowerment. In 2022, Fundación Flor awarded Globant the Diversity Management Award in the Large Companies category for its Women that Build Program. 
As part of our Women that Build program at Globant, we commemorate March 8, International Women's Day, with various initiatives that help promote awareness, learning, and active participation of women in IT. While our efforts to close the gender gap continue to develop throughout the year, this is a special moment to highlight our efforts with different benchmarks, universities, companies, and other industries.
Equity does not mean treating people the same way but considering personal circumstances and establishing concrete actions so that all people can start from an equal position. This year at Globant, we join the international motto #EmbraceEquity, as a call to action where we must all work together to change the culture from the inside out. The gender agenda is a collective responsibility that must be targeted with a systemic approach, considering intersectionality and coherence in an action plan that must be sustainable and dynamic to respond to emerging challenges.
Some remarkable actions of Women's Month 2023 are the following:
Women that Build Talks¨

Empowering the leaders of the future.

¨ This international event aims to connect leading women in the STEAM field and offer practical and inspiring talks to empower professionals and those starting their journey. 

Unscripted Tech Podcast

–

On the role of women in the IT world with the participation of Sabina Schneider, Chief Solutions Officer at Globant US, and Wanda Weigert, Global Chief Brand Officer at Globant.

Global winners

Women that Build Awads

announcement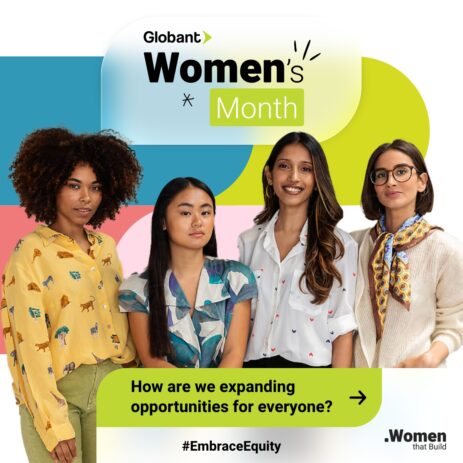 During Women's Month, we want to reinforce our commitment to expanding opportunities for everyone to thrive. Please take a look at everything we are doing to empower women in STEAM.