"Have Fun" is a core value of our culture that is just as important as being innovative, creative, and inclusive. In 2020, our celebrations were transformed, and we decided to be more present than ever in Globers' day-to-day lives, bringing our culture into their homes so that they can feel supported and remain connected despite the distance between us. This led to several initiatives. One of our most amazing events was Globant Together, an interactive international festival in which all Globers around the world participated. But the reinvention of our culture was undoubtedly deeper.
The evolution of the workplace
With the purpose of fostering a positive, relaxed, and stimulating work environment, Globant's offices are characterized by being open and fun workspaces that promote connection to others. Globant is recognized for its entertaining spaces and experiences. Every Friday, in the North Park offices in Buenos Aires, teams usually gathered at the Chill (a relaxing space) to prepare smoothies together. Our legendary end-of-year parties or Globers' surf and ski trips are just other examples of a culture built on the basis of shared experiences. 
During 2020, due to the pandemic and the shift to remote work, these office rituals and gatherings in person ceased to exist.  With very few opportunities to connect in person, we were faced with the challenge of making Globers feel part of the organization and keeping them united despite the isolation measures. With creativity, innovation, and the support of the appropriate technology, we were able to reinvent our powerful culture so that we could continue getting stronger despite the lack of in-person gatherings and the distance.
In July and August 2020, we launched Globant Together, which had four editions: Latin America, US, EMEA, and India. Globant Together is part of the Globant For You initiative, which seeks to support employees throughout their careers with proposals to accompany, motivate, and surprise them. 
The four editions had similar structures: a host show, workshops, the main show and, finally, a DJ set.

During the event, each Glober could personalize their experience by choosing to participate in a variety of live virtual events, from concerts to magic shows, stand-up shows, games and cocktail courses. With over 30 international artists and 8 hours of live streaming, #GlobantTogether managed to bring the Have Fun spirit into the homes of all Globers, who were brought together through music and laughter, making them feel part of an emotionally connected community.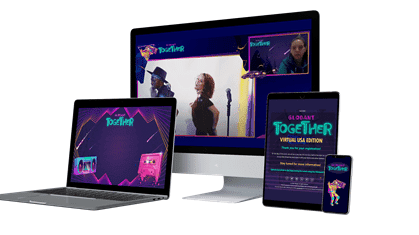 More than 12,000 Globers from 16 different countries participated in the event through an interactive platform
The event had a powerful, viral and immediate effect. With the hashtag #GlobantTogether, Globers posted their pictures and videos at BeThere, the Globant social network in which they can share pictures and experiences. The event's platform and BeThere gave rise to a network of collaborators who interacted and connected in real time. In addition, the event multiplied its reach on YouTube and had over 6,500 views.
Reinventing culture
In line with the Globant Together initiative, in November 2020, Globant launched Virtual Chill Outs at StarMeUp OS, spaces created to connect with other Globers who share the same preferences and interests. 
This year the workplace changed radically, and it is possible that in the near future many of the routines and gatherings we were used to will continue to be redefined. Although it is likely that the future will bring new challenges, our essence, the values that make Globant unique, will remain. 
In 2020, our Have Fun spirit evolved and allowed us to keep on growing and become stronger in a different context. So much so that, as a way to close the year, we decided to resume the #GlobantTogether spirit and celebrate again in the first global and virtual edition of our traditional end-of-year party. On December 18, "Globant Palooza:  Rocking from Home Edition" is set to be the closing event of a series of Glober celebrations.