June marks the pinnacle of Globant's year-long dedication to the LGBTQIA+ community, aiming to create an inclusive environment where every individual feels valued and recognized. Our objective extends beyond awareness-raising; we strive to actively listen to LGBTQIA+ narratives and needs, empowering them through increased visibility and providing them with a supportive and safe space. At Globant, we consistently reaffirm our role as allies, standing in solidarity within and beyond the workplace.
The Evolving Landscape of LGBTQ Rights: A Mixture of Triumphs and Setbacks
A complex mix of progress and challenges marks the journey of LGBTQIA+ rights. According to Forbes and ILGA, significant strides have been made in the past three decades, with 49 states decriminalizing consensual same-sex sexual acts. However, it is disheartening to acknowledge that laws criminalizing homosexuality persist in approximately one-third of countries worldwide. Furthermore, at least nine countries have national laws that criminalize various forms of gender expression, specifically targeting transgender and gender-nonconforming individuals (Human Rights Watch).
Significant progress has been made in advancing LGBTQIA+ rights in various regions worldwide, and Globant is working towards this collective effort. In this compelling context, we want to celebrate Pride at Globant, raise awareness of its relevance, and show our support this month and always.
Embracing Change: Globant's Initiatives to promote inclusivity and Acceptance
Throughout LGBTQIA+ Pride Month, Globant has orchestrated many events and initiatives to champion diversity and inclusion, facilitate meaningful conversations, and foster a learning culture. While many of these activities are primarily tailored for Globers, select opportunities are available to the broader public, ensuring everyone can actively contribute to driving change. Among the vibrant experiences offered, a few examples include:
Sexual and gender diversity as a driver for reinvention. 
We invite Globers and the Spanish community to participate in this talk, where we will discuss the opportunities for improvement that diversity and inclusion bring to innovation in our workplaces.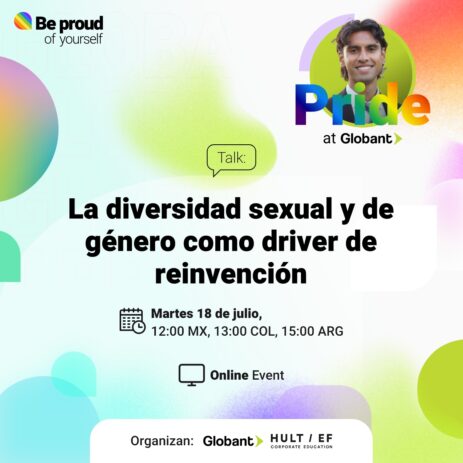 Weekly Newsletter

with relevant topics, such as Diverse Families, Generational Diversity in the LGBTQIA+ Community, and LGBTQIA+ History. 

What would you like to know about Pride?

Internal talk to tear down prejudices and bring awareness and knowledge on these topics. 

Participation in Pride Parades.

Each LGBTQIA+ Pod can decide if they want to participate in their local parades with Globant merch.

Internal protocol for gender transition.

The campaign focused on spreading the new protocol and creating awareness spaces about it.

On-site events.

Each LGBTQIA+ Pod will be in charge of organizing an on-site event if they want to. 
At Globant, we strongly advocate for the active involvement of companies in pursuing a fairer and more inclusive society throughout the year. Rooted in our sustainability strategy called Be Kind, our dedication to diversity is evident through implementing policies and practices that ensure support for employees of all sexual orientations. We are determined to eliminate unconscious bias from our hiring processes, promotions, and career advancement opportunities within the IT industry.
Conscientiously enhancing awareness of inclusivity and acceptance

Implementing recruitment policies focused on diversity and inclusion

Conducting inclusive hiring training on gender identity and expression

Embracing internal LGBTQIA+ communities and PODS

Supporting families, women, and non-binary individuals in sustaining their careers

Developing the She Leads program for the career development of women and non-binary individuals

Launching an Internal Protocol for Transition, Adequacy, and Accompaniment for trans people

Promoting the Diversity, Equity, and Inclusion Policy to create a respectful and inclusive workplace

Valuing intersectionality and respecting every aspect of each Glober

Promoting an active DEI culture and acknowledging the dynamic nature of diversity, equity, and inclusion
It's time to join the conversation and be part of the change. Stay informed about the latest developments and initiatives from our Be Kind To Your Peers pillar.
Pride Month at Globant. Join the celebration!