Globant, distinguida con los Premios WEPs 2021 en Argentina y Uruguay
Estos prestigiosos premios internacionales reconocen a las organizaciones que promueven la igualdad de género y el empoderamiento de la mujer.
En el marco del programa "Ganar-Ganar: la igualdad de género es un buen negocio", implementado por ONU Mujeres, la Organización Internacional del Trabajo (OIT) y la Unión Europea, Globant fue doblemente reconocida por sus buenas prácticas en pos de la igualdad de género. En Argentina recibió el Premio Weps Argentina 2021 "Empresas por Ellas" en la categoría COVID-19, y en Uruguay fue distinguida con el Premio Weps Uruguay 2021 "El Talento no tiene Género" en la categoría Empresas Multinacionales.
El objetivo principal del programa Ganar-Ganar es contribuir con el empoderamiento económico de las mujeres, reconociéndolas como beneficiarias y protagonistas del crecimiento y el desarrollo, aumentando el compromiso del sector privado con la igualdad de género. El programa está basado en los Principios WEPs (Principios para el Empoderamiento de las Mujeres por su sigla en inglés). Los WEPs son un conjunto de lineamientos y una herramienta de acción positiva para estimular la participación de las mujeres en el sector privado. "Es necesario que las empresas empoderemos a nuestros equipos y trabajemos con la intención explícita de conseguir estructuras más diversas, ampliando las miradas, es la única forma de provocar cambios significativos en la sociedad" explicó Mercedes MacPherson, Chief People Officer EMEA de Globant.
Los premios WEPs son reconocimientos al compromiso y el esfuerzo que realizan las organizaciones incentivando el empoderamiento de las mujeres a través de prácticas, políticas y procesos inclusivos.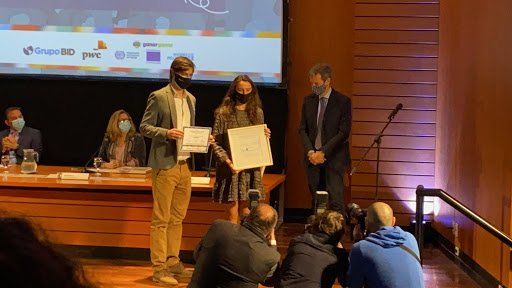 Premio WEPs Argentina "Empresas por Ellas"
El 24 de junio el programa Ganar- Ganar anunció las 17 empresas vencedoras de la segunda edición del Premio WEPs Argentina "Empresas por Ellas" en una ceremonia de premiación virtual de la que participaron representantes de organismos internacionales, empresas, sector público, empresarias, emprendedoras y público general. Globant resultó ganadora en la categoría "COVID-19" por sus buenas prácticas para luchar contra la brecha de género durante el contexto de la pandemia.
La emergencia sanitaria por la COVID-19 ha producido una fuerte carga social y económica sobre la sociedad argentina, pero ha tenido efectos diferenciados para las mujeres y, en consecuencia, ha profundizado las brechas de género. Una de las consecuencias fue el aumento del trabajo no remunerado para las mujeres y la sobrecarga por el cuidado de los niños. Para abordar esta problemática en Globant el primer paso fue conformar un comité interáreas para atender necesidades, definir prioridades y armar planes de acción; sumamos una infectóloga, organizamos talleres de duelo, de salud mental y sesiones diarias de encuentro entre los líderes y los equipos. A través de Be Kind to Yourself incrementamos nuestro foco en wellness (mindfulness, yoga, pausa activa, talleres de smart working). Lanzamos encuestas para entender cómo estaban transitando nuestros Globers por la pandemia, creamos el área de Globant4U con la mirada puesta en el cuidado de nuestros colaboradores. Con foco en la comunidad lanzamos la iniciativa #AllAgainstCOVID en la que Globers y Globant donaron trabajo y las ganancias netas a organizaciones de la salud.
"En la industria de la tecnología existe una amplia brecha de género que debemos visibilizar y cambiar. Queremos que más mujeres entren en el mundo de la tecnología. Hace dos años nos fijamos la meta de alcanzar un 50% de igualdad de género en posiciones de management para 2025, y hacia ello estamos trabajando en forma sostenida", afirmó Wanda Weigert, Chief Brand Officer de Globant.
Premio Weps Uruguay 2021 "El Talento no tiene Género"
El 23 de junio se realizó la ceremonia de premiación de la postulación al premio "El talento no tiene género", organizado por Grupo BID, PwC Uruguay y el programa Ganar-Ganar. Globant fue elegida ganadora en la categoría "Empresas Multinacionales" por su compromiso alineado con los principios WEPs en todos sus niveles, tanto a nivel externo como interno.
«Es importante que las empresas entendamos que tenemos un rol protagónico en el desarrollo del talento y que debemos trabajar en conjunto el sector privado con el sector público, instituciones educativas y organizaciones civiles para continuar impulsando al talento y asegurar la empleabilidad de cada vez más mujeres en tecnología y la industria en general», sostuvo Vivian Sauksteliskis, VP of Operations en Globant.
Nuestro aporte en la industria de tecnología
Para generar un impacto positivo en la industria, Globant lleva adelante la iniciativa "Women That Build". En el marco de este programa diseñamos un recorrido que incluye las etapas de "inspirar", "educar", "contratar", "acompañar" y "liderar" en las que llevamos adelante una variedad de acciones para ayudarlas a alcanzar su mayor potencial, desde diferentes ámbitos.
Nuestro compromiso es generar cambios sustanciales, tanto en el interior de nuestra organización como en la sociedad. Como parte de nuestra iniciativa Be Kind nos hemos propuesto dos objetivos para el 2025: que diez mil mujeres de todo el mundo se inspiren y capaciten en tecnología y lograr alcanzar un 50% de mujeres y género no binario en puestos de liderazgo.
Para alcanzar estos objetivos trabajamos día a día desde todos los niveles de la organización a fin de lograr el desarrollo inclusivo de talentos y donde ellas tengan una voz propia y condiciones equitativas a las de los hombres.