Globant lanza Be Kind to Yourself, una invitación a abrazar tu mente, cuerpo y espíritu
En Globant, creemos que en la vida de las personas el trabajo y el propósito personal deben estar alineados y crecer juntos. Estamos convencidos de que la fuerza para innovar y transformar el futuro de los negocios comienza con el bienestar de las personas, por eso hoy queremos darle un mensaje poderoso a cada Glober, lanzando un nuevo pilar a nuestro enfoque Be Kind: Be Kind to Yourself (ser amable contigo).

Aunque hemos estado realizando iniciativas que se centran en el equilibrio entre el trabajo y la vida, la forma en que trabajamos ha evolucionado desde que llegó la pandemia. Así que dimos un paso adelante: ahora personalizamos la propuesta de valor de nuestros colaboradores a través de Be Kind to Yourself.

A medida que reinventamos la forma en que trabajamos, es cada vez más claro que priorizar la experiencia de las personas es la base para construir una organización exitosa a largo plazo.

Hoy más que nunca, los líderes y colaboradores de todo el mundo identifican una necesidad imperiosa de mayor empatía, humanidad y bienestar en el lugar de trabajo. Be Kind to yourself es nuestro enfoque holístico para apoyar a los Globers y promover un entorno de bienestar que los ayudará a liberar todo su potencial.
Cuerpo, mente y espíritu


Be Kind to Yourself reúne todos los beneficios, campañas, actividades y propuestas de la empresa de forma integral, entendiendo que el bienestar de las personas depende de un buen equilibrio entre la vida laboral y personal, y del cuidado tanto de la salud física como la emocional.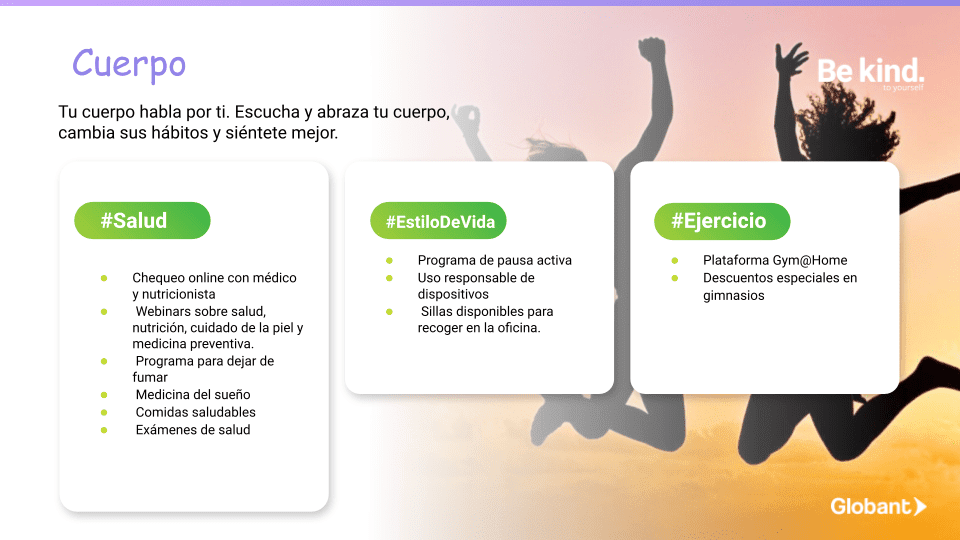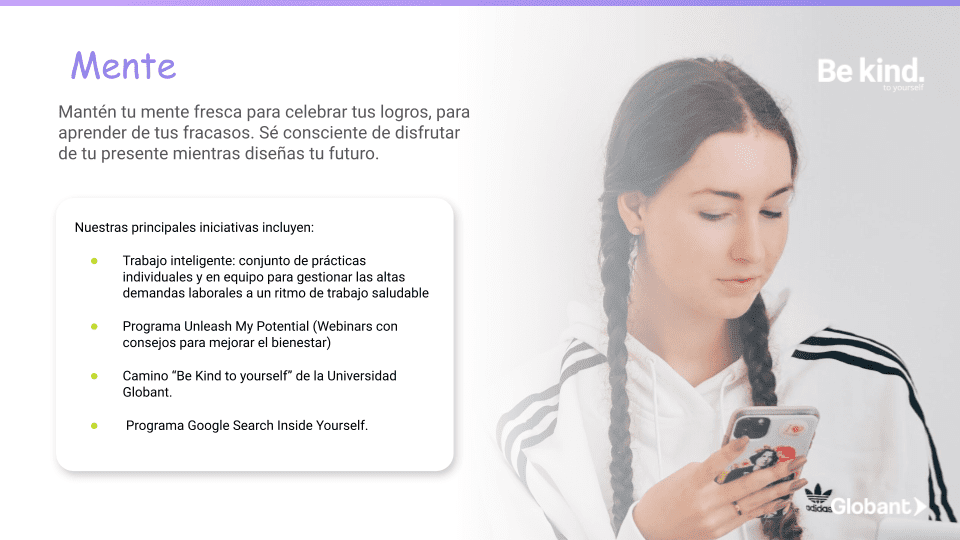 Pero esto es sólo el comienzo. En 2021, vamos a multiplicar nuestros esfuerzos para brindar más oportunidades a los Globers para impulsar su bienestar. Esto incluye actividades de entrenamiento físico, sesiones de mindfulness, controles médicos, eventos recreativos, apoyo de inteligencia emocional, nutrición y mucho más.
Humanizar el lugar de trabajo a través de la tecnología


Incluso una vez que la pandemia haya terminado, la fuerza laboral distribuida coexistiendo con experiencias laborales presenciales, llegó para quedarse. La pregunta ya no es dónde estamos ubicados físicamente, sino cómo nos conectamos y nos cuidamos unos a los otros. La tecnología nos permitió ingresar a los hogares de nuestros Globers y aprender que es posible sentirse realizado mientras se trabaja de forma remota, reinventar nuestra poderosa cultura para apoyar a nuestro equipo y permanecer conectados a pesar de la distancia.

El año pasado, ver a los Globers adaptarse a las cambiantes circunstancias de sus vidas personales nos hizo darnos cuenta de que la línea entre el trabajo y el hogar se ha desvanecido, y eso está bien. Todos hemos aprendido a ser más abiertos, compasivos y empáticos. Como organización, estamos más preparados que nunca para apoyar a cada Glober en su camino hacia el éxito personal y profesional. Be Kind to yourself nació como un reconocimiento a un enfoque más holístico del bienestar de las personas. En esta nueva realidad, utilizamos herramientas culturales digitales y aprovechamos la tecnología para contribuir con el bienestar y la prosperidad de los colaboradores en el lugar de trabajo.
Be Kind: cambiar el mundo comienza desde adentro


En 2019, lanzamos el programa Be Kind como una estrategia global de sostenibilidad para transformar la realidad y hacer del mundo un lugar mejor. Nuestro compromiso surgió como un llamado a la acción para construir juntos un futuro más equilibrado y justo. Comenzamos desde afuera hacia adentro, logrando un impacto en nuestros pares (Be Kind to your Peers), el planeta (Be Kind to the Planet) y la humanidad en su conjunto (Be Kind to Humanity). Cuando pensamos en la empatía, la compasión y la bondad, tendemos a asociarlos con los sentimientos y acciones que expresamos y realizamos por los demás, pero es importante empezar a aplicarlos a nosotros mismos, como una forma de autocuidado.

2021 nos encontró más unidos que nunca, utilizando la tecnología para acelerar una parte fundamental del ADN de Globant: nuestra búsqueda constante de la felicidad y el bienestar. Y es por eso que Be Kind to Yourself es ahora una realidad, que incluirá iniciativas para el bienestar físico, mental y espiritual para ayudar a Globers a alcanzar su máximo potencial, conectando su propósito personal con el propósito de la organización.
¿Estás preparado para ser amable contigo?