Pensando fuera de la caja cómo mitigar el COVID-19: Caja Germicida PKY2020
Nuestra misión es transformar el mundo un paso a la vez, apoyados en el poder de la tecnología, creamos soluciones creativas e innovadoras para cambiar la vida de las personas.
Frente a la pandemia provocada por el virus del Covid- 19, nos pareció interesante compartir este desarrollo que tiene por objetivo desinfectar objetos de uso cotidiano como llaves, billetes, celulares, calzado o hasta incluso, prendas pequeñas como medias o camisetas. De esta manera mitigamos los riesgos de contagio y ayudamos a combatir la propagación del virus.

Este dispositivo hogareño, denominado Caja Germicida "PKY2020", permite realizar la desinfección de objetos mediante la irradiación con rayos UV-C. Las lámparas que emiten esos rayos, a la frecuencia de 254 nm, producen alteraciones fatales en el material genético de los microorganismos (bacterias y virus) y también en células animales o vegetales, dependiendo en estos últimos, del material de la cáscara o recubrimiento.

Los rayos UV-C, alteran el genoma de las bacterias impidiendo su multiplicación. Una bacteria, por ejemplo E. Coli mide 2 micrones de largo y un diámetro aprox. entre 0,25 y 1 micrones. El Sars Covid 19 mide 0,1 micrones (100 nanómetros) de diámetro. Por lo tanto, es lógico pensar que si los rayos UV-C alcanzan a penetrar en una bacteria "grande", y destruir su genoma, con más facilidad penetrarían en un virus mucho menor.
Para que la desinfección sea exitosa, pero a la vez segura, es muy importante asegurar una gran exposición de los rayos UV-C a objetos potencialmente contaminados pero evitar la exposición de la persona que opera dispositivo.
Detalles del proceso de investigación


Determinación del tiempo óptimo de irradiación


Para poder evaluar el poder bactericida de los Rayos UV-C (254 nm) sobre cultivos de bacterias aeróbicas en función del tiempo de exposición, se dispusieron cinco placas de Petri sembradas con tres cepas bacterianas: Escherichia coli (EC), Pseudomona aeruginosa (PA) y Stafilococo aureus (SA). Cada una en solución con 30 x 108 bacterias por ml.

En primer lugar, se reservó una de ellas para verificar el éxito del cultivo. Las cuatro restantes, fueron colocadas en el centro del dispositivo PKY2020, habiendo previamente cubierto con papel metálico la mitad de la superficie de las cuatro placas de Petri, para evitar que los rayos UV-C irradien la mitad de la placa con los cultivos.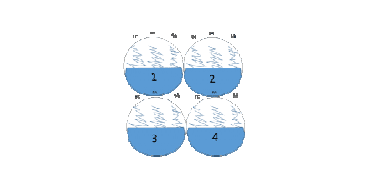 Las placas fueron identificadas como 1, 2, 3, y 4. Se cerró la tapa y las lámparas productoras de rayos UV-C se encendieron. Luego de un minuto, se retiró la placa 1. Se cerró la tapa y pasado otro minuto, se retiró la número 2. El procedimiento de repitió hasta que las placas tuvieron los siguientes tiempos de exposición a los rayos:
Luego se incubaron durante 24hs a 37°C.
Una vez finalizado el análisis se pudo observar que la inhibición del crecimiento de cultivos bacterianos irradiados, fue notable en todos los tiempos analizados, con una efectividad máxima a los cuatro minutos.
Eficacia en la inhibición de cultivos bacterianos en diferentes lugares del dispositivo
También se realizó un análisis de la eficacia del dispositivo, irradiando placas con cultivos bacterianos durante cuatro minutos en diferentes posiciones.
Para poder hacer la evaluación se sembraron cinco placas de Petri con tres cepas bacterianas: Escherichia coli (EC), Pseudomona aeruginosa (PA) y Stafilococo aureus (SA). Cada en una solución con 6 x 108 bacterias por ml.
Se dispusieron dentro de la caja germicida según el siguiente esquema: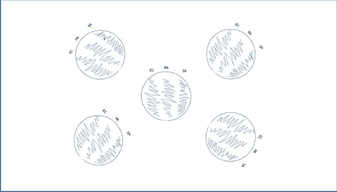 La distancia entre los puntos más lejanos de las placas laterales opuestas (2-5- y 3-4) es 41 cm ya que, cada placa tiene 9 cm de diámetro y están ubicadas a 7 cm de la central.
Luego se irradiaron durante 4 minutos y se llevaron a la estufa donde permanecieron 24 hs a 37 C.

Finalmente, se llegó a la conclusión de que la caja germicida PKY2020 es capaz de inhibir el desarrollo bacteriano en las cinco placas. Y en cuanto al escaso desarrollo observado, se concluyó que podría deberse a las sombras ocasionadas por los bordes de la placa de Petri ya que, los rayos UV-C no son capaces de atravesar el plástico. Esto motivó a los investigadores a realizar una nueva prueba sin ese tipo de interferencia.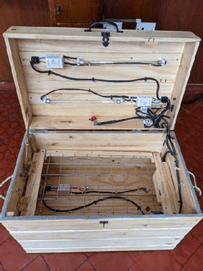 Para ello, se prepararon cinco placas de Petri llenas con medio de cultivo hasta su borde para evitar la interferencia a los rayos UV-C y se sembraron las bacterias de Escherichia coli (en una solución con 6 x 108 bacterias por ml) en su superficie. Asimismo, con el fin de asegurarse la eficacia, se decidió aumentar a cinco minutos la exposición.
Luego del procedimiento de exposición, los investigadores pudieron concluir que la caja germicida PKY2020 fue capaz de reducir significativamente el desarrollo bacteriano en las cinco placas y que el sumamente escaso desarrollo observado en esta oportunidad, podría deberse a contaminación post irradiación debido a que las colonias observadas, son distintas a las típicas de E.Coli. También, es posible que la irradiación recibida por las placas más alejadas de los tubos, tuviera una intensidad menor posibilitando que algunas sobrevivieran aunque en cantidades ínfimas.
Finalmente, teniendo en cuenta esto, para asegurar la desinfección cercana a la totalidad se debería aumentar un 40 % el tiempo de exposición, llevándolo a siete minutos.

A continuación se muestran los resultados de los tres ensayos, informados por la Bioquímica Teresita A. Argeri M.P. 4160 (UNLP).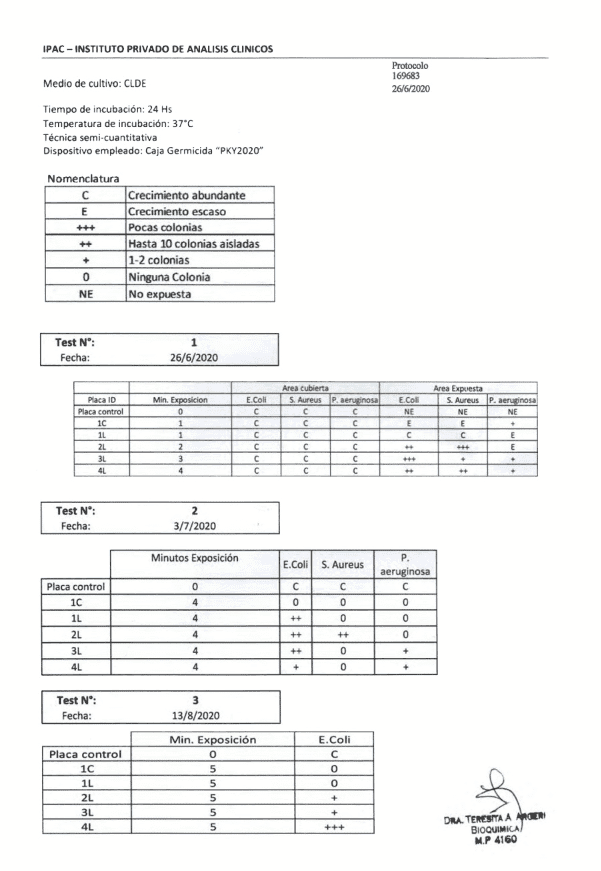 Ficha técnicas: Caja Germicida "PKY2020"
---

Es una caja de madera pino común de 1,2 cm de espesor y con medidas externas de 60 x 42 x 37 (ancho-altura-profundidad), con una tapa abisagrada con las características de otra "cajita" de las mismas medidas de ancho y profundidad pero con una altura de unos 8 cm que permiten colocar los dos tubos UV-C T5 de 8 W c/u.

Los otros dos tubos de las mismas especificaciones se colocan en el fondo de la caja para que los objetos a desinfectar, que se encuentran sobre una reja a media altura entre los planos de los tubos, reciban los rayos en ambas caras.

Este dispositivo tiene un cable de conexión a 220 VAC y los elementos de control están en un costado de la caja. Estos son el indicador de recepción de tensión, una llave interruptora de todo el circuito interno y una luz roja de aviso de tubos encendidos.

Referencias y publicaciones:
CharlaSobreUV-C-germicida: https://bit.ly/3gpYJhK
GeneralidadesSobreVirus: https://bit.ly/32A4yF6
Introducción a la desinfección por UV: https://bit.ly/2WylPe0
Puedes matar el coronavirus con luz UV: https://bit.ly/3eKxKvM
Qué tan efectivos son los rayos UV contra el coronavirus: https://bit.ly/2WAyGwB
American Journal of Infection Control 46: https://bit.ly/2ZMU185
Uso adecuado de lámparas germicidas: https://bit.ly/32zUJHi
Las lámparas UV lejanas, una futura arma contra virus en lugares públicos – Aporte del Dr. Fernando Macías: https://bit.ly/30FUg43
Luz ultravioleta germicida y control de microorganismos ambientales en hospitales: https://bit.ly/3hdOn4z
La función de las lámparas UV-C como germicida en instalaciones de HVAC: https://bit.ly/2ZIR1th
Las asociaciones de la industria UV desalientan el uso de luz UV: https://bit.ly/2OFytne
Sistema casero de bajo costo para desinfectar alimentos: https://bit.ly/3hX0ZgF
AJIC – UsoUV-C en celulares: https://bit.ly/2XiktVm
Trabajo Licda. Marcy González e Ing. Johnny Amenta de la Vicerrectoría de Investigación CITA de la Universidad Pública de Costa Rica..—Ver video donde se explica el área: https://www.youtube.com/watch?v=maLIawwESBQ
Chun-Chieh Tseng & Chih-Shan Li (2007) Inactivation of Viruses on Surfaces by Ultraviolet Germicidal Irradiation, Journal of Occupational and Environmental Hygiene, 4:6, 400-405, DOI: 10.1080/15459620701329012)
N95 Filtering Facepiece Respirator Ultraviolet Germicidal Irradiation (UVGI) Process for Decontamination and Reuse" — John J Lowe, Katie D Paladino, Jerald D Farke, Kathleen Boulter, Kelly Cawcutt, Mark Emodi, Shawn Gibbs, Richard Hankins, Lauren Hinkle, Terry Micheels, Shelly Schwedhelm, Angela Vasa, Michael Wadman, Suzanne Watson, and Mark E Rupp. —– NEBRASKA Medicine, USA — Version Update 4/10/2020 (April 10th, 2020).