The role of the Scrum Master – Part III
In the second part of this series, we have walked you through a team's maturity journey, outlining the activities and responsibilities of the Scrum Master in each stage. Now, we will review some key skills and personality traits that could certainly help the Scrum Master be more effective throughout this journey.
Becoming a GREAT Scrum Master
Anyone can potentially become a good Scrum Master but in order to stand out in the role and actually bring substantial value to the teams, there are some key competencies and associated personality traits that may definitely come in handy.
What it takes
Analyzing the commonalities across some of the most desirable skills of great scrum masters, we find that they can easily be categorized into three main buckets: TECH, AGILE & SOFT skills. Getting the right blend between these three and their associated competencies is what determines Scrum Masters' success in most contexts.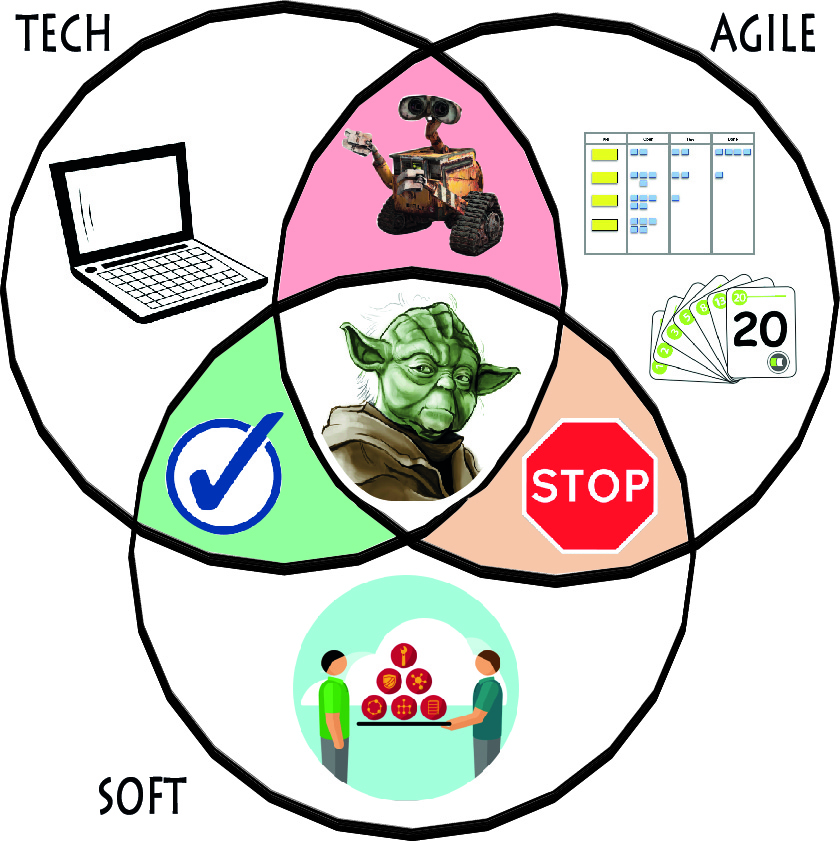 While the graphic and table above may help anyone pursuing success as a Scrum Master to do a self-assessment and get a better understanding on what aspects to reinforce and develop further, it's also worth highlighting that there are varied complexities depending on where the weaknesses lie – e.g.: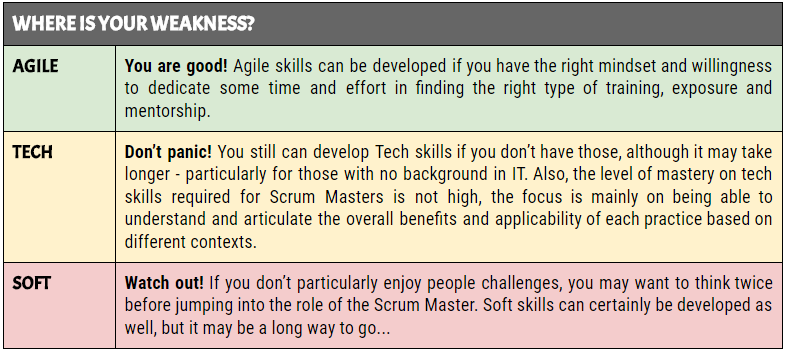 What can help
There are some personality traits that fit nicely into the landscape of the scrum values and the aforementioned competencies, and thus, can certainly pave the way for those in pursue of a career as Scrum Masters. In this case, a thorough self-assessment on these traits may be useful to identify where our strengths are, and thus, understand how to boost associated facets of the role.

Let's review this in more detail:
Energetic / Determined / Patient:
Agility is a mind set which requires behavioural changes. This typically doesn't happen overnight in the context of an organization and improvements are mostly experienced progressively, one by one.
Humble / Accountable:
Becoming a role model in openness and respect definitely entails having the habit of regularly asking for feedback and act upon it.
Trustworthy:
Collaboration comes from building an environment of trust, from giving trust (let everyone in the team speak up) and be trustworthy (follow through commitments).
Challenger:
Impediments become more visible with Scrum (compare with Lean's "lake and rocks" analogy). Therefore, a Scrum Master needs courage to help the team raise and remove them accordingly by getting the right involvement/support from the organization. Also, a great Scrum Master is never comfortable with the status quo – as some parts of an organization may tend to be, so this also means that more often than not, he/she would need to step up and lead change initiatives.
Learner & Teacher:
Helping the team understand the practicality of Scrum values and principles in their context is a key activity for the Scrum Master. In order to actually have "something to give", the Scrum Master needs to be a learner himself, by not putting off his/her own development for other delivery priorities (compare with "sharpen your axe" analogy), taking the lead in creating learning spaces for the team to learn and grow, and striving to build a learning organization in terms of product, process and people.
Listener:
The scrum master does not command the team, then, the natural opposite is to listen and to have the ability to identify, assess and control other's and own emotions; honestly caring about people and identifying what can be done in order to build a better work environment for each individual and the team, everyday.
In conclusion, a comprehensive self assessment on your current state in terms of Tech, Agile and Soft skills – and achieving the right mix between them, can certainly help you identify where your weaknesses lie and thus, give you the ability to define a development path towards becoming a great Scrum Master. A similar exercise on your personality traits may also give you a better understanding on how to effectively leverage your natural strengths in the light of what is particular critical for the role of the Scrum Master.
Marcelo Mariño – Globant Agility team
by