The announcement of Android Wear in 2014 gave developers the ability to see notifications, create applications or watchfaces into the wearables.
What is it and how does it work?
A watchface is characterized by an attractive design that can adjust to different screen shapes and sizes, providing useful information. They come in different colors and presentations for different users. Be careful what you put on  your watchface, because you have to show information that an user can read without requiring close attention.
The most common communication channel for a smartwatch is a bluetooth connection via smartphone. The handheld device obtains information and sends it to the watch.
The watchface supports two different modes: interactive and ambient. The interactive mode use full color designs with fluid animations. The ambient mode keeps the screen at minimum brightness, and the background color scheme is strictly limited to black, white, and gray in order to maximize battery life.
About Globant's Watchface
Two Android developers, Yamil Marques de Mello and Diego Hernán Mazzitelli, developed a Globant watchface that shows the hour next to the Globant logo. It also has an animation that moves when the seconds are changing.
The watch's functionalities include:
Displaying the real time value of Globant stock (NYSE:GLOB) with an indicator that shows if it's going up or decreasing as well as the percentage of the last change.
Shows weather and temperature wherever the user is.
Changes the watchface color by switching between black and white.
You can also change the below widget design that provides information by choosing between two available models.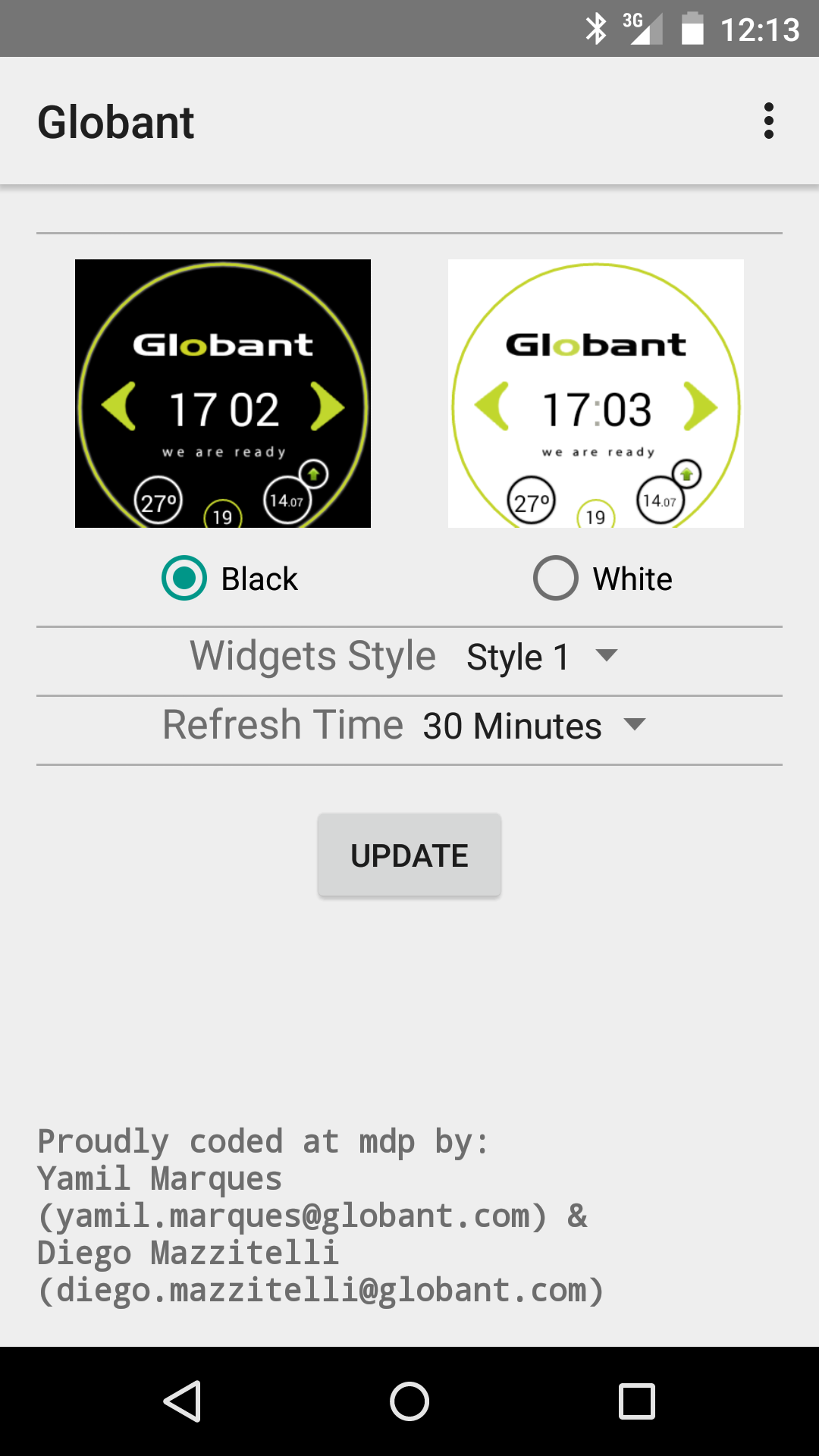 Special Thanks
We want to highlight the work of Yamil and Diego, as well as Ignacio Peña for his support and encouragement in the creation of the Globant watchface.