IAMAT On Choosing The Right Infrastructure
IAMAT is key to Globant's Digital Journey Mobile Platform, a company that became the leader on building mobile experiences for live shows and sports in Latin America.
This platform shows the endless possibilities that come from having access to a wide variety of data. It is constantly learning from users' behaviors and in milliseconds can trigger personalized and simultaneous experiences based on their social profile and actions.
By taking advantage of gaming and gamification tools, it promotes motivation and collaboration between users to create a social environment that is exponentially amplified.

IAMAT offers organizations the possibility to create a mobile experience for their users in a rapid way.
That is why the Globant team is looking for the best fit for their infrastructure configuration requirements.
They were hosted 2 years ago by another vendor, and they were granted with Google Cloud Platform credits while participating in the Google Developers Launchpad Program.
They found that the combination of the tools Stackdriver and BigQuery allowed them to centralize logging and improve visibility of the metrics in their platform.
They also realized that the networking configuration is much more flexible and simpler in Google Cloud Platform compared to other vendors, also the load balancers configuration was really suitable for the kind of traffic management that they needed to obtain.
Alfonso Amat, Business Director says regarding that: "Two years ago, we migrated the entire IAMAT platform to Google Cloud Platform. In a single week we were able to migrate more than 10 million users without impacting their live experiences. It gave us the most reliable and flexible platform for the second screen and artificial intelligence challenges of the media industry today. Globant engineers built the infrastructure in record time and gave us the required support for this crazy always growing business."
IAMAT is commercialized as a service, so it is entirely on the cloud. The back-end architecture is based on Google Cloud, in four independent zones.
A network balancer receives the connection of the different devices, and also connections from the management console through secure web sockets.
At application level, the load balancers for each zone are HAProxies, that drive traffic to the different application server pools in Node.js, the App Servers are autoscaled based on time, as event has certain hours to occur, and auto scaling based in server load is slower.
For instance, football matches cause usage spikes, and as the classical Autoscaling is too slow, there is an hybrid approach of scheduled and automatic scaling, because the timeframe of elevated use is predictable and they created tasks ad hoc for each match. Google Cloud allows to schedule the calendar for all the infrastructure resizing events.
This architecture also uses a MongoDB sharded Cluster in 4 zones, and Redis for data persistence, that makes it fully redundant.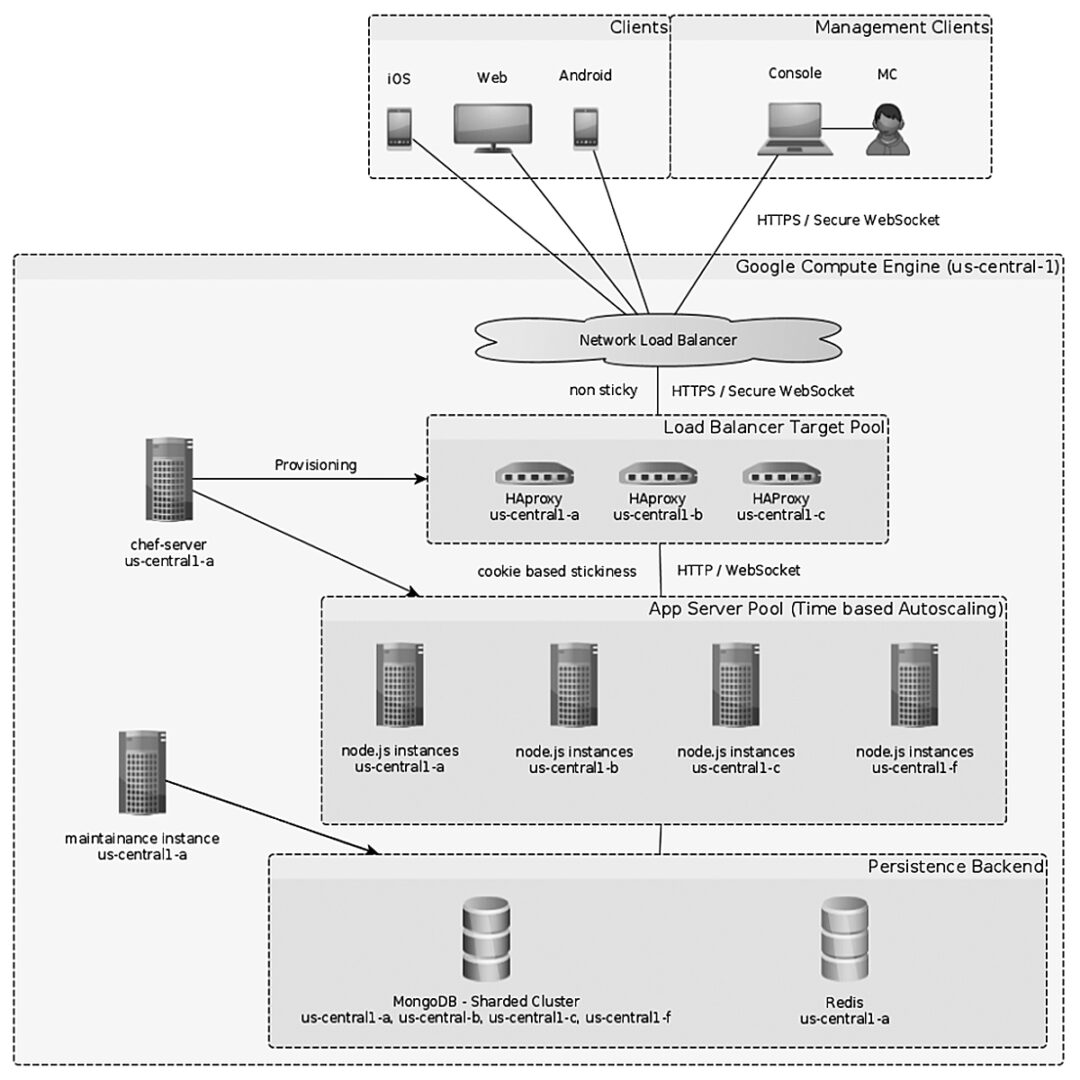 Stack driver also contributed to the best resource sizing, with continue monitoring and alerting with Google Cloud integrated plugins.

From the security point of view, instances are placed in their own private subnet. Accesses from the public internet are managed and restricted by label based firewalls on the Google Cloud Network.

The main design decisions that enabled better resiliency are horizontal scalability, which has been tested in production with millions of users. Also the Front End that is horizontally scalable and Database Sharding (Mongo DB).
The use of containers for continuous integration with Kubernetes allows the best integration and faster deploy times, all in the same Google Cloud console.
IAMAT is a great example of a challenging product, that have been making use of Google Cloud Platform in a successful way, with important media and broadcasting customers in Latin America.